October, 2017
posted by Andrea | 10/19/2017 | 35 comments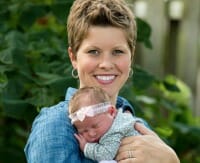 One of my favorite things about having a newborn is getting newborn pictures taken! I don't often pay for professional photos of my kids, but I've always paid for professional newborn photos because I just love looking back on how tiny they were.
Today I'm sharing Clara's newborn pictures (along with a handful of family shots… and even a few of the big kids!)
posted by Andrea | 10/16/2017 | 9 comments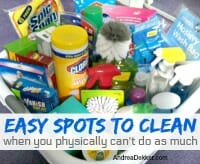 For the last 3 weeks since Clara was born, I've forced myself to take it easy as much as possible as I physically can't (and shouldn't) do as much while I recover.
If you've ever found yourself in a situation where you physically can't do as much, I hope today's posts offers a few very simple ideas of ways you can keep up with your house cleaning with minimal effort and energy.
posted by Andrea | 10/12/2017 | 52 comments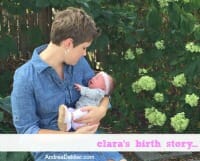 After weeks of daily contractions, I woke up on Monday, September 25, completely unphased by the fact that I felt more contractions. No big deal, just another day of waiting… or so I thought!
Clara may have arrived a full week "late", but her timing really couldn't have been more perfect!
posted by Andrea | 10/9/2017 | 17 comments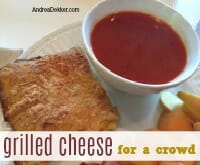 If you are looking for a super quick weeknight meal, a fun appetizer for an upcoming party, or just a really easy way to make grilled cheese for a crowd, this recipe should work well for you!
It's so soft, cheesy, gooey, and delicious — not to mention it takes less than 30 minutes from the time I pull the ingredients out of the fridge until food is on the table! 
posted by Andrea | 10/5/2017 | 47 comments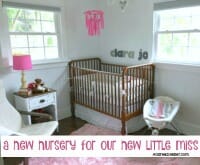 I've been waiting (not so patiently) to share Clara's mini nursery makeover on the blog… and today's the day!
I'm thrilled with how this room turned out — especially since I only had to buy 2 things to pull it off! Everything else was reused or repurposed from somewhere else in our house!
posted by Andrea | 10/2/2017 | 23 comments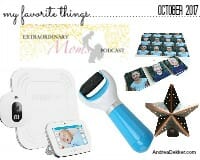 Fall is (and always has been) my favorite season — seriously, if you live in West Michigan, you most likely understand why Fall is one of my favorite things. Another one of my favorite things is the fact that I'm no longer pregnant — Clara is 1 week old today! 
Keep reading for a few more of my favorite things…