Craigslist 101: 4 Tips to Set Your Price
posted by Andrea | 05/9/2014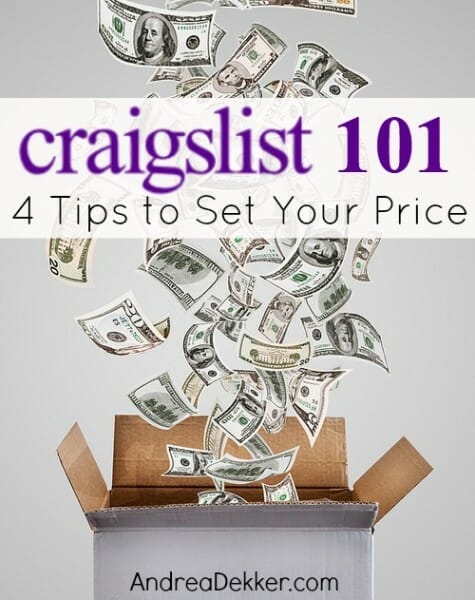 Spring is one of the best times of the year for yard sales, garage sales, church sales, 2nd-hand sales, etc. And probably not surprisingly, it's also prime time for selling stuff on Craigslist (at least where we live).
The weather is getting warmer — and I don't know about you, but that always give me the urge to purge! After a long winter, I think people are just finally ready to unload their unneeded stuff.
Because of this (and because I've already written LOTS of posts about Craigslist) I've recently gotten lots of questions about buying and selling on Craigslist. I usually direct those questions straight to my Craigslist 101 series here on my blog. However, I was getting lots of questions about pricing — especially from people looking to sell items via their local Craigslist.
Obviously the price of your item will be somewhat variable, depending on where you are located, what the cost of living is, what type of condition the item is in, how old it is, how desirable it is, etc. etc. etc.
So there's no way I can sit here and tell you that a dresser should be sold for ______. Or that kids' clothing should be sold for______. That's just not realistic.
However, after being on both the buying and selling ends of hundreds of Craigslist transactions, I can confidently offer a few tips that will hopefully help you to set appropriate and realistic prices for your cast-offs. And if you're usually only on the buying end of the transaction, I think these tips might also help you to find those bargains and stop over-paying for items you could find cheaper.
1. Be informed..
If you have no idea where to start when pricing your items, simply take 10 minutes (or less) and quickly search for that item on Craigslist, Ebay, and Amazon.com. Take note of what other people are asking for this item in used condition and what Amazon is selling it for new. Also, look over the used items for sale — is your item in better or worse "used condition" than the other similar items being sold. You can use this information to get a more generalized ballpark range for what you might be able to charge for your item.
Similarly, if you're looking to buy an item off Craigslist (specifically a bigger ticket item) search other area Craigslist ads, Ebay listings, and Amazon.com to see what others are asking for similar items — and what it's going for used. I know I have personally been shocked when I find that I can get an item brand new (with a return policy) on Amazon.com for just a few dollars more than some people are asking for the same items used!
2. Be realistic — it's used!
I can't tell you how many times I've seen an item for sale on Craigslist for a price HIGHER than what I could buy it brand new on Amazon.com Sure, maybe it's brand new, never used, in "like new condition" with nothing wrong… but it's still used in my opinion! It's not from a store, I don't get a receipt, I can't return it if I don't like it, and I'm simply taking your word on the fact that it's "brand new".
And even if your item has a tiny dent, rip, stain, etc. you need to state that, and lower the price accordingly. A potential buyer will definitely notice those little things when they come to look at the item, and then might feel like you're trying to hide something. By listing any imperfections right up front, you'll most likely save yourself (and the buyer) a bunch of time.
My most recent Craigslist search was for a double stroller. I started searching this fall already, just so I could get a feel for what was out there, what a good price was, and what the pros and cons of each stroller were. I was shocked to find SO many people selling their used baby items for such high prices. Often times, I could get a brand new stroller from Amazon for maybe $20-$40 more (with free shipping) and pick out exactly what color and style I wanted. It's no wonder I continued to see the same stroller listings week after week, month after month — they were asking WAY too much for them.
The bottom line is, if your item is used, you need to set your price accordingly. I don't care how much you might have paid for the item or how great of condition it's still in — it's still used!
As a buyer, realize that although some of these prices are way too high, the seller might be willing to negotiate. My buying tactic is to always send a friendly email expressing interest in the item and asking if it's still available.
If it is, I'll respond with something like, "I see this item was first listed 6 weeks ago (or however long ago it was listed) would you consider taking a lower price?"
If they say yes, sometimes I'll just throw out  a lower number I feel is reasonable, and other times I'll ask what their price range is. This way, the ball is in their court — and they might even come back with a lower number than I was going to suggest.
3. Be prepared.
If you're willing to take a little extra time to take proper pictures of your items in good lighting and provide lots of information about the item (size, weight, dimensions, purchase location, etc) you will most definitely be able to ask a bit more for your items.
If you're interested in how detailed I get with my listing descriptions, read this post.
At least one GOOD picture of your actual item (not a photo from Amazon or another website) is an absolute MUST in my book. In fact, I don't even look at listings that don't have a picture — because it just means I need to waste more time emailing the seller and asking for a picture.
If you're selling furniture, make sure you list the measurements.
If you're selling clothing, make sure all the sizes are clearly stated.
If you're selling technology, make sure you know what you're talking about and have all the various features listed.
If you're selling a house, make sure you list as many details as possible (read how we sold our house on Craigslist in 3 days!)
I think you get the idea. By providing more information, you can ask a higher price (and your items will almost always sell faster).
4. Be patient.
If you're dead-set on getting a certain price for an item (and that price is higher than what other are asking) you better be willing to wait.
My theory is that if I no longer want something, I want it out of my house ASAP — and I set my prices accordingly. I'd rather sell something for $50 today than sit on it for weeks and weeks (and waste time re-listing it) just to get $75. However, if you feel it's worth the extra $25 to do the extra work, than just be prepared to wait.
Similarly, if you're looking to buy an item at a rock-bottom price, you'd better be prepared to wait. I've waited patiently for MANY MANY items, and my efforts have almost always been rewarded with ridiculously low prices on some amazing items (like an almost new super nice grill with tons of bells and whistles for only $70 and an awesome Peg Perego stroller for only $40)
Good things do come to those who wait — especially on Craigslist 🙂
OK, so hopefully this will help some of you who are struggling to set appropriate prices for your cast-offs. As I mentioned above, much of the price will depend on your location and cost of living — so there's not hard, fast rule. However, I will say "when in doubt, go lower". A lower price will always get your item sold faster and get it out of your house — which is ultimately what you want!
If you have more Craigslist questions (for buying or selling) make sure you read all the posts in my Craigslist 101 series!
Do you have any other tips for setting appropriate prices for used items?