Posts Tagged 'craigslist 101'
posted by Andrea | 05/9/2013 | 34 comments
You all know how much I love Craigslist… right? Well since Dave and I are taking a "no-spending challenge" for the month of May, I've been banned from shopping Craigslist.
So instead, I thought it would be fun (and hopefully funny) to share some of the things I probably won't buy on Craigslist

posted by Andrea | 10/16/2012 | 19 comments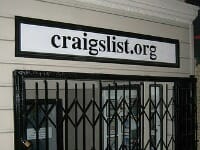 I get lots of questions from readers who are having trouble selling things on Craigslist in a timely fashion. Sometimes they say it takes them weeks and months to sell one small item — and in my opinion, that's just not worth the time and effort.
If you're wondering how to sell your stuff ASAP, I'm sharing three tips that have been helping me to sell my items FAST (usually in less than 48 hours!)
posted by Andrea | 07/27/2011 | 17 comments
Today I'm continuing my Craigslist 101 series to {hopefully} answer some of the many questions I get, asking how we sold our house on Craigslist. Yup, that's right — Dave and I sold our first house on Craigslist… by owner… and got THREE offers… in only THREE days! And no, we did NOT know what we were doing and had no experience selling a house! Oh, and did I mention that Michigan has been in the middle of a HUGE [...]
posted by Andrea | 07/8/2011 | 4 comments
source: I've received a lot of positive feedback from the first few posts in my Craigslist 101 Series; but I've also received even more questions! One of the questions I've gotten a few times is, "What do I need to get started selling my stuff on Craigslsit?" My answer is, "Not Much!" That is the beauty of Craigslsit! What You Need to Get Started:: 1. TIME: If you don't have the time to post your items, the time to respond to emails and questions, [...]
posted by Andrea | 06/28/2011 | 8 comments
source: Last week I talked about how to buy successfully on Craigslist and how to sell successfully on Craigslist. Both buying and selling on Craigslist are great ways to save money and make money… But they also take TIME! Buying on Craigslist usually takes a lot more time and patience than simply ordering something from Amazon.com or purchasing it from the mall, but it can easily save you 75% or more!! Selling on Craigslist takes a lot more time than just [...]
posted by Andrea | 06/24/2011 | 84 comments
Earlier this week, I posted a bunch of tips to help you BUY successfully on Craigslist… so if you're looking to find a great deal, head on over there! However today, I'll be talking about how to SELL successfully on Craigslist. source: Over the past 3 years, I have made thousands of dollars by selling unused items on Craigslist. It's a good way to clear the clutter from our house, it's a fun hobby for me, and it's a great [...]
posted by Andrea | 06/22/2011 | 23 comments
source: If you've been reading my blog for any amount of time, you know that I have a mini infatuation with Craigslist…  it's like the hugest on-line garage sale and I just LOVE it! I've found so many great deals and steals, and I've sold THOUSANDS of dollars worth of "stuff" over the last 3 years… seriously! Craigslist is an amazing FREE tool that I use to my advantage, but over the past several months, I've come to realize that many [...]
posted by Andrea | 08/30/2010 | 21 comments
Have you ever purchased or sold anything on Craigslist? If not, let me fill you in on what you're missing. It's like the ultimate online garage sale! Here's my latest purchase — just bought it today! A nearly new IKEA couch, slipcover and ottoman for $250. I have used Craigslist extensively for the past 2 years. I've purchase items I need for dirt cheap, I've decluttered my home, and I've made a nice chunk of change. Sound good to you? If you would [...]