Posts Tagged 'salad'
posted by Andrea | 03/3/2016 | 24 comments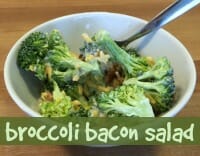 I recently found a really great deal on broccoli at Costco… and since it's my kid's favorite vegetable, we've been buying and eating A LOT of broccoli lately.
And with spring just around the corner, I thought it might be fitting to share a super simple broccoli salad recipe that I've been making for years.
posted by Andrea | 01/13/2015 | 19 comments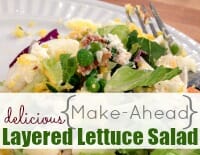 For several months now, I've been on the look-out for a lettuce salad that can be made ahead (without wilting) and enjoyed as leftovers (without getting soggy). I didn't think I would ever find a recipe… until last month!
Not only can this salad be made ahead and enjoyed for days, it can also be made from pretty much any salad-type ingredients you have in the house — oh, and it tastes amazing!
posted by Andrea | 12/12/2013 | 7 comments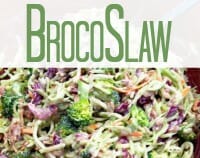 I've never been a huge fan of coleslaw — however, when it comes to BrocoSlaw, I'll almost always go back up for 2nds or even 3rds. I love the stuff.
BrocoSlaw is versatile enough to work with backyard BBQ's, a simple sandwich buffet, or even a ham dinner — and today, I'm sharing my super simple recipe for this yummy side dish!
posted by Andrea | 01/21/2013 | 25 comments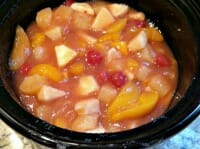 Fruit salad… in a slow cooker? Yes, you read that right — and it is one of my all-time favorite fruit salad recipes!
It's so simple and uses mostly non-perishable canned fruits, so you can always keep the ingredients on hand for a last-minute side dish.
posted by Andrea | 10/15/2012 | 11 comments
If you're in the mood for caramel apples but don't necessarily feel like going through all the work and making a sticky mess out of your kitchen; take 10 minutes to make this delicious, light, fluffy Caramel Apple Salad instead.
It's so good, you could even use it as a dessert!
posted by Andrea | 06/21/2011 | 11 comments
BBQ's are one of my favorite things about spring and summer. I absolutely LOVE eating outside {even with the bugs} and now that we have our farmhouse, I can see us hosting many, many BBQ's over the next several years! Now, obviously the main part of hosting a BBQ is the meat; but what about everything else? In my opinion, it's usually the side dished that can make or break your party. So if you're struggling to come up with […]
posted by Andrea | 04/29/2011 | 7 comments
Remember my recent post about frugal, family friendly meals — and how much Dave and I love Mexican recipes? Well, today I'm happy to share another simple, delicious, family-friendly Mexican meal — from the kitchen of Tony and Alisa DiLorenzo, my friends over at Fit Marriage. Watch their video recipe below You may have to click here if you're reading this via email or feed reader. And you can click here if you still can't view the video. Doesn't that look […]
posted by Andrea | 07/25/2010 | 8 comments
This fruit salad is simple and delicious; it's probably one of my favorites to date. One reason I love it so much is because you really can't mess it up (I promise)! Use whatever seasonal fruits you have on hand and feel free to throw in a few frozen berries, canned fruit, or anything that's a little past its prime. And did I mention that it only takes about 15 minutes to make? Ingredients: Mix and match your favorite fruits […]