35+ Thanksgiving Leftover Ideas
posted by Andrea | 11/27/2013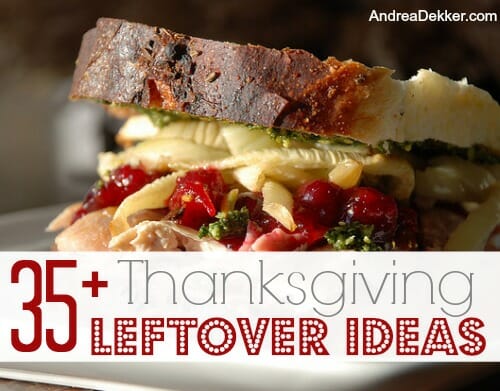 Tomorrow is Thanksgiving — and while I'm not trying to rush my most favorite holiday away, I also know that by tomorrow evening, you could very well be stranded in your kitchen with piles and piles of delicious Thanksgiving leftovers — and no desire to spend hours in the kitchen dealing with them all.
So instead of letting them go to waste (or eating traditional Thanksgiving dinner every night for the next 2 weeks) I thought I'd share a bunch of simple recipes and ideas I use to repurpose our yummy Thanksgiving leftovers!
Leftover Punch
Depending on the type of punch, you could freeze it in ice cube trays and use it to add flavor to other beverages later on, or use it too chill (without watering down) punch the next time you make it.
Leftover Soda
Leftover Fruit
Freeze for smoothies
Mix in a can of peach pie filling (keeps the fruit from going brown) and make a whole new fruit salad
Chop it up into tiny bits and add it to fruity gelatin for a new twist (note: this doesn't work with with fresh pineapple)
Add leftover cranberry relish to ham or turkey sandwiches as a little extra kick
Freeze leftover applesauce or use it in any number of baking recipes to replace the oil
Leftover Veggies
Leftover Potatoes
These delicious potato rolls (seriously, they are SO good!)
Make shepherds pie
Chop up baked or boiled potatoes into bite-size pieces and use for soups, stews, or pot pie
Leftover Chicken or Turkey
You can use chicken or turkey for any of the recipes listed below.
Chicken/Turkey Pot Pie (I make this EVERY year after Thanksgiving!)
Creamed Turkey/Chicken Sandwiches (slow cooker)
Hot Turkey Sandwiches (a good way to use up leftover mashed potatoes and gravy too)
Chop it up into bite-size pieces and freeze in 2 c. portions for casseroles and soups later in the year
Leftover Broth and/or Gravies
Use the broth in soups or stews
Use the gravy for hot chicken or turkey sandwiches as mentioned above
Freeze it in 1 or 2 c. portions for easy use later — seriously, I never throw this stuff out!
Leftover Rolls
Leftover Desserts
Eat them 🙂
Make up some goodie bags for your guests or neighbors
Freeze it for later — you'd be surprised how well baked goods freeze — even frosted cakes, cupcakes, brownies, bars, muffins, cookies, fudge, cream pies, etc. The only thing I haven't tried freezing is fruit pies.
.
OK, I think I covered most of the basics here… and hopefully gave you a few creative ideas to use up some of your leftovers.
What are your favorite ways to repurpose Thanksgiving leftovers?