To Sell or to Donate: That is the Question
posted by Andrea | 12/18/2015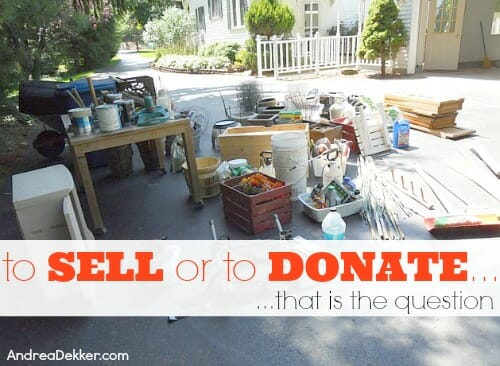 Over the past few years, I've talked a lot about selling our unneeded items on Craigslist — and it's true, I DO use Craigslist as my main (and basically only) source of selling anything.
BUT… what I might not have said in so many words is that I most definitely DO NOT sell everything we purge!!! 
In fact, I would estimate that I donate over 70% of everything that gets moved out of our house on a weekly and monthly basis — I don't even try to sell it.
Sometimes, this is because the items I'm purging aren't high-value items (like adult clothing or small decorations).
Sometimes it's because the items aren't in awesome condition, but still usable.
But many other times I donate the items simply because I want them out of my house ASAP — without the hassle of taking photos, typing the information, checking my email, and dealing with no-shows.
Yes, the extra income is nice (and I have made thousands of dollars from my Craigslist sales) but as many of you probably know, there is just something to be said for getting the stuff out of your house RIGHT. NOW. and then being done with it! 
Am I right!?
I've actually always felt this way — but looking back through my post archives, I guess I've never written a post specifically about "when to sell and when to donate".
Not sure how I could have overlooked this topic for so long since I have this exact conversation with blog readers, friends, and family on a regular basis!
Anyway, better late than never I guess — especially since my email and Facebook inboxes have recently been inundated with questions about this very topic.
Here's just one of the emails I got the other day — I think this person explains the "pull" we often feel between "should we sell or should we donate?" very well.
Hi Andrea,

I want to have my home simplified SO bad (excess clothes, shoes, coats, bedding, furniture etc.) that I just want to donate all of it so I can make fast progress and move on! But, then I think of your experiences selling on Craigslist and the money you have made.

So is it really worth the time to keep everything until it sells and get the money? Or should I just donate now?

Please Help!
I'm sure many of you can relate to that plea… even I have struggled with purging things I know I could easily sell on Craigslist but just don't have the time, energy, or desire to do it.
As with so many things in life, there is always that constant struggle and pull between the option for more money or the option for more time. Some of us obviously have more wiggle room when it comes to time and others have more wiggle room when it comes to finances.
But we almost always have to make that difficult choice — time or money.
.
Want to know my personal opinion?
If you really ENJOY selling things on Craigslist (or Ebay or Facebook) AND HAVE THE TIME to do it, I would say try to sell some of the bigger items.
HOWEVER — and this is a big "however" —
If the idea of trying to take pictures, post items for sale, deal with the emails, etc. is very overwhelming to you, then I would definitely recommend donating everything right now and being done with it for good.
And yes, I do "practice what I preach".  
Dave and I actually BOTH did a bunch of purging over the past 2 weeks.
I went through everything in our kitchen, dining room, and laundry room and purged about 3 big bags worth of stuff. Dave also went through his clothing and purged 6 paper grocery bags full.
I also went through all the toys (again) and purged 3 grocery bags (so far, no one has missed a thing!)
I suppose that if I really wanted to spend the time, I could have probably sold most of it and made a few bucks — but it just wasn't worth my time right now, and I wanted the stuff gone ASAP. The peace of mind and instant de-clutter was way more valuable to me right now.
.
So are you ready to purge?
Just do it — I promise you won't regret it when you get back home and can instantly enjoy your extra breathing room! There are many times when our time is MUCH MORE valuable than our money (and our sanity). In my opinion, purging small items is definitely one of those times.
Also, since I'm often asked: we don't claim our donated items as tax deductions anymore, just because it doesn't make a difference for our taxes so it's not worth my time (or the extra paperwork.) However, if that's something you'd like to do and it DOES make a difference on your yearly taxes, then definitely look at the deduction as an added bonus to a clutter-free home!
Plus, think of all the people who will benefit from your cast-offs!
And for those of you with a nice pile you want to sell…
Here's a link to ALL my Craigslist 101 posts — lots of good information and helpful advice in those posts!
Just keep in mind that your time is valuable… and set a length of time that you will allow your items to sit unsold. Once you reach that time limit, either post the item for free or donate it. After all, if getting the item out of your home is your main objective, that should be more important than wasting weeks and weeks trying to sell an item for $30.
Also, as you'll probably read in some of my Craigslist 101 posts, I don't ever take my time or energy to deliver products or meet people in other locations. I require all buyers to come directly to our house and haul everything away themselves. Sometimes we'll just put things out on the front porch and let the buyer come get it… but it's definitely not worth my time to load up items, drive somewhere, and then end up with a no-show.
If you're wondering exactly how I handle my Craigslist meet-ups, you can read more about that here — and no, Dave and I are not nervous about having people come to our house.
OK, so I think that covers it!
Hopefully this post will be helpful to those of you who are planning to do some decluttering after the holiday season!!
What are your thoughts on selling or donating?