January, 2014
posted by Andrea | 01/2/2014 | 28 comments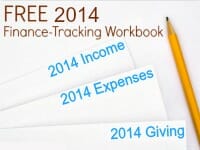 If you've been reading my blog for any amount of time, you know that I'm a HUGE advocate for financial stewardship — tracking our finances, budgeting, using our money wisely, eliminating all debt, etc. etc.
So since one of my favorite financial "tools" of all time is my finance-tracking workbook, I thought it was only fitting to share it with you (totally free to download and edit as you please) once again this year!
posted by Andrea | 01/1/2014 | 20 comments
Happy New Year!
We'll be enjoying our "Christmas" celebrations with Dave's family today — but since the start of another New Year is a pretty big deal in the world of organization, I thought I should take a moment today to talk about one of my most favorite things. Setting Goals!