April, 2019
posted by Andrea | 04/4/2019 | 32 comments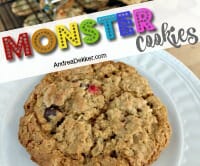 Our family loves almost any type of cookie, but Monster Cookies are our all-time favorites — probably because they combine all our favorite things into one cookie (chocolate chips, M&M's, peanut butter, and oatmeal!)
This recipe makes 12 dozen LARGE cookies — it's a biggie, one might even say it's a "monstrous batch" of cookies! 🙂
posted by Andrea | 04/3/2019 | 56 comments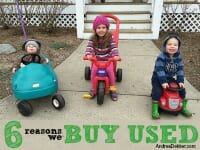 It's no secret that I frequently buy used and secondhand items for me, for Dave, for our kids, and for our house. I'm not ashamed to borrow something from a friend or relative — and you all know how much I love Craigslist!
Today, I'm sharing 6 reasons I almost always buy used…
posted by Andrea | 04/2/2019 | 19 comments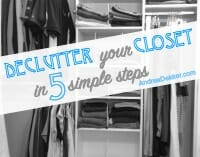 If you've ever wondered "How would Andrea organize my closet?" the simple steps in this post should basically answer that question!
Happy purging!
posted by Andrea | 04/1/2019 | 23 comments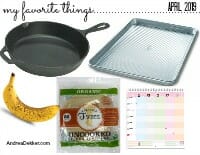 Our family has enjoyed having everyone home for Spring Break these last few days… I feel like all I've been doing is cooking and baking (something I enjoy doing more of when Dave is home to help "hold down the fort")! 
I'll share more about all my spring break cooking and baking next week… in the meantime, it just seems fitting that all my favorites for this month are kitchen-related!