Photography
posted by Andrea | 10/28/2011 | 64 comments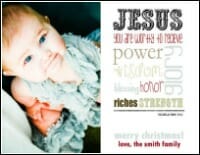 A few weeks ago, I show you several of our past Christmas Cards and talked about my love for all sorts of holiday cards. And while I'm not going to show you our exact Christmas Cards just yet, I will introduce you to the super talented women who is creating our custom design this year…
Oh, and five lucky readers will also have a chance to win a custom card design!
posted by Andrea | 10/15/2011 | 8 comments
I'm not sure why I'm so obsessed with sending our annual holiday card/greeting… but I just LOVE coming up with a creative way to share everything we've been doing for the last year with family and friends.
Here is a quick look at the different types of holiday cards I've sent out for the past 5 years… I'd love to know what you do for your holiday cards!
posted by Andrea | 10/7/2011 | 19 comments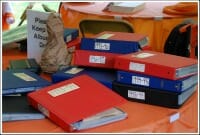 One area of my life that I've had to work REALLY hard to get organized is our photos. There were SOOOOO many photos and I simply had no idea where to start or how to start!
So after sitting in boxes for the first 2 years of our marriage, I finally decided to bite the bullet, come up with an organizing system, and get control of all our pictures. My system isn't perfect, but it works for us. However, I'd love to hear any tips you have for keeping your photos organized.
posted by Andrea | 01/8/2011 | 17 comments
It's day #6 if my "11-in-20110" challenge — we're over half way! How are you doing? I've received several emails, comments, facebook messages, and "tweets" proclaiming that many of you have started making your bed, stocking your freezer, tracking your finances, donating your unused stuff, and better managing your time!! Yay…so exciting! I'm also really excited for today's goal because it's has been on my goals list FOREVER…and while I have made some progress over the years, I'm not ready to take it […]
posted by Andrea | 08/17/2010 | 6 comments
In my opinion {take it for what it's worth} pictures are a necessary evil. They are fun to take, develop, and share but then what? I love looking at my pictures — at first — but then they just seem to accumulate and take up tons of space in boxes, bins, bulky photo albums, or on my computer {because I'm really bad a developing my pictures too!}. About two years ago, I realized that I wasn't taking any pictures; mainly because […]