Posts Tagged 'lunches'
posted by Andrea | 06/17/2013 | 21 comments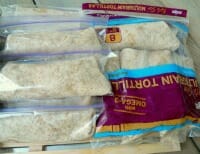 I originally posted this recipe over two years ago, but since it's one of our favorite quick lunch "recipes" — perfect for busy summer afternoons — I figured I should share it again for those of you who might not have been reading my blog two years ago!
I will often whip up 15-30 burritos at a time so we always have a supply in our freezer for days when we don't feel like a sandwich or leftovers.
posted by Andrea | 08/21/2012 | 38 comments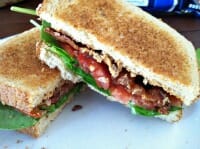 Bacon, Lettuce, and Tomato Sandwiches are one of my favorite summer lunches… and Dave likes anything with bacon so he's usually game for a crunchy BLT at least once a week.
However, if you've never tried your BLT with peanut butter, you'll want to keep reading. I'm sharing my favorite way to prepare this delicious sandwich!
posted by Andrea | 09/22/2011 | 68 comments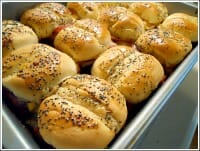 What do you get when you mix delicious deli meats, gooey cheese, fresh rolls, and a healthy amount of butter?
The most delicious baked sandwiches ever!
And just wait until I show you how easy these are to make… perfect for a quick weeknight meal and delicious school lunches the next day.
posted by Andrea | 07/20/2011 | 12 comments
The next few weeks are going to be CRAZY busy for me. I'll be busy traveling quite a bit for my business, finishing up house projects, preparing for the upcoming arrival of our two international students, and trying to juggle everything else I do on a weekly basis — oh, and I'm 23 weeks pregnant! And since Dave isn't huge on cooking {he does the dishes} we'll be eating lots and LOTS of leftovers! I know some people hate leftovers, […]
posted by Andrea | 05/19/2011 | 7 comments
It's nearing the end of the school year, and I'm guessing you're probably sick of packing lunches every. single. day. NEWS FLASH: I have a hunch your kids are sick of eating those boring lunches every. single. day. And if you pack a lunch for yourself — chances are you could use a few new ideas as well! If you've fallen into a boring lunch rut, here are a few very simple ways to mix things up a bit. 1. Leftovers Leftovers are […]
posted by Andrea | 02/24/2011 | 20 comments
Packing lunches day after day can get old — especially now that the school year is half over. We always try to pack our lunches the night before, but even so, I often find myself dreading this task because I don't know what to pack… and somehow the 47th PB & J sandwich just doesn't sound good to me! Can you relate? . I knew I needed to do something to make lunch packing simpler, so for the past few weeks […]
posted by Andrea | 08/27/2010 | 4 comments
I started packing my own lunches back in 5th grade. My mom would have done it for me, but I was too stubborn, head-strong, and organized to let her. Fifteen years later, I'm still packing lunches — and I'm still stubborn, head-strong, and organized! Lunch packing definitely is not one of my all-time favorite activities; it can be more work than going out to eat or buying school lunches. However, after realizing how much money I can save and reading that school lunches are […]
posted by Andrea | 08/17/2010 | 9 comments
School is just just around the corner — which means school lunches are back — again. Packing homemade lunches for your children can get old. real. fast. especially if they are picky eaters! However, homemade lunches are totally worth it as they will ultimately save you lots of: Time: packing lunches the night before will save lots of time during your morning rush. Money: homemade lunches are so much cheaper than prepackaged meals and fast food. Calories: skip the calories […]