Posts Tagged 'preserving'
posted by Andrea | 07/31/2018 | 20 comments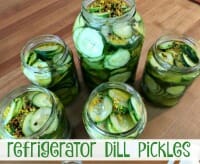 This recipe for refrigerator dill pickles doesn't require any traditional canning equipment, and you can make as large or as small of a batch as you'd like. They are a huge hit with our pickle-loving kiddos, and a great way to use up the insane number of cucumbers we're picking from our garden.
If you'd like to try making your own dill pickles, I doubt you'll find an easier recipe to start with!
posted by Andrea | 08/31/2016 | 15 comments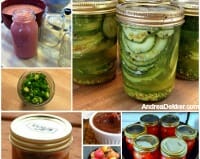 Over the years, as I shared some of my canning journey here on my blog, I have been continuously asked for my "favorite" canning and preserving recipes.
So in an effort to compile all my favorites in one convenient location (both for myself and for you) I thought it might be nice to link to them all in one post… just in time for peak canning season here in West Michigan!
posted by Andrea | 02/16/2015 | 30 comments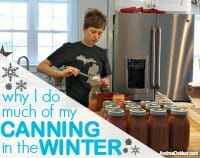 I canned 36+ quarts of applesauce this weekend! Yes, you read that right… Valentines Day weekend.
It might sound crazy to be canning in the middle of winter IN MICHIGAN! But that's usually how I do it because that's when I have the time and that's when I'm cooped up inside anyway! Am I the only "crazy" one??
posted by Andrea | 09/9/2013 | 27 comments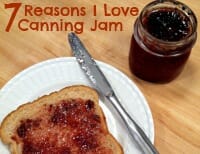 If you've never tasted home-canned foods, you don't know what you are missing. However, unless you intend to start canning, I wouldn't recommend trying home-canned food… because once you do, it will be REALLY hard to go back to the store bought stuff 🙂
Today, I'm sharing a few reasons why I love canning jam — as well as a bunch of helpful jam-making tips and resources.
posted by Andrea | 07/9/2013 | 27 comments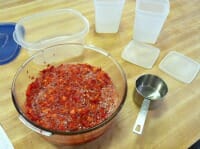 Last week, I picked over 17 pounds of strawberries for making jam, smoothies, pies, and just for eating. However, since we were very busy over the holiday weekend and are busy this week getting ready for our upcoming vacation, I'm freezing my smashed berries and will make jam when I get back.
Today, I'm sharing a few tips and resource to help simplify the process of canning jam!