Travel
posted by Andrea | 03/27/2013 | 314 comments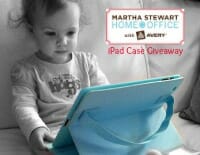 I was recently given a Martha Stewart iPad case… and I immediately noticed how user-friendly it was, AND that it easily attached to the back of a car headrest (why didn't someone think of that sooner!)
Since we love this iPad case, I figured you would too — so I'm giving one away! Come enter to win…
posted by Andrea | 03/25/2013 | 17 comments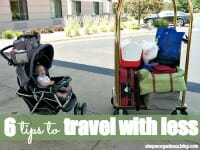 Dave's spring break starts this Friday, and we are planning to spend a nice relaxing week AT HOME. Hallelujah!
But for those of you who are headed out of town, I have a few tips that should help you pack a little lighter… and could potentially save you a bundle if you're flying!
posted by Andrea | 07/9/2012 | 17 comments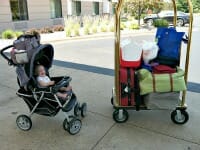 It's already been a full week since we arrived home from our crazy 5-day wedding road trip with Nora. And since I asked for your tips for traveling with tots before I left, I figured that I should also share what I "learned" on our first road trip with a baby.
Here are a few things we did that really helped the trip to go smoothly.
posted by Andrea | 06/28/2012 | 17 comments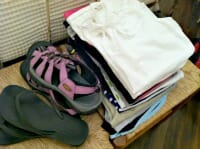 Earlier this week I mentioned that we're taking a road trip for Dave's brother's wedding… and listed off all the STUFF we had to pack to accommodate Nora!
However, I thought I would also share a few of my personal tips for packing an extremely minimalist traveling wardrobe.
posted by Andrea | 06/25/2012 | 49 comments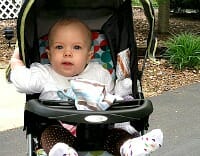 Dave and I are gearing up for a 10-hour road trip to his brother's wedding later this week…. and yes, our cute, and very fussy, 7 month-old baby is coming along too!
I'm just a tiny bit anxious… especially since this is our first trip with her. So since I know many of you have lots of experience traveling with babies and young children, I'd LOVE for you to share your best tips for traveling tots… pretty please!
posted by Andrea | 07/22/2011 | 16 comments
This morning, Dave and I WERE SUPPOSED to drive to our closest IKEA store {2.5 hours away} to do some serious shopping! We actually even rented a small U-HAUL trailer because we were planning to purchase a couch, some mattresses, a couple of chairs, and a bunch of other things for our {almost} newly renovated main floor bedrooms, bathroom, office, and living room. However, the truck we were planning to use did not have the correct electrical hook ups for the trailer […]
posted by Andrea | 04/11/2011 | 7 comments
This photo is the path to one of the main pools. Doesn't that tree look so cool? Dave and I spent the past week in Florida for a very last-minute vacation. Although it was a little crazy trying to work out all the details in less than 36 hours, the vacation itself was SO relaxing! We didn't have an agenda or any specific plans — other than sitting at the pool and soaking up as much warm weather and sun […]
posted by Andrea | 04/2/2011 | 1 comment
Dave and I are headed to Orlando, Florida — right now! And while we certainly didn't bring that much luggage, we are traveling with my aunt, uncle, cousin, and my cousin's two kids…so the van is pretty full 🙂 We are so excited for warm, sunny weather {a huge change from West Michigan} and even though the 20-hour car ride might do me in, I know it will be worth it once we get down there. Normally I would take […]