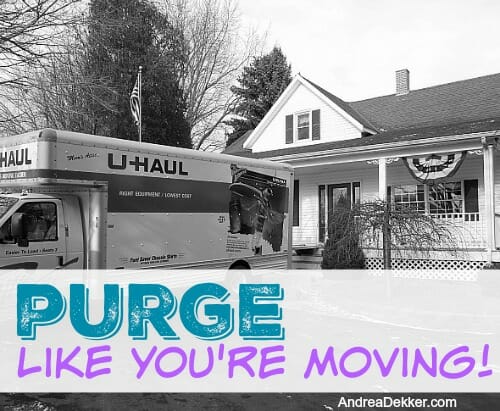 Someone recently asked me for my best tip to encourage more purging. Without much hesitation, I responded with this simple phrase…
Purge like you're moving!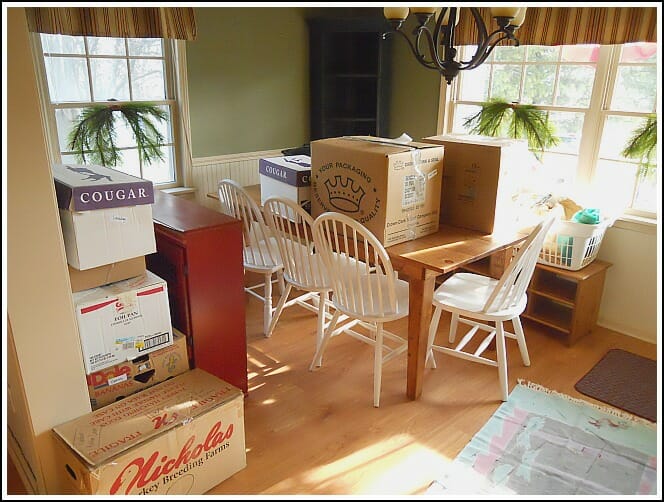 If you were moving across town, would you want to pack and transport your 10 pairs of too-small jeans, your finicky toaster, and your box of extra cords you're convinced you "might need someday"?
If you were moving across the country, would you waste the time, space, and energy carting your stacks of old magazines, newspapers, and junk mail with you?
If you were moving internationally, would you pay to ship all your holiday decorations, unused wedding gifts from 20 years ago, and every single piece of artwork from your 4 children's school days?
I suppose some of you might say "yes" to some (maybe even all) of these questions — but I have a feeling the majority would probably say "no".
When Dave and I moved to our current house 5 years ago, we sold stuff on Craigslist and thoroughly purged every single room and closet in our home because we didn't want to waste time or energy moving anything we didn't want, need, use, or love.
Even though we moved into a home that was twice as big as our first home, we still got rid of SO much stuff before we moved — and it felt GREAT!
In fact, almost everyone I know (including many organizing clients whom I guided through the moving process) is likely to purge MORE if they go into it with the mindset that they wouldn't want to move it to another home or another location.
I know this won't work for everyone — but if you're looking for a quick tip to help you purge more, simply ask yourself "would I keep this if we were moving?"
If not, then you know you're probably safe to put it in the donation pile!
A few other purging resources:
Oh, and if you actually ARE moving, here are 6 tips to simplify moving 🙂
What are YOUR best tips to purge more?