3 Simple Concepts to Simplify Your Life
posted by Andrea | 09/25/2015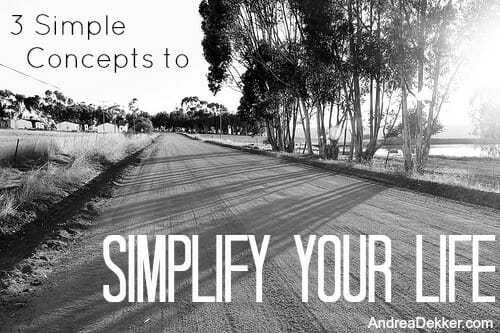 The following is a re-post from a couple years ago that I've updated where necessary. I feel it's a good post to re-share this time of year.
Everyone is extra busy with all the new programs, meetings, and events starting up for the new school year, and the holiday season will be here before we know it. 
---
In real life, I tend to be somewhat of  a chatter box (Dave will eagerly attest to this). However, on the blog, I try to keep my message short and sweet… as simple, as direct, as clear, and as straightforward as possible.
Sometimes I think the message might be overly simple — duh, we all know that already. So I'm always surprised by how many emails and comments I get on those overly-simple posts, saying things like
"I needed to hear that again today."
"Thanks for the reminder."
"I've heard this before, but it never made sense until today."
Well, today is another one of those overly-simple messages that I KNOW you already know. You've heard it 100 times before, but maybe today will be the day you take action. Maybe today will be the day it makes sense. Maybe today, this message will be just the reminder you need to start simplifying your life.
If not, you'll no doubt hear it from me again at some point — so there's always next time, right? 🙂
These are 3 things I personally try to practice every day. They most definitely help to simplify my life, and I have a feeling they'll help you too!
1. Plan Ahead
If you've been reading my blog for any amount of time, you know that I'm a huge advocate for planning ahead — even more so now that I'm a mom.
Menu planning, top-5 to-do lists, cleaning, blogging, family vacations, holidays, etc. — they are all simpler when I plan ahead.
There are so many things we can NOT plan for or predict, so anything you can do in the present to make the future less stressful will ALWAYS help to simplify your life.
2. Do It Now
A.K.A. don't procrastinate!
None of us will "do it now" 100% of the time, but I've been trying really hard to give myself deadlines and to do whatever I can do NOW so I don't have to do it later.
Plus, by doing it now, I don't have to THINK about it anymore. It's out of my brain and off my to-do list. Win-win!
3. Don't Worry about Perfect
I am not a perfectionist — not even close. I do like things to be done correctly, but I'm the type of person who wants to get things done as fast as I can and I'm almost always satisfied with "good enough". I'm not saying this is the best, or the right, or the only way — but it does help me continually push forward, eliminate stress, and simplify my life.
In my years of working with different organizing clients, I found that MANY of my clients had strong perfectionist tendencies which prevented them from getting started. They were so worried about getting it "perfect" that they never started.
Perfectionism can be hard to push past, but just keep working on it! Remind yourself that "progress" not "perfection" is your ultimate goal. Remind yourself that all those "EST words" aren't achievable.
You're life will be so much simpler without the pressure of "perfect".
So like I said, today's message is ultra simple. I know you've heard this message before… but maybe today is the day you take action!
Do you have any other simple concepts that help you to simplify your life?