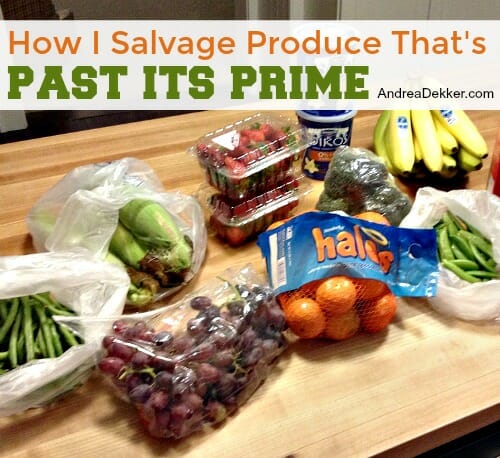 My 2018 "summer vacation from blogging" is sharing one week of reposts each month… this week is my July repost week.

Today's repost is an updated version of one I originally shared back in October of 2015 — and yes, I'm still using the tips and ideas in this post on a weekly basis!
Whenever I walk into the grocery store, the very first place I go is to the discount produce racks. Sometimes, they are completely empty, but most of the time they are FILLED with produce that is just a day or so past the store's sell-by date.
This produce is most certainly still edible… and it's usually 50% – 75% off regular price produce.
Some examples of deals I've gotten lately:
strawberries for $0.30 – $0.50 per pound
bags of multicolored peppers for $1 per bag (usually with 4-6 peppers per bag)
10-lb. bag of potatoes for $0.89
blueberries and raspberries for $0.20 per pint
bananas for $0.25 per pound
broccoli and cauliflower for $0.49 per head
UPDATE: Our local grocery store doesn't have as many of these deals anymore — BUT, I still use the tips and ideas in this post to make sure we don't waste any of our delicious produce!
In the fall, I often get discounted "seconds" (produce that might have a few bruises or be mis-shaped, small, etc.) at orchards and other farmer's markets for drastically reduced prices.
I save SO much money buying discounted produce, and it rarely ever goes to waste. We eat as much as we can fresh, and then I "salvage" the rest.
Here are a few ways I salvage produce that's a little past its prime…
Berries:
We have bags of discounted berries in our freezer (all washed, sliced, and ready to go). We use blueberries for pancakes and our favorite blueberry muffins, strawberries for pie or shortcake, and a variety of berries for smoothies and berry compote all year long!
I also freeze chopped rhubarb and cherries in 2-cup containers for breads, muffins, and jam.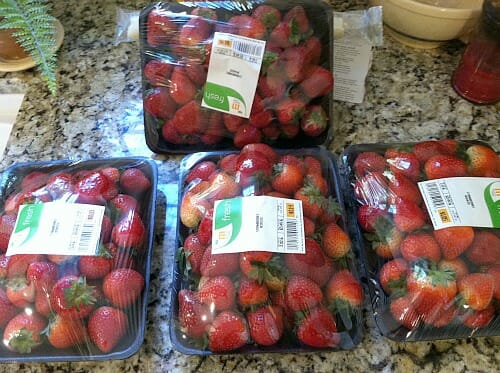 Bananas:
I often just toss bananas into the freezer with the peelings still on. Then, when I'm ready to bake with them, I simply let them defrost (in a bowl as they will get drippy), cut the stem off, and squeeze out the super slimy, gross banana (my kids love helping me with this!)
I use frozen and defrosted bananas to make our beloved Banana Chocolate Chip Muffins and Frosted Banana Bars.
I do freeze some bananas without the peels and I use those for smoothies or chocolate covered banana popsicles!
Also, did you know that you can extend the shelf-life of your bananas by wrapping the stems in plastic wrap??
Apples:
I use my Apple Slicer Peeler Corer to peel and thinly slice apples that are getting just a bit old, mushy, mealy, etc. I put them in freezer bags and use them for apple bread, apple cake, smoothies, etc.
You can also cook any bruised or mushy apples to make regular applesauce, our favorite chunky cinnamon applesauce, or apple butter.
Peppers:
I've been getting most of my peppers from Aldi's these days — but they are still pricey, so I try to always find them on sale (or on the discount rack).
In the past, I've gotten 10 huge peppers (yellow, orange, green, and red) for a grand total of $2.10. They were all still nice and crunchy and we ate several of them on salads or raw.
I chopped up the rest and put them in a large freezer bag. Now I can simply grab out a handful for omelets, casseroles, soups, or stir-fry. I mix all the colors together, but you could separate them out if you want.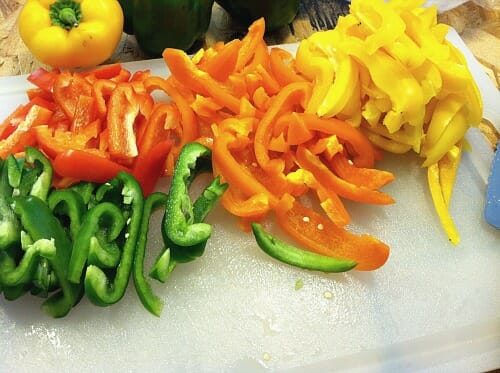 Carrots, Onions, and Celery:
I know none of these vegetables are expensive, but I still hate to waste them. So if I see that my carrots, onions, or celery is starting to look a little "old", I quickly chop up whatever is left in my refrigerator and put them in gallon freezer bags. I lay the bags flat so I can easily break off whatever I need for soups, stews, casseroles, etc.
This saves me SOOOO much time later on because I can just grab a handful of chopped veggies from the freezer and keep going with my recipe.
Oh, and this is a great recipe for roasted carrots that I'll often make if I find a great deal on discounted carrots.
Broccoli:
Our kids LOVE broccoli — so whenever I find a great deal, I usually just cook it up for dinner that night or use it to make brocoslaw.
However, if I have a bunch of it left over, I'll chop it up for the freezer and use it later for cheese broccoli soup or chicken broccoli rice casserole.
Also, if you're looking for an idea to salvage your broccoli stems, here are a few we use 🙂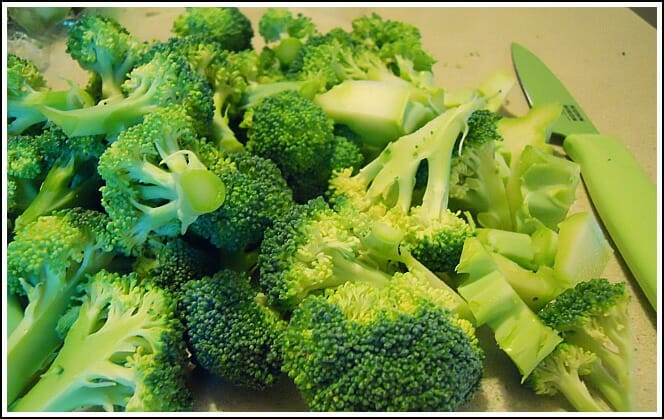 Potatoes:
I don't normally freeze potatoes in soups because I haven't had the best luck with that. However, I DO chop and shred my own potatoes and freeze them for my yummy cheesy hashbrown potatoes or fried potatoes.
I don't do this very often because potatoes have such a long shelf life, but there have been a few occasions when I've salvaged the last of my potatoes by tossing them in the freezer!
Zucchini and Squash:
I've been freezing zucchini and squash for many years. I shred it all in my food processor and freeze it in 2-cup portions for breads, cakes, muffins, and my delicious "apple-less apple crisp"!
I grew a BUNCH of summer squash in our garden this year and roasted it all in the oven for about an hour, scooped out the insides, and put it into quart-size freezer bags. I'm planning to use some for various recipes (especially around Thanksgiving) and will use the rest to make baby food for James!
UPDATE: We hardly ever let zucchini get old in our house anymore because we make zucchini noodles on a very regular basis!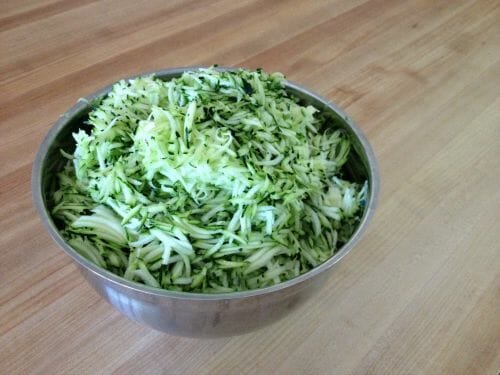 Spinach:
We eat lots of fresh spinach in our salads, but we have to buy very large bags of it, so it often starts to get a bit wilty before we finish a bag.
Instead of tossing it, I chop it up and freeze it in 1-cup portions to use in Chicken Lasagna, quiche, and SO many other soups and casseroles.
.
A few more tips and ideas:
When in doubt, wash your produce, peel/slice/dice it, and put it in the freezer — it's amazing how many fruits and veggies can be successfully frozen and used up again instead of trashed.
Also, roasting veggies is a fantastic way to use up the ones that are starting to get mushy. Roasted veggies are SUPPOSED to be mushy, so it won't even matter!
You can save almost any vegetable leftovers and use them to make delicious homemade vegetable broth for soups and stews.
Similarly, you can use almost any fruit to make smoothies, jam, or fruit compote (which we put on ice cream) — as long as it's not actually 'rotten' but just 'past its prime a little. The flavors will most likely just be enhanced if the fruit is super ripe!
I've read statistics that claim Americans waste up to 40% of the food they bring into their homes (yikes!) — and while I certainly hope our family does better than that, I know we still waste some on occasion.
The important thing is that we are always trying to waste less — use up leftovers, freeze foods before they go bad, etc. etc.
Every little bit helps!
Do you have any other other great tips for salvaging produce?