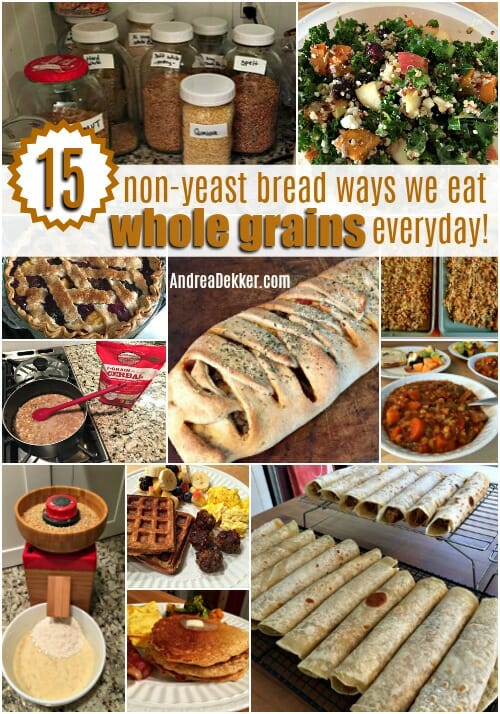 When it comes to eating whole grains, the first thing almost anyone (myself included) thinks of is… yeast breads!
Crusty loaves of artisan yeast or sourdough breads made with stone ground grain and baked to perfection… yum!
However, yeast breads (and sourdough breads) are often fairly time-consuming, fairly labor intensive, and fairly intimidating for the average home cook with 832 other things to do each day.
I know I have been extremely surprised by how much time and energy (mental and physical) is required to stay on top of baking yeast breads every single week.
On the flip side, I have also been extremely surprised by how EASY it has been to integrate a huge variety of whole grains in our diet on a daily basis (even without making yeast breads!)
.
If you aren't big on the idea of baking your own breads (or if you've tried and failed more times than you care to count) but still desire to incorporate more whole grains in your diet each day, you will LOVE my list of 15 non-yeast bread ways our family eats whole grains EVERY day!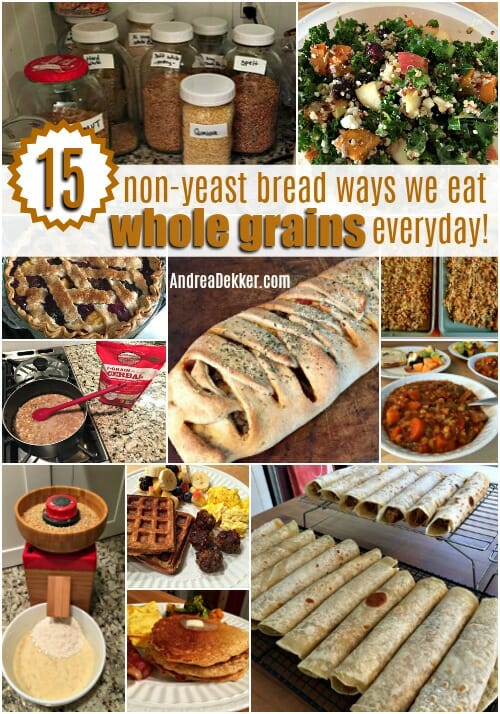 1. Hot Cereal
Growing up, I ate Cream of Wheat for breakfast several times a week — just the little instant packets with loads of brown sugar. 🙂
Now, as an adult, I'm still a fan of hot breakfast cereal — oatmeal, cream of wheat, polenta, 7 grain cereal, etc. but I've made it a little more nutritious!
I usually soak my grains overnight, boil them for a few minutes in the morning, and top with butter, cream, maple syrup, frozen fruit, etc.
If you've never tried it, I can testify that Cream of Wheat made with home-ground Spelt berries and served with cream and maple syrup is practically like eating dessert for breakfast!
Related Recipes:
2. Granola
Oh, how I love me some delicious homemade granola with my yogurt (or just in a bowl with milk)! It was one of my favorite breakfasts in college (store bought, not homemade) when I didn't have the desire to make food in my dorm room or eat at the crowded cafeteria.
I'm so happy that my kids will eat my homemade granola — Nora even enjoys taking it in her lunch with yogurt and fresh cut-up fruit!
Related Recipes:
3. Pancakes & Waffles
Another breakfast food group our entire family loves is pancakes / waffles — I think our kids could eat them every single day (sometimes they request leftover pancakes and waffles for lunch too!)
I have literally flipped thousands of pancakes over the last 12+ years! I have also "healthified" my pancake and waffle recipes to include 100% whole grain flours, greek yogurt, maple syrup, etc.
The flavors of the whole grain are amazing…. in fact, my sister and her husband were over for breakfast a couple weeks ago and she said, "these waffles have so much flavor, I almost don't need syrup!" Honestly, I don't even use syrup anymore!
Related Recipes:
** Here's my recent post about how to substitute whole grain flour in almost any of your favorite recipes.
4. Cookies
I haven't always had great luck making cookies with whole grain flour — they often fall flat and get really thin and crispy. The flavor is still good — they just LOOK horrible. However, if I stick with 50% whole grain and 50% all purpose flour, they usually turn out just fine.
Also, keep in mind that any type of oatmeal cookie will already have the whole grain benefits of oats!
Related Recipes:
5. Brownies & Bars
I've always been a fan of "oat bars" — either homemade granola bars or oatmeal brownies… however, it's surprisingly easy to "hide" whole grain flour in many of your favorite brownies and bars!
Related Recipes:
** Here's my recent post about how to substitute whole grain flour in almost any of your favorite recipes.
6. Cake & Cupcakes
You will NOT get a super light and fluffy cake or cupcake with whole grain flour — so don't try this for your next Funfettie unicorn birthday cake!
However, I've had TONS of success swapping whole grain flour for 50% of the all purpose flour called for in any of my more "dense" cakes! I've even tried a few with 100% whole grain (modifying other ingredients) and the results are delicious! I'll hopefully be sharing more recipes in upcoming months — but for now, you can try a few of these!
Related Recipes: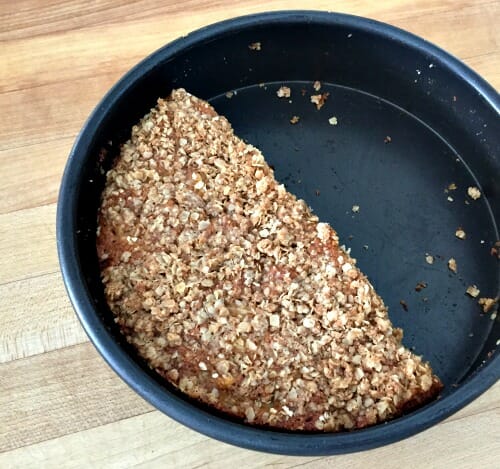 7. Pies, Cobblers, and Crisps
I haven't made many fruit pies in a while (those will be coming soon though) but chicken pot pie is always a staple food for us throughout the winter. I previously purchased store bought crusts for my pies, but I've been experimenting with whole grain crusts at home — and the results aren't bad! It's easier than bread (in my opinion) and just as tasty!
Cobblers and crisps are also an EXCELLENT way to incorporate a few ounces of whole grains into a delicious dessert. Simply use whole grain flours (any variety) and oats to make crunchy, crispy, and/or chewy toppings for your in-season fruit (with a healthy dose of sugar!)
8. Tortillas
After sharing about the yummy bake-at-home tortillas I found at Costco a few months ago, I have been encouraged and inspired (by you all) to try making my own whole grain tortillas.
Who would have thought they were so ridiculously easy to make! Definitely a lot easier than yeast breads, and SO tasty!
Related Recipes:
9. Quick breads and muffins
If you have a favorite quick bread or muffin recipe, you can almost effortlessly transform it into a whole-grain baked good, by simply swapping up to 50% of the flour for whole grain flour.
However, in my experience, quick bread and muffins are some of the easiest recipes to swap 100% whole grain flour as they usually have lots of fat, sugar, and dairy to keep the batter moist and tender.
Related Recipes:
10. Casseroles
Many of our family's favorite casseroles use white rice (which the kids love). However, I've been swapping much of that rice for either cauliflower rice (for a lower-carb option) OR whole wheat berries or quinoa (for a whole grain option).
You really don't need to make any other changes to the recipes — just add in already cooked quinoa barley, Kamut, Farro, etc. My kids rarely even notice the difference!
Related Recipes:
11. Soups and Stews
For the last year, I've started swapping whole grains in for the rice and pasta in any of our favorite soups and stews.
Similar to the casseroles I mentioned above, I rarely have to many any other changes to the recipe — just add in the grains instead of rice. If your recipe calls for COOKED rice, you'll want to add COOKED grains. If not, you can just dump the uncooked grains into the broth and simmer along with everything else. SO easy!
Related Recipes: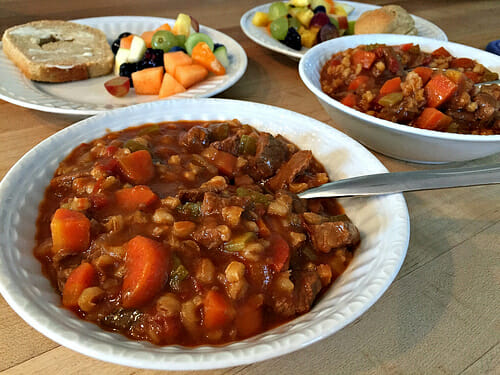 12. Sauces and Gravies
Whenever I'm making any type of sauce, gravy or thickening agent for potatoes, vegetables, soups, stews, or casseroles, I always use some type of whole grain flour.
This is SO simple to do and provides extra nutrients and fiber for the meal!!
13. Mixed directly into Meat
I know, this one sounds odd — but I didn't know exactly how to phrase it!
Essentially I use cooked oats, cooked whole grains, or cooked quinoa to add moisture to my meatloaf, meatballs, sausage balls, etc. There is not a huge taste to these whole grain additions, but there are lots of added nutrients — and it helps to stretch my meat a bit further, making the meal more frugal!
Related Recipes:
14. On Salads
If you've never tried cooking actual wheat berries before, you might think this sounds very odd! However, cooked (and cooled) wheat berries taste REALLY good on many different salads!
I've also started adding cooked (and cooled) quinoa, barley, amaranth, and Farro to several of my favorite salads (and mixed with roasted vegetables). I cook a bunch of grains at one time, divide them up into freezer containers, and always keep at least 1 or 2 varieties in the fridge for quick, nutritious additions to whatever salad I'm making for lunch.
Related Recipes:
15. Pizza Crusts and/or Stromboli
I realize pizza crust contains yeast — HOWEVER, it's so much more forgiving than baking bread because you don't need to worry about getting that perfect final rise, or creating a light and fluffy loaf for PB&J sandwiches. Instead, you can get buy with one rise, and a denser crispy crust is actually desirable as a base for all those delicious pizza toppings and cheese.
In my experience, it's MUCH more difficult to mess up a pizza crust then it is a loaf of bread!
Related Recipes:
Obviously, I don't expect everyone to be as interested in eating whole grains as I currently am (and I know I can do A LOT more different grains thanks to my NutriMill grain mill) however, I do think that with a little extra thought, it can be VERY doable for anyone to eat whole grains at almost every meal.
I know gluten free and grain free are very trendy right now, and I know some people experience health benefits from eliminating grain from their diets, but I have personally noticed a number of positive health benefits from eating so many more whole grains (my digestive system being top on the list!)
Although I might not always have the time to bake whole grain yeast breads each day, I CAN incorporate healthy whole grains into almost every single meal my family eats!
What are your favorite ways to incorporate whole grains into the foods you already eat?