The following post is written by Elvie Look of Elvie's Essentials:

Whether you work in the corporate world, as an entrepreneur, raising a family, or going to school full-time; you are likely very busy and wonder how you will keep up.
Being organized is the answer!
And you don't need to wait until "life settles down" to get organized, you can do it right now by following 2 simple rules:
1. Do One Thing At A Time
Break your project down into small, do-able pieces. If you have a huge stack of ironing, break it down, either by 15 minutes a day, or only iron the short sleeved shirts one day, the long sleeved the next, etc.
2. Build Good Habits
Your dentist has most likely told you to floss and brush in order to keep cavities away. That is a habit you had to build, and now you do it without even thinking. Same thing with organizing. There are habits that will keep clutter and disorganization at bay, and you will soon be doing them without thinking.
These are some of MY habits that help me stay on top of my game.
1. Keep A Running To Do List
.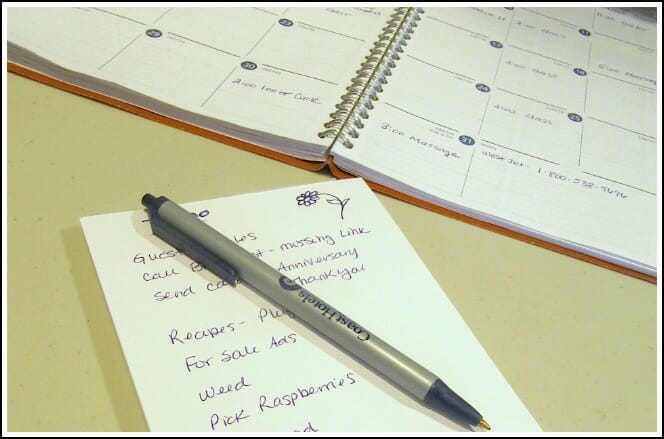 My memory once great is now …hmmm, what was I going to say? Oh yes, writing it down is key to not forgetting. Keep a list and write things that you need to do, buy, call, clean, whatever. Write it down.
2. Never Walk By A Mess
If you see some dirty dishes or garbage, pick it up as you go by. Never walk by it empty handed. This is huge, because you are training your eyes to watch for it. Never allow yourself to get used to the mess and step over it. Pick it up and clean it up.
3. Keep Paper Towels Handy
I can't live without paper towels, such as in the bathroom. Every morning after washing up, take a paper towel and wipe down the mirror, sink and set out a fresh hand towel. Now take that damp paper towel and swipe the floor. You will be amazed at the hair and towel lint you pick up every single day. It's likely that you don't vacuum daily, and with this habit, you won't need to.
4. Empty Garbages
Every morning after leaving the washroom, grab the garbages from the bathroom and bedrooms and empty into your main garbage. This habit packs a punch with making your rooms look cleaner.
5. Never Leave The Vehicle Empty Handed
Get into the habit of taking in any trash when you leave and take it with you into the house. Your vehicle will never get out of control with this habit.
6. Hang Clothes Right Out Of The Dryer
I love ironing, but maybe because it rarely gets out of control. Most people hate ironing, and it might be because the wrinkles are permanently set. If you simply hang your clothes immediately after they come out of the dryer, they will be a breeze to touch up with the iron if needed.
7. Fold Towels Attractively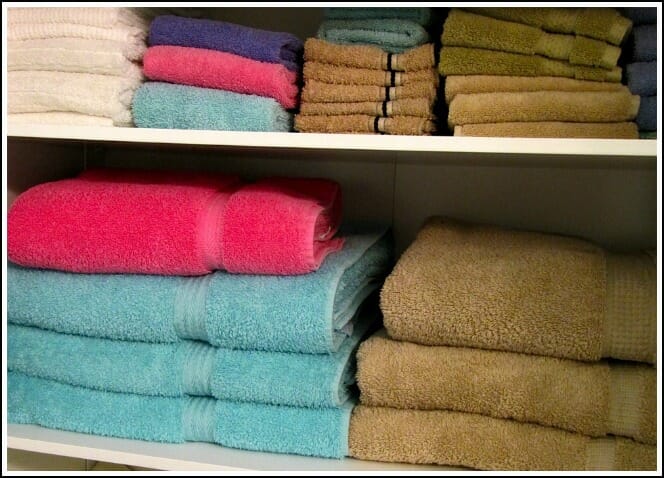 Your cupboards always look neat if you fold your towels the same and have the rolled edge visible in the linen closet – NOT the hem. Also arrange your towels by size and color.
8. Make Dead Time Productive
Always have something in your bag you can do or read for those times you are waiting in the car for the kids or at the doctor's office. Even when watching TV, you can do little projects like folding laundry, clipping coupons, or sewing on buttons.
9. Be Last To Bed
Have your nightly ritual to get things ready for the next day, like setting the coffee pot, starting the dishwasher, taking out the meat for supper the next day, check over your To Do list and calendar for upcoming appointments to refresh your memory, set out your clothes for the next day. Taking 15 minutes each night makes for a better sleep and easier mornings.
10. Close All Doors & Drawers
Closing all cupboards and drawers not only makes your place look neater, but it is safer too.
11. Keep A Notepad By The Bed
If something comes to mind after the lights have gone out, you may not remember it by morning. By keeping a notepad and pen by your bed, you can write it down, even in the dark. Learning to read your chicken scratch may be a challenge in the morning, but it won't take long and you'll learn this new font!
12. Clean As You Work
When preparing supper, put some hot soapy water in the sink and clean up as you go.
13. Detail Your Kitchen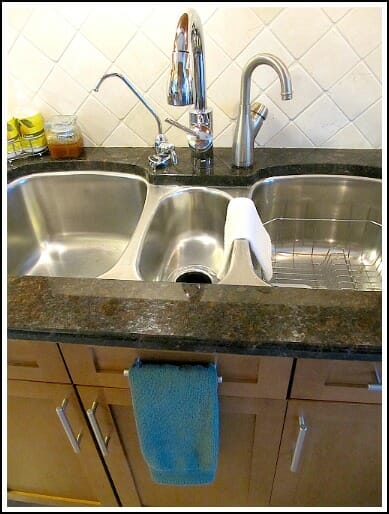 After the supper dishes are done, make it a habit to rinse out the sink to leave it shining, put out a new dish cloth and hand towel.
14. Always Sweep
My mother taught us 7 kids to always sweep the kitchen floor after doing the supper dishes. It went with doing the dishes, and the job was not done until we swept the floor. It's a great habit. Leaving the kitchen clean makes the whole house feel better, and makes your mornings go smoother.
15. Wipe One Thing
Before I drain the dishwater, I often will wipe a dusty picture frame, window sill, shelf. One thing. This daily habit helps keep the house looking like you just cleaned it.
There are so many more habits to help keep you from becoming overwhelmed — and you will find many of them in my free eBook 5 Quick and Easy Steps to Organize Your Kitchen.
Photo credits: Elvie's Essentials
| | |
| --- | --- |
| | Elvie Look is a Professional Organizing Coach who is helping people get organized with her easy tips and suggestions. These systems help the busy mom, businessman or woman, entrepreneur or student learn the keys to organizing in simple, actionable and manageable steps. She teaches how to get organized and maintain your organized space while carrying on your normal busy life. She is the author of "21 Steps From Chaos To Calm." |