May, 2019
posted by Andrea | 05/7/2019 | 31 comments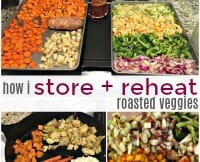 If you love the idea of serving roasted veggies with your meals throughout the week but don't have the time to roast them every weeknight, I would highly suggest roasting large quantities at a time and reheating them throughout the week. 
This system has worked well for our family over the past 2 years… I have a feeling it will work well for many of you too! 
posted by Andrea | 05/6/2019 | 21 comments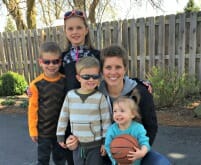 A couple weeks ago, I had an extremely busy week… one day in particular was especially packed full. I woke up with my mind already swirling as I mentally tried to rearrange the day in attempts to fit all the pieces of the puzzle together.
I knew I couldn't fit everything in, I knew I would end up stressed out and grumpy if I tried, and I knew I would look back on this day and regret it if I didn't make a change… today I'm sharing the CHOICES I made to eliminate potential chaos from my day.
posted by Andrea | 05/3/2019 | 130 comments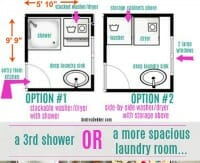 Almost exactly 1 year ago, I came to you all with a question about what we should do with our current laundry room and "kitchen bathroom" (a.k.a. the fairly awkward full-bath off our kitchen). You offered so many fantastic ideas that we actually ended up changing our plans and going with some of your ideas instead!
We finished our half-bath renovation last fall, but we still need to tackle the new laundry room this spring/summer… which is why I need your help again!
posted by Andrea | 05/2/2019 | 12 comments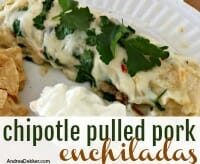 If you're looking for a fantastic make ahead freezer meal to add to your weekly meal plans, give these Chipotle Pulled Pork Enchiladas a try. 
I make several dozen at a time and freeze the rest for a quick week-night meal that EVERYONE in our family enjoys!
posted by Andrea | 05/1/2019 | 20 comments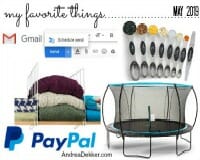 Last week was a BIG yard work week for us… we had several larger trees delivered and planted, we dug out and transplanted so many shrubs, I split countless perennials, we rented a sod cutter to expand a few of our planting beds, and we had 20+ yard of mulch delivered. 
I know it might sound crazy, but working out in the yard truly is one of my most favorite things to do this time of year! I'm sharing a few more of my favorite things in today's post!