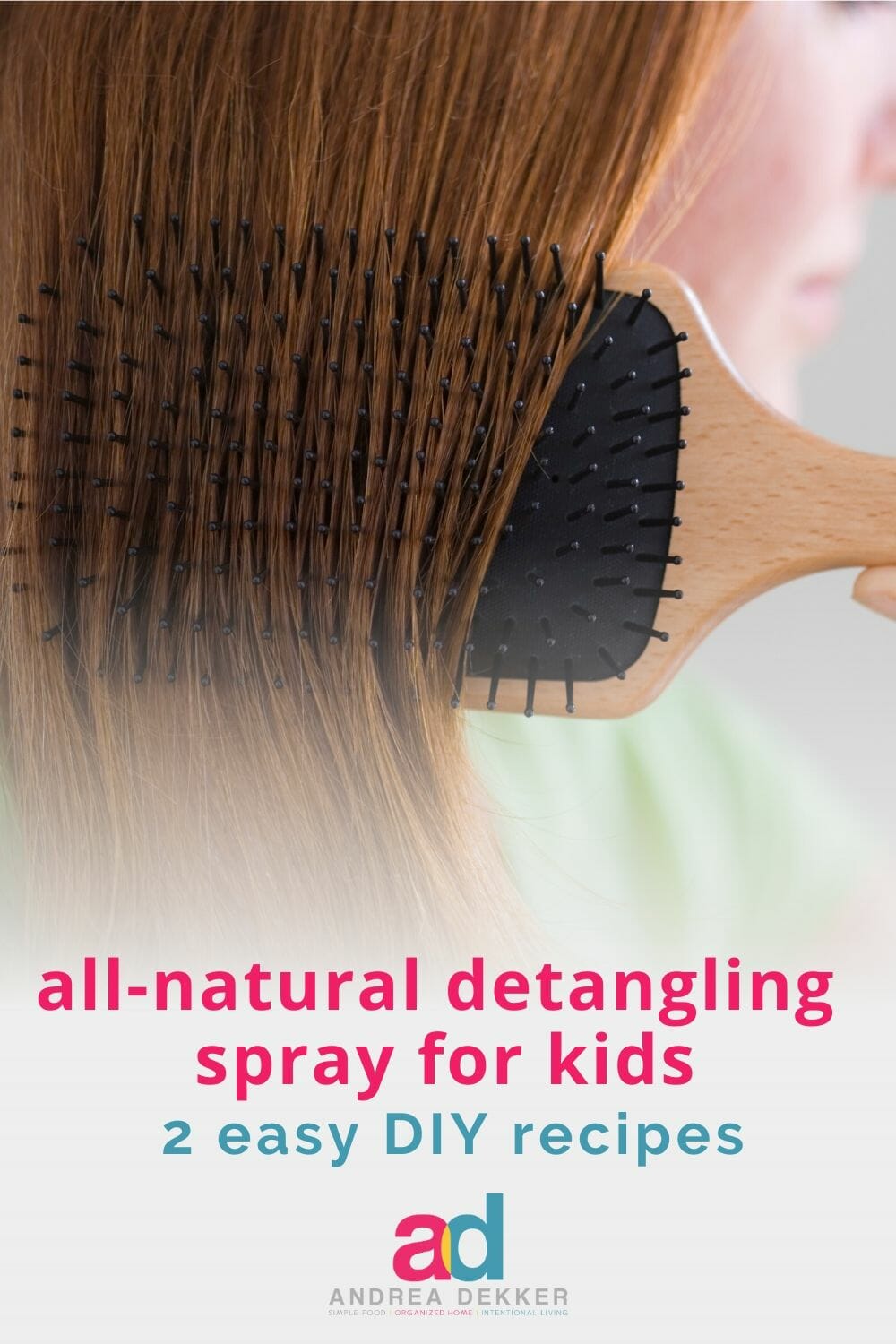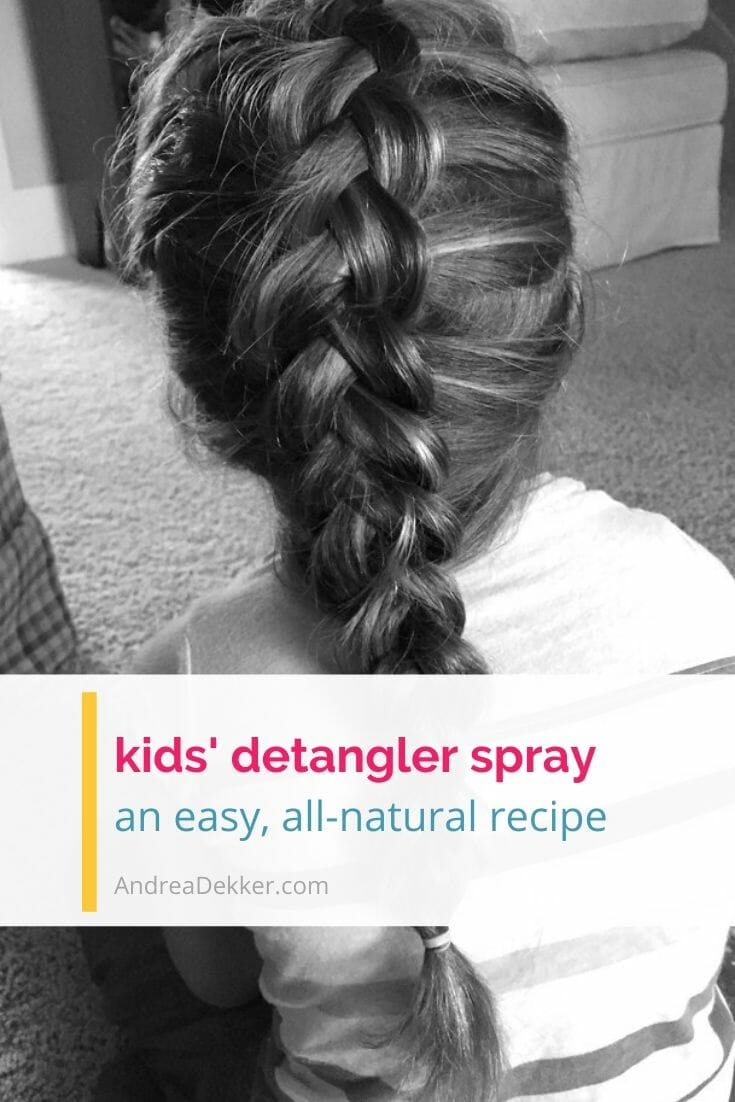 Get ready for summer pool season by whipping up a batch of kids' detangler spray — perfect for frizzy, snarly, difficult-to-control hair. it's ready in minutes using simple household ingredients!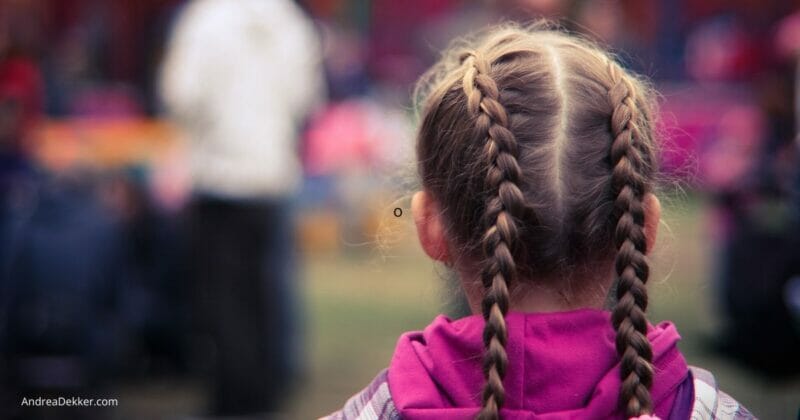 Growing up, my sisters and I swam in our neighbor's pool almost EVERY single day in the summer. We all had very long, very snarly hair (mine was curly too) — so we used detangler spray on a very regular basis.
Fast-forward 25 years… I wasn't the least bit surprised when I realized Nora had a head full of crazy curls and lots of snarls.
Add to the fact that she had major sensory issues as a toddler, and brushing her hair was officially at the top of my list of LEAST FAVORITE things to do each day.
We tried special treats and snacks, we tried watching a show while brushing, we tried combing it in the bath, we tried not brushing for as long as possible — none of those ideas worked.
So… I just cut her hair into a cute bob and kept it short for a while.
At that time, I had a newborn and an 18-month-old (in addition to my snarly-haired 3-year-old)… so I think my brain was a little fried. Eventually, though, I remembered my childhood snarls and the lightbulb went on!
Even though Nora wasn't swimming every day, I figured the detangler spray might be just what we needed for her crazy curls and snarls!
At the time, I didn't want to head out to the store with 3 kids, so I opted for a homemade version instead.
Ding, ding ding. The detangler spray worked like a charm!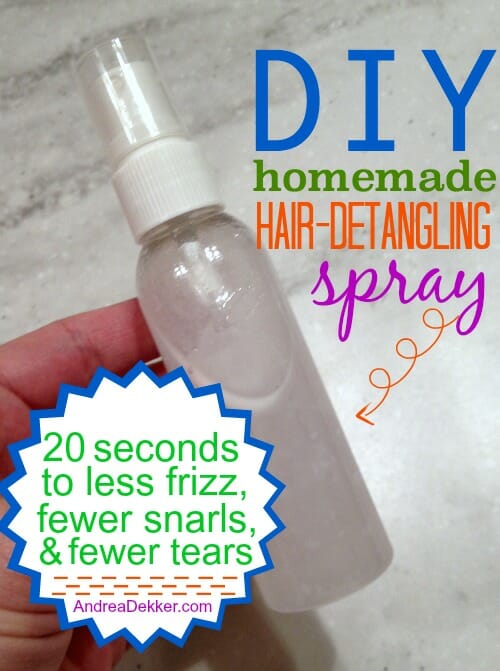 Over the last 5 years, I've mixed up this "magic spray" many times, AND I've tested out a new recipe for all-natural hair detangling spray that works really well too!
Now both our girlies can enjoy snarl-free hair with minimal effort and tears.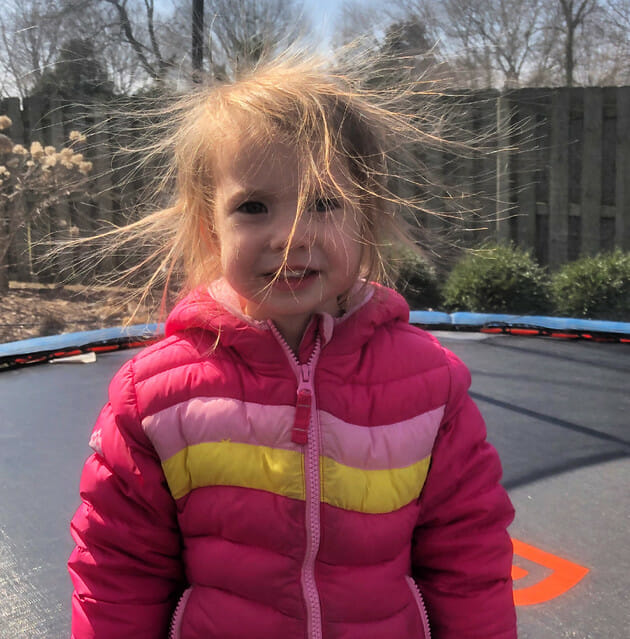 If you're gearing up for pool season, if your kiddos have long snarly hair, if they have sensitive scalps, or if you're just tired of whining and complaining when it's time to brush their hair, give my super easy DIY kids' detangler spray a try!
I share both the traditional and all-natural versions below!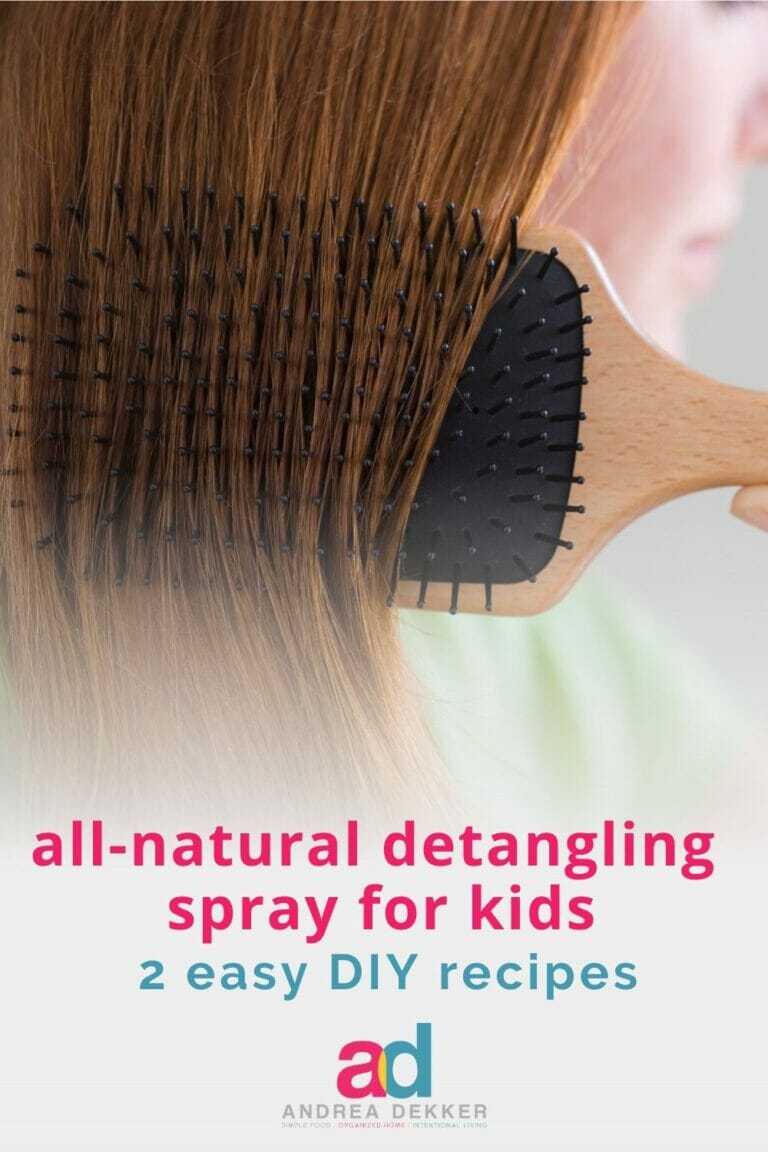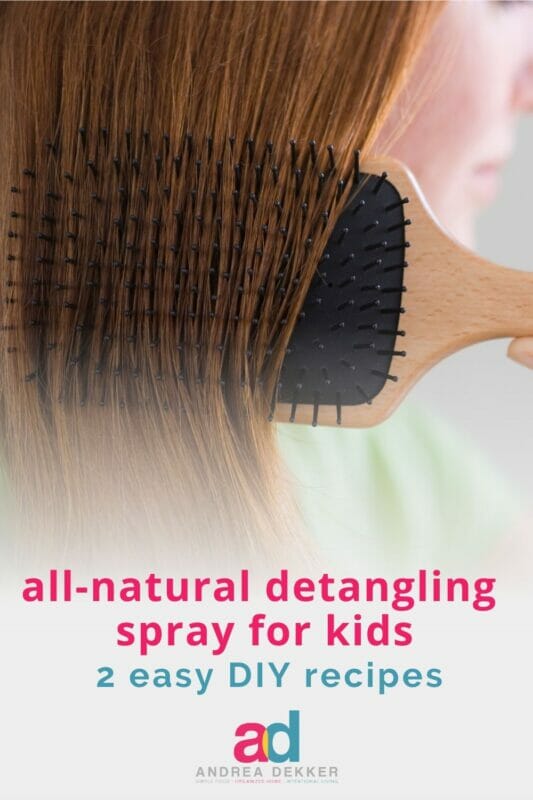 Yield: 1/2 cup of spray
The Easiest DIY Kids' Detangler Spray (2 Options)
Get ready for summer pool season by whipping up a batch of this kids' detangler spray (a.k.a. "Magic Spray"). Choose either the all-natural option or the traditional version -- either way, it's ready in minutes using simple household ingredients!!
Materials
The All-Natural Recipe
1/4 c. Apple Cider Vinegar
1/4 c. water (distilled is best)
1 t. olive oil (or jojoba or sunflower seed)
Optional Essential Oils (20 drops)
The Traditional Recipe
Small Spray Bottle
1 tsp. Hair Conditioner (any variety)
1/2 c. water (distilled is best)
Instructions
For the All-Natural Recipe:
If using essential oils, add those to the bottle first.
Then add apple cider vinegar and let sit for a minute.
Add oil and swirl to combine.
Finally add water and shake to dissolve.
Spray in wet OR dry hair before combing (you may need to shake each time if the oil and water separate).

For the Traditional Recipe:
Pour conditioner into the spray bottle.
Add water until the bottle is almost full.
Shake to dissolve the conditioner.
Spray in wet OR dry hair before combing.
Notes
Make a small batch -- it lasts for a LONG time as you only need a few spritzes per head!
Using distilled water is preferred as bacteria COULD possibly grow in tap water. If you don't have distilled water, you can boil a small amount of tap water and let it cool before making the detangler spray.
For the traditional recipe: This is a great way to use up those sample-size packets of conditioner you get in the mail, in magazines, etc.
For the all-natural recipe: I personally don't use essential oils, but if you like the smell, it's a nice touch -- however, you may want to use a darker glass bottle if you plan to use essential oils.
This spray works on WET OR DRY hair!
We call it "Magic Spray" at our house -- the girls are always more willing to get their hair brushed with magic spray versus detangling spray 🙂
Recommended Products
As an Amazon Associate and member of other affiliate programs, I earn from qualifying purchases.
A Few More Tips
1. This recipe makes a fairly small batch as it seems to last us a long time. However, if you have a house full of long-haired girls, you might want to mix up a double batch in a larger spray bottle.
2. ANY type or brand of conditioner will work… but do NOT use shampoo + conditioner.
3. If you find this detangler spray is not "strong" enough for your tangles, simply add a bit more conditioner or oil to your mixture (depending on what recipe you're using).
4. If you do the math, my version of kids' detangler spray is essentially free (assuming you already have some type of conditioner or oil in the house). It's a HUGE savings over store-bought detangling sprays.
5. If your kiddos don't love getting their hair brushed, just call it "magic spray" — hair brushing instantly becomes more fun! 🙂
6. Our most favorite FAVORITE hairbrush for snarly hair is the Wet Brush! (here's the Canadian link).
One more Before/After:
In the photos below, I sprayed the detangler spray directly onto dry hair and it brushed out so easily!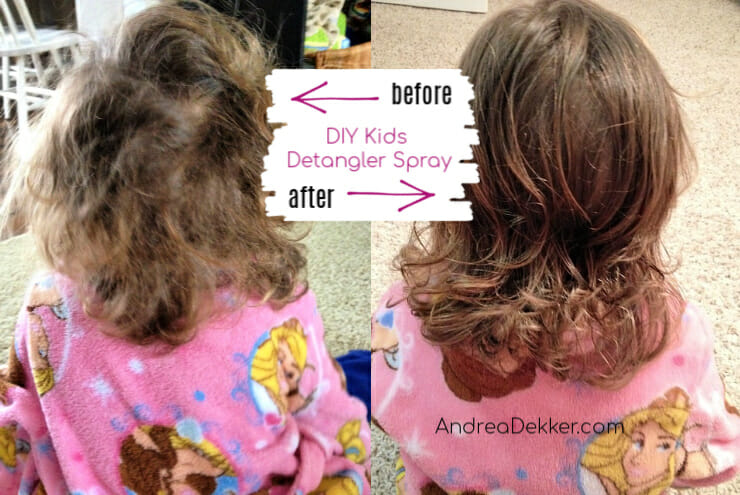 To be honest, Nora still doesn't love having her hair brushed (seriously — she's 8!) and Clara isn't much better. They both seem to have such sensitive scalps (either that or very low pain tolerances).
Thankfully, we have our trusty hair detangler spray to keep our girls' hair manageable all summer long as they are in and out of our little Costco pool!
So yes, my free, DIY hair detangling spray (a.k.a. "magic spray") is definitely worth 20 seconds of effort.
There are days when we use it multiple times per day — but always after showers/baths at night.
Their hair is super soft, smooth, and snarl-free!
Related Hair Articles:
More All-Natural Recipes:
If you have dry, snarly, tangled hair in your family, dig up an empty spray bottle and take 20 seconds to mix up a batch of your own detangling spray.
It might just save hours of your life that would otherwise be spent fighting and crying over hair brushing!