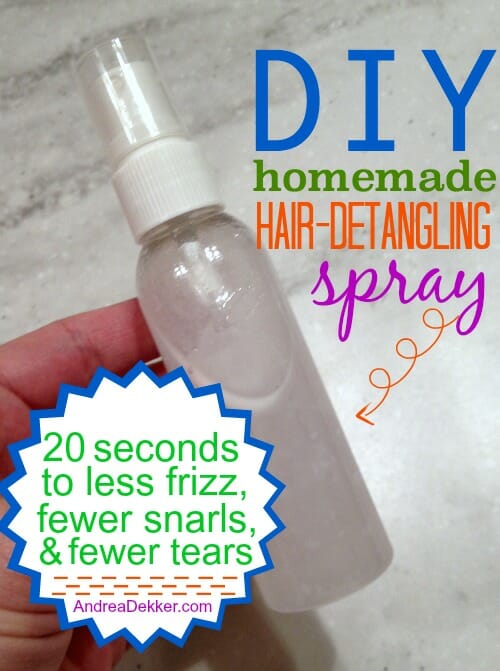 Believe it or not, Dave and I BOTH have very curly hair (see very bad/old picture of us below — after just traveling for several hours on an airplane)
… so it's not a huge surprise that Nora has some crazy, frizzy, curl-action going on.
Ok, that last picture is a wig… but I think you get the idea 🙂
Her hair is a mess, it's snarly, it's hard to comb through (especially for miss sensitive), and it's a pain to control. Add in the fact that Nora doesn't particularly love any amount of water on her face or head, and you can imagine how difficult it is to wash her hair — let alone use conditioner to control the frizz and snarls!
About a month ago, in attempts to tame her hair and even up the length a bit, I gave her a big girl hair cut.
That did help a little bit — but we were still battling the frizz… and the dry winter weather was making things worse.
So as I was contemplating how to tame her dry, frizzy, curly hair with the most minimal effort possible, I remember my mom using leave-in conditioner (also called detangler spray) on my hair when I was younger.
I remembered reading another blog post about DIY detangler spray, so I looked it up on Pinterest — sure enough, it's SUPER easy to make (it took me about 20 seconds to mix up a small batch).
Recipe for Homemade Hair-Detangling Spray
INGREDIENTS:
a small spray bottle (I reused a travel-size hair spray bottle)
a tiny amount of conditioner (I used about 1/2 teas.)
warm water (warm water works best to dissolve the conditioner)
DIRECTIONS:
Pour a tiny amount of conditioner into the spray bottle
Add warm water until the bottle is almost full
Shake to dissolve the conditioner
Spray in wet and/or dry hair before combing
A FEW MORE TIPS:
1. I make one very small batch at a time because I like using the tiny spray bottle, and Nora doesn't have that much hair. Obviously, if you have a house full of long-haired girls, you might want to make a bigger batch.
2. If you currently have store-bought detangler in the house, just use that bottle (once it's empty) to make the DIY stuff. That way, you have a built-in label!
3. This recipe is an excellent way to use up those tiny sample size packages of conditioner that are almost too small to do anything with — but of course, any brand or variety of conditioner should work just fine.
4. My measurements are not exact. If you or your child have very thick, long hair, you might want to increase the amount of conditioner. If you have very thin hair, you might want to use less. There is no one "right way" so just try it out a couple of times until you find what works best for your hair.
5. This recipe is SOOOOOOO cheap! So far, I've only used the sample size packs of conditioner, so I have yet to spend any money making this spray. And considering the store-bought varieties are anywhere from $5.00 – $20.00 per bottle, I'd say this is a super awesome money-saver for families with lots of hair!
6. If you have a cranky, stubborn toddler, calling it "magic spray" works REALLY well 🙂
.
For the record, THIS is what her hair looks like when she wakes up…
This is what it looks like after a couple squirts of detangler spray and a few passes with a comb.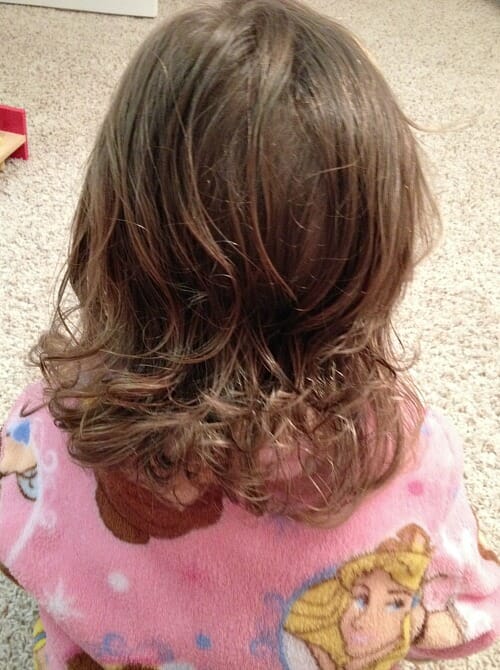 Nora still doesn't love it when I comb her hair, but she also doesn't totally freak out anymore either — progress, right??
And, now that her hair isn't nearly as snarly, I can do fun braids and other "creations" without pulling too hard on her (very sensitive) scalp.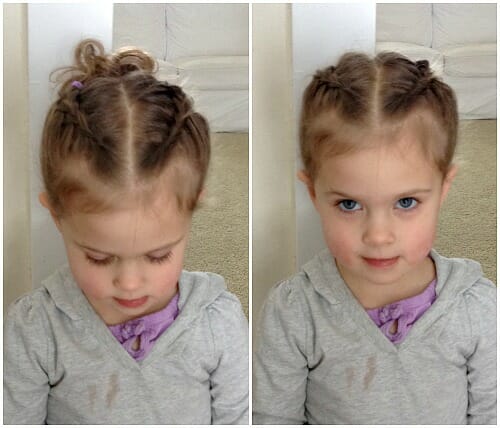 So yes, my free, DIY hair detangling spray (a.k.a. "magic spray") is definitely worth my 20 seconds of effort. We use it twice a day — after her shower at night, and in the morning before I do her hair.
If you have dry, snarly, tangled hair in your family, I would highly encourage you to dig up an empty spray bottle and take 20 seconds to mix up a batch of this DIY hair detangling spray. It might just save hours of your life that would otherwise be spent fighting and crying over hair brushing!