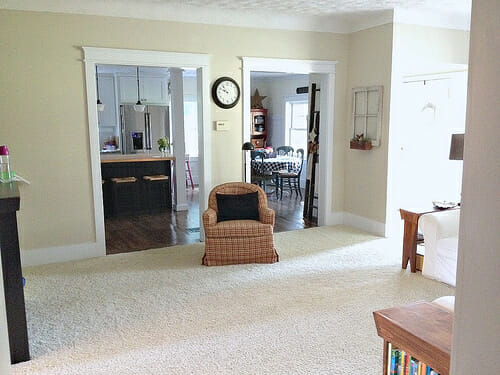 A couple weeks ago, I read an article entitled "32 Habits of People With Homes That are Almost Always Clean".
The title seemed long and wordy, but I was intrigued enough to read the full article… which, I soon realized was also very long and wordy. In general, the article was bad (which is why I'm not linking to it above). The 32 reasons were dumb reasons such as, "they always use baskets" or "they empty the dishwasher in the morning".
To be perfectly honest, my home is almost always clean but I rarely use baskets and I often empty my dishwasher while the boys are napping or right before bed.
I kept thinking about that LONG article, and I wondered if I could write something similar, but much more simplified.
I considered many of the things I do on a daily basis to keep our home relatively neat, clean, organized, and picked up… and I quickly realized that there are two main habits I have learned over the years that make this possible.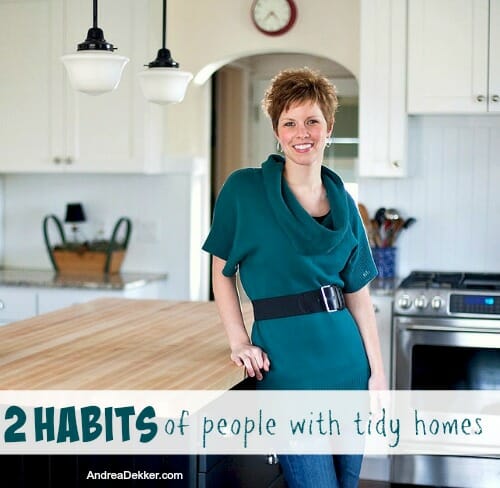 1. We Rarely Procrastinate
Maybe I don't use cute baskets to corral all my stuff, but I DO almost always put my stuff away immediately after I'm done using it. And maybe I don't clean out the dishwasher first thing in the morning, but I DO almost always clean out the dishwasher within 15-20 minutes of it being clean.
In general, I rarely ever procrastinate on household chores — even if I'm really tired or really don't feel like doing it. I know from plenty of experience (in my own life and from watching others) that if I put something off until "later", the chances it will actually get done are significantly lower than if I just "do it now".
I make my bed immediately when I wake up
I put my PJs away as I get dressed
I clean up the kitchen as I make breakfast and put breakfast dishes away as kids finish eating
We pick up toys and books before lunch
We clean up lunch stuff before naps
I fold AND put away laundry at the same time
I file or delete emails as I read them
I deal with paperwork right away so it never piles up
We pick up outside toys before dinner
I clean up dinner as I cook, and start the dishwasher whenever it's full
The whole upstairs gets a "once over" before the kids go to bed
We wash dishes, pack lunches, and clean up the kitchen and living room before we go to bed
We plan tomorrow before today is done
Obviously, there are always exceptions to every rule, but the more I thought about it, the more I realized that so much of my ability to keep my home neat and tidy nearly all the time is due to the fact that I rarely ever procrastinate on anything.
If I do happen to procrastinate on something, there is usually a good reason, and that particular chore will jump to the top of my to-do list — which I usually tackle after the kids are in bed for the night.
And speaking of "after the kids are in bed"… I've already shared how Dave and I use the evening hours to get organized and plan ahead for the next day, and I think that concept is the second crucial component to keeping our home neat and clutter-free.
.
2. We Get Back to "Normal" Every Day
Over the last 10 years of marriage and home-ownership, I can think of very few (if any) times when we've gone to bed without picking up the house, washing the dishes, folding the laundry, or doing any number of household chores that we didn't get to immediately during the day.
Although my house is NOT spotlessly clean and dust-free, it IS very neat, tidy, and "picked-up" almost all the time — thanks in large part to the fact that it never gets totally out of control.
There are 2 times every day when I try to get the house back to "normal" — before lunch (or naps) and before bed at night.
During those times, we quickly go through the house and put away everything we got out to play with, read, wear, do, etc. It truly only takes a few minutes each time and it does 4 important things:
It assures our house is never trashed or a complete disaster (at least not for more than a couple hours!)
It makes the cleanup process SO much easier than if we waited weeks or months to finally pick up.
It prevents us from losing or forgetting about toys, games, books, and clothes we already have (because we see them over and over as we pick up).
It instills a really great habit into my children's daily routine.
It's amazing how many times Nora will say, "I want to do _________. Let's pick up and go do that." It's not even a big deal for her to pick up (most of the time); it's just what we do before we start a new activity.
Also, even though Simon can't verbally say "let's pick up" he makes it VERY clear that he wants his room to be neat and clean before he takes a nap or goes to bed at night. If certain things aren't in their place, he'll ask to get out of his crib, put the items away, and get right back in his crib!
Cleaning up after ourselves really isn't as difficult or as horrible as so many people make it out to be — in fact, I have a feeling that if you force yourself to do it for a few weeks, it will likely be exponentially easier. And eventually, it will become a daily habit you won't even need to think about anymore.
Yes, there is time for fun and play. There is time for messy painting projects, crazy cooking experiments, fun games where we break out ALL the toys, and extreme periods of playing "house" or "dress up" where the entire second floor looks like a bomb went off.
However, there is also time to clean up EVERY day and get things back to "normal" before we go to bed at night. That way, when we wake up the next morning, we are ready to go all over again!
As I wrote this post, I tried to decide if one of these tips was more important than the other… but I honestly can't choose one!
I think they both go hand-in-hand and are equally important to achieving a home that is (almost) always neat and orderly.
.
Also, I know I've mentioned it before, but I just want to be VERY clear about the fact that I do not keep my house neat and clean just in case unexpected visitors stop by. I don't keep it neat and clean to prove anything to my friends, family, neighbors, or blog readers. I don't keep it neat and clean to feel superior to people with messier homes.
I keep OUR house neat and clean because MY family functions better and is happier in a neat, clean, orderly space.
I realize not every family functions the same as my family. I also realize that although these 2 habits are very "simple" they will will not necessarily be "easy" to implement into your family's daily and weekly routine if you are not currently used to picking up after yourself or pushing yourself to do it now instead of waiting until later.
But that doesn't mean it can't be done!
My suggestion would be to pick one of the habits above and focus on implementing it into YOUR OWN routine for the next week or two. Then start the process of encouraging your family to come alongside you. If you feel like you're making good progress with one of the habits, feel free to start implementing the other habit as well!
It might be naive of me to think this could work — but I also don't think there is any harm in trying. At the very least, you can always change your own behavior.
Do you have a tidy home? If so, what are your best tips or habits?