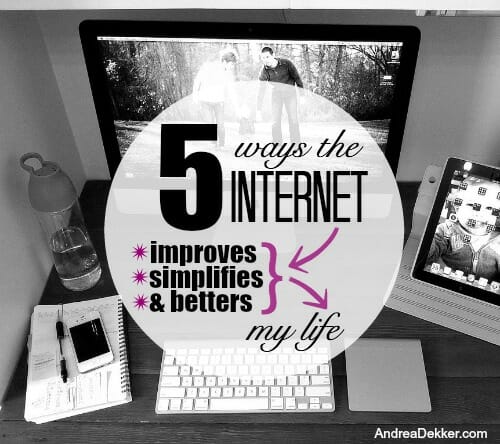 Although I'm only 5 months away from my 30th birthday, I'm still young enough that I've never really known life without a computer or the internet. Even as a very young child I can remember using floppy disks to play simple games on our green and black screen (on the card table in the corner of our living room). We had typing classes in 1st grade already, and I got my first email address in middle school.
Computers and the internet have obviously come a LONG way since then — and while I'm definitely not fully up-to-date with the latest and greatest technology, I do think I know enough to have a pretty strong opinion about the internet.
So often, I feel like we only hear the bad and scary internet related stories and statistics — crazy people hacking into government websites, cyber bullies, money scams, email hacking, pedophiles, etc. And while I certainly don't want to brush those situations under the rug or pretend like they are not a big deal, I also think we might dwell on those negative stories a little too much and overlook the hundreds and thousands of untold positive stories.
I think using the internet is kind of like flying in an airplane. There is a very small percentage of people who are afraid to use the internet (or fly in an airplane) because they only hear the bad stories (a.k.a. plane crashes) on the news. But just think if the news (or social media) reported on every single positive thing that came about because of the internet — or every single plane that landed with no complications. Yes, that sounds ridiculous, because it is! It would be impossible to report all of that!
I personally feel like the internet is one of the most valuable tools I use on a daily basis — not only because it allows me to make a full-time income from home, but also because it has helped me become a better cook, a better housekeeper, a better wife, a better mother, a better friend, a better business owner, and over-all, a more knowledgeable person.
I know, it might seem a little over-the-top, but I'm serious! Let me share why…
1. The internet offers less formal communication.
Email is probably one of my most favorite things about the internet — because I really don't like talking on the phone or texting.
I've never been a huge phone talker; and after screaming children entered my life, you will almost never catch me on the phone unless it's something last-minute or to call someone (like my grandma) who doesn't have email.
Another reason I love email is because I NEVER need to worry that I'm interrupting or bothering someone. I can email them in the middle of the night, first thing in the morning, while they're eating dinner, while they're at work and I know they will receive my message when it's a convenient time for them and respond accordingly.
If you email me, I'll most likely respond within the hour. If you call me and leave a voice message, I'll usually wait to respond until Dave is home from school. And if you call me and don't leave a voice message, I probably won't call you back because in my mind, whatever you had to say wasn't that important (otherwise you would have left a message).
2. The internet allows connection with more family and friends.
Neither Dave nor I are the type of people who are naturally great at staying connected with friends and extended family members — even if they live right down the street.
It's not because we don't care or even because we don't have time — it's just not our "gift". We'd both rather stay at home and enjoy the peace and quiet than come up with an excuse to get together with more people… even if they are our friends (I know this might be very difficult for some of you to comprehend!)
However, thanks to Facebook, Dave and I are both involved in a couple groups with our close friends, with family members, and I even have a group of local blogging pals. We use these groups to stay in constant communication with our friends and family — and it's awesome.
We can share fun, happy, sad, and angry moments with our close friends and family members without repeating ourselves a billion times or requiring everyone to get babysitters for their little kids. I can ask blogging questions and bounce business ideas around in my blogging group without the need for daily or weekly meetings (we usually meet in person every month or every other month and it's super fun).
Of course, Facebook, email, and FaceTime (or Skype) are great tools for regularly connecting with long-distance friends and family who are much more difficult to see in real life. And yes, I use Facebook to stay connected with friends from the past that I might have otherwise lost touch with.
I realize that some of you might be thinking "yes, but you're just replacing personal interaction with a computer screen" and sometimes that IS true. However, many of our close friends and family members live too far away to have any regular personal interaction — and based on Dave's and my personalities, we honestly wouldn't have much personal interaction, even with friends who live very close by. Without the internet, we'd just be out of the loop 🙂
I know 100% for sure, Dave and I are WAY WAY more connected with family and friends because of the Internet — and not in a stalker way. We legitimately enjoy sharing our lives and learning what's going on in other's lives thanks to our Facebook groups, our Facebook newsfeed, email, and FaceTime.
3. The internet creates a virtual community and support.
There are SOOOOOO many people I would consider my "friends" who I've actually never met in real life. They are people I turn to when I need trusted answers and support. I know I can be honest with them and trust what they say. There is no way I would have ever met these people if it weren't for the power of the internet.
I've also met many people who are now "real life friends" thanks to Facebook and my blog. I actually met 4 or 5 different neighbors because they either read my blog or we had a mutual friend on Facebook… and now we're sharing recipes, swapping kids clothes, and scheduling play dates!
I have a large group of trusted local blogging friends thanks to my blog and Facebook — and as I mentioned earlier, we try to met monthly to bounce ideas off each other (and just get out of the house for a few hours to eat hot food and have adult conversations).
I've even secured all my Virtual Assistant jobs thanks to the internet. In fact, 3 of the people I work for on a weekly basis (and chat with almost daily) have never even seen me or talked to me in real life! I know that's totally weird — I even feel crazy just typing it — but it's true, and it wouldn't be possible without the internet.
4. The internet offers instant information on every topic imaginable.
I realize you definitely shouldn't believe everything you read on the internet — and also, that instant + unlimited information CAN be a huge negative if it's abused (just like any "tool").
However, for the most part, I think most people would agree that access to instant (free) information is a very positive thing. I mean, just think of how many times you "just Google it" to find an answer to a question you've been wondering about — how to clean the stains out of a certain fabric, what food to use as a substitute for that ingredient you're missing, natural remedies for common colds, how to change the headlight of a car, what to do if your heater keeps shutting down (these are just a few of the things I've Googled in the past month or so).
And there's SO much more… craft ideas for kids, tips for planning a great vacation, ideas to improve blogging stats, frugal holiday decorations, menu planning on a budget, what to look for when buying a used car, ideas for bathroom renovations, relationship advice, healthy living tips, and the list goes on and on and on.
If I have a question about anything or am trying to learn something about virtually any topic, I almost always turn to the internet before any other source.
5. The internet streamlines almost every aspect of my life.
I don't get any paper bills, I don't write checks, I don't need to bring my paychecks to the bank, I don't need to print photos, I don't need to go to the mall, I don't need to subscribe to magazines or even buy books… because I can do all of that electronically via the internet!
I'm not saying that you CAN'T do any of the things above… we just don't NEED to anymore thanks to the world wide web.
Also, since we're talking about "streamlining"… I feel the need to mention that Netflix can "stream" almost any show or movie to my TV and/or computer. Yes it's pretty amazing 🙂
I realize we need to use caution and take proper steps to protect and secure our online information (especially when it comes to our children), but overall, I personally feel that the Internet is an amazing tool that has helped me to improve, simplify, and better my life.
I (literally) can't imagine life without it 🙂
What are your thoughts on life with the internet?
I'm especially curious to hear what those who HAVE lived most of their adult life without the internet would have to say!