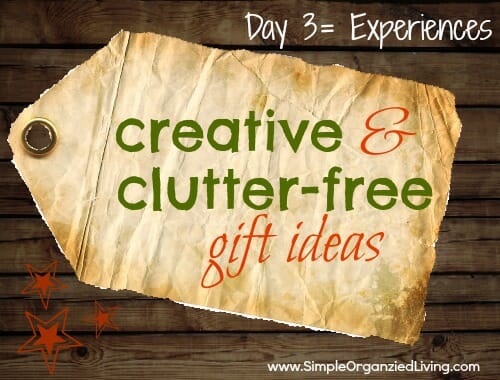 Today is the third day in my week-long Creative & Clutter-Free Gifts series… and we're talking about creative ways to give "experience gifts". All week long I'll be sharing lots and lots of creative ways to give practical and clutter-free holiday gifts that should please everyone on your Christmas list!
Monday = Food
Tuesday = Gift Cards
Wednesday = Experiences
Thursdays = Cash
Friday = Charitable Donations
Saturday = Acts of Service
Oh, and I'd love to hear your ideas too, so feel free to leave them in the comment section below!
Day 3 = Experiences
I've noticed a huge trend lately, of people giving "experience gifts" — and I like it.
Experience gifts can be a little more time-consuming to plan… and they aren't necessarily inexpensive, but they are a fantastic clutter-free gift that your recipient will probably remember for a very long time.
Here are just a few experience gifts you might consider giving this year:
1. Trip to the Zoo, Museum, or Favorite Attraction:
Most of the young families I know would absolutely love tickets to the zoo, local museums, water park, theme park, or any other family-friendly attraction. It can get expensive to get out with the entire family, so a free day away or night out will most likely be welcomed!
2. Season Tickets to Sports Team:
This gift could be a bit pricey if you go with a pro or popular college team, but you could also scale it down a bit and purchase an All-Sports pass for high school students (or their parents).
3. Tickets to a Concert or Special Event:
If you can't afford season tickets (or if it's a one-time deal) this could be a fabulous experience gift — especially if it's a group/concert/event that you're interested in 🙂
4. National Park Pass:
Dave's parents gave this to us one year and we loved it — it was an incentive to visit way more National Parks than we would have (which also meant lots of bonding time in the car!)
5. Massage/Day at the Spa Together:
Yesterday, I mentioned giving a spa gift card — but if you have the money, why not give the gift of going to the spa TOGETHER. Yes, that means that you'll have to pay for two, but it also means that you get to enjoy a day at the spa and time together with your friend.
6. Complete Something Off their Bucket List:
If you know the person really well, see if you can help them complete something off their bucket list (swim with dolphins, climb a mountain, get a tattoo, etc.)
7. Craft Day with Friends:
This could be really frugal if you wanted it to be — simply get together with a small group of close friends and work on your favorite crafts/hobbies together while chatting and catching up. It's basically the gift of your time (and maybe some yummy treats!)
8. Plan a Trip:
Obviously, this could cost a bit more, but they'll remember it forever… and just think of all the memories you'll make!
Dave's parents are giving us an experience gift this Christmas — a week at a cottage this summer with Dave's immediate family. We are already looking forward to it!
A few other ideas would be a weekend getaway, trip to Disney, a cruise, camping trip, or even just a day trip to a favorite attraction or scenic location.
9. Monthly Dates with Mom (or Dad):
If you have multiple children, it's nice to have regular one-on-one date nights with each individual child. Let them pick the place (within reason) and spend a couple hours with JUST them, doing their favorite things.
I know there are lots more ideas for fabulous "experience" gifts — but these are a few I thought of.
What are your favorite experience gifts?