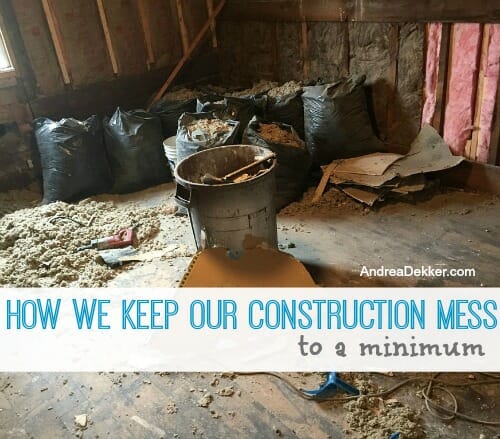 After almost 2 years without any big house projects, we are smack in the middle of a big, huge, messy renovation.
And when I say "big, huge, and messy" I mean BIG, HUGE, and MESSY!
It's hard to believe the room used to look like this….
Thanks to the help and skill of my dad, our final bedroom renovation is officially underway — and wow, is it going to be a lot of work!
Last week was 100% demolition, and we still have a little more to do. We completely removed the layers of drywall, plaster, and huge wooden planks that lined the walls of our 125-year old house… and then we stared in awe of the fact that this bedroom had absolutely NO insulation whatsoever.
Not bad insulation, not old insulation, not junky insulation, not deteriorating insulation — literally ZERO insulation anywhere in any of the walls.
The photo below is the SOUTH-facing exterior wall of the room — with blazing sun beating down on it all summer and the cold winds blowing at it all winter. Not a drop of insulation — even around the window!
And now we realized why it was SO FREAKING HOT in this room in the summer and miserably cold in the winter!
Also, none of the last layer of drywall was installed correctly (which is why we could see all the seams, cracks, and nail heads) and now that we removed the huge, old, super cool wooden planks on the wall, I have a plethora of materials ready to go for fun farmhouse projects!
I think I might use the planks to put open shelves in each of the kids' bedrooms — maybe some in our room too. And I might make one of the longer boards into a long set of hooks for the play area or even a large "cork board" of sorts for displaying kid's artwork.
Anyway… I'm sure I'll share more about this messy renovation project over the next month or so; but I'm sharing specifically how we keep our construction mess to a minimum.
I'm often asked how we contain our construction messes and prevent them from traveling into every other space in our house (especially since we have always lived in our house during our renovations)… so I thought this would be a perfect time to share!
1. We use several small rugs.
I know, I know — probably the most obvious suggestion ever, BUT I think the key is to use several small rugs that can be arranged in various patterns, easily shaken out, and easily thrown in the washing machine when they get really dirty.
I have a whole pile of "junk rugs" that have small holes, rips, stains, etc. and we haul these out every time we start another house project. I can't believe how much junk is on the rugs when I shake them out (and I often shake them out several times a day when we're really making a mess).
2. We use "self-adhesive film" on our carpets.
You know the plastic stuff they stick down for parade of homes? We buy that in big rolls and plaster it all over the carpeting around the construction area.
It's not exactly "cheap", but it is a HUUUUUUGE time and mess saver when it comes to cleaning up at the end of every day.
Instead of meticulously vacuuming every square inch of carpeting, I simply sweep up the dust and debris on the carpet film and I'm done. Sometimes I use a broom and then a swiffer pad to pick up the dust, other times I use the brush attachment on our vacuum to pick up the dirt and dust.
It's an especially great option for stairs — and other places where rugs won't do the job.
The plastic is not slippery, it's quite durable, and it's less of a tripping hazard than rugs.
3. We close off the construction area as best as we can.
Our current bedroom project is easy — we can just close the door.
However, even when we've done larger projects (like our kitchen or the new front door) we always taped up large sheets of plastic or heavy tarps to conceal the mess.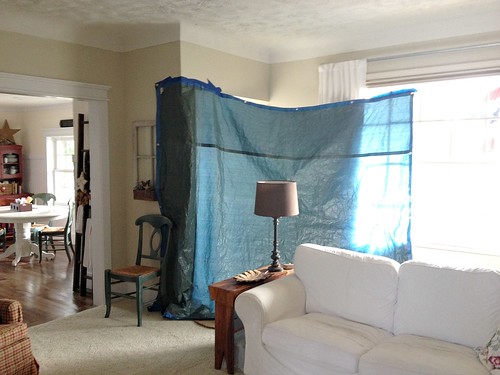 4. We put a towel or small rug at the entrance to the construction zone.
For our bedroom reno, we shoved an old bath towel under the door so dust and debris couldn't get out through the bottom. However, this also acts as a way to wipe our feet as we exit the room — keeping the plastic floor coverings and rugs a little cleaner.
This might not seem like a huge mess-saver — but believe me, it is!
You'd hardly even guess how big of a mess was behind that door until you look at the towel!
5. We cover our return air vents with plastic wrap.
I use Glad Press 'n' Seal to cover any return air vents in our construction zone, so the furnace doesn't suck up the dusty, dirty air from the area we're working in.
Obviously, this would not be good to do long-term, but for a few weeks, I'm certain it's OK — and it keeps SO much junk out of our air ducts.
6. We use several garbage cans to transport smaller debris outside.
One challenging aspect of this bedroom is that it's on the 2nd floor and we literally need to walk through our entire house to move junk from this bedroom to the outside… and boy is there A LOT of junk to remove.
We currently have 3 large trash bins that we load up with drywall chunks, carpet padding, wood scraps, and other bits and pieces so we can more-easily get it out of the construction space without dropping little pieces throughout our whole house.
We put some of the smaller chunks in our blue garbage bin, the rest are piled up in our extra garage right now. We will most likely get a dumpster once we have a bigger pile.
7. I sweep and vacuum multiple times a day.
Normally I only vacuum 2 times per week — but when we're in the middle of a construction project, I vacuum every single day (and I sweep continually throughout the day).
I just hate thought of all that dusty junk in my carpeting while my kids are rolling around and playing on the floor. And even though we do our best to conceal the dust and debris from the rest of the house, I know it's inevitable that some makes it way out.
So I simply vacuum and sweep a lot!
8. We have our carpets professionally cleaned after every major home renovation.
No matter how clean we keep our home during a construction project, I feel it's necessary to have our carpets professionally cleaned after the project is 100% finished.
It honestly feels like we have brand new carpeting after it's professionally cleaned — so for a couple hundred bucks, it's definitely worth it in my opinion.
I always tell Dave that if we ever renovate another house (something I highly doubt we'll ever do) we are going to live in our current house and hire professionals to do all the renovation work on the new house while we enjoy our dust-free, dirt-free, noise-free environment!
Until then, we'll continue using these tips to keep our construction mess to a minimum whenever possible!
What are your tips to control construction mess?