I've been thinking about writing this post for several weeks now… but wasn't exactly sure HOW to go about writing it or WHEN would be the best time to publish it.
So since I'm just coming off a lovely (and very relaxing) Spring Break "staycation", I figured now might be a good time to share a little bit about my past experiences with "burnout"… yes, even with all my to-do lists and organization, I still get overwhelmed!
I've always been the type of person who likes to be REALLY busy (I think you probably knew that already!)
I thrive when I'm busy and am actually more productive, more efficient, and more "alive" when I have a long to-do list. I can usually handle a lot of stress and don't often get overwhelmed. However, in my adult life, I can think of two very distinct times when I felt completely overwhelmed and "burnt out".
One was right before our wedding, the other was soon after Nora was born.
May, 2006
I was 20… and just days away from college graduation (think lots of final exams, paper, projects, etc). I was taking an overload of classes in order to graduate in just 3 years, working 2 part-time jobs, and finishing up my college internship.
Dave was living and teaching in California and we had just purchased our first house (I got power of attorney to sign off on the house for Dave). After "we" got the keys to our new house, I was trying to quickly do as much of the home renovations as possible before we got married and moved in (thankfully my dad helped a ton me since Dave was in California until mid June).
I was also planning all the last-minute details for our wedding, reception, and honeymoon… and did I mention that Dave was living in California! 🙂 Yes, he knows how lucky he is to have me!
Oh, and because college, 2 jobs, an internship, a new house, wedding preparations, and honeymoon plans weren't enough, I decided that I wanted to train for a local 25K race!
Yup — I had a lot on my plate!
I was ALMOST to my breaking point and can remember sobbing on the phone to Dave simply because I couldn't get the gas, electric, and water companies to properly switch the utilities into our name since we didn't have a land line!
Thankfully, I managed to graduate, finish my internship and part-time jobs, get everything squared away for our wedding/honeymoon, complete MOST of our house projects, and get everything moved in before Dave moved back to MI… which was just one week before our wedding!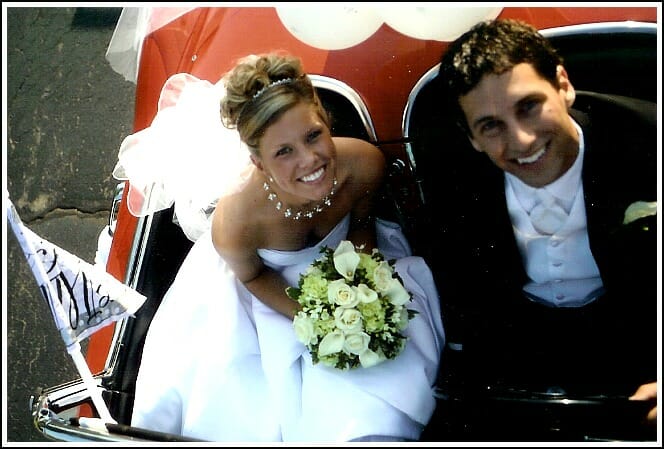 And yes, I finished the 25K race and was eventually able to get the utility companies to cooperate and use my cell phone instead of a land line!
I was also fortunate to have the opportunity to relax and "recover" from those stressful months on our 2-week honeymoon and throughout that entire summer (neither of our jobs started until September).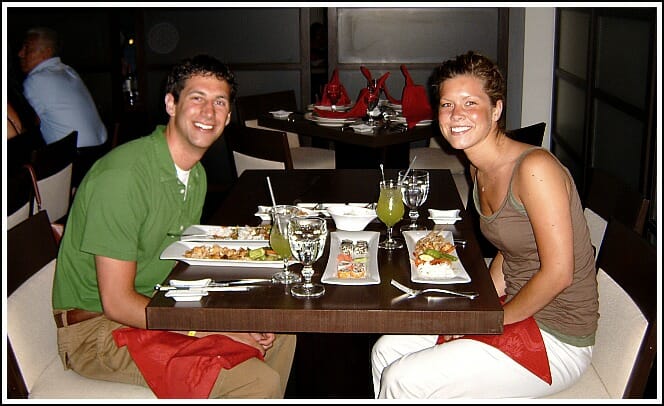 Fast-forward a few years…
January, 2012
I'm 26, I had a 5-week old newborn who cried ALL the time, refused to take any sort of extended nap, and was basically awake most of the night.
We had 2 high school international students living with us — one of which was causing enormous amounts of stress for Dave and me due to her bad attitude, refusing to obey our rules, slacking off in school, etc.
Dave just returned back to school after an extremely busy and stressful Christmas break (think tons of holiday parties with a newborn and an uncooperative teenager, lots of visits from family and friends who wanted to see Nora while they were in town, buying gifts, making food, late nights, cold weather, etc. etc.)
I had already been doing most of my blogging and Virtual Assistant work for a few weeks and was officially back from my short maternity leave with a local company I work for.
Add in general house work, meal planning, grocery shopping, doctor appointments, church and school activities, and once again, I had WAY too much on my plate.
Thankfully, Dave was absolutely wonderful and helped out as much as he could. Also, both our families helped a ton by making meals, watching Nora, and even bringing our international students to and from extra curricular activities.
We were also very fortunate that after a huge blow-out, Dave's principal helped us remove the difficult student from our house in early February… which immediately made our home environment much more enjoyable and much less stressful.
However, I still felt like I just needed a break… and I think Dave did too.
Taking a Break
Since one international student moved out and our other student was planning a family trip to New York for Spring Break… Dave and I would have the house to ourselves for 10 days! And since Dave would be off of school that entire time, I decided it was the perfect week to take a break.
I took a break from almost all of my VA work, I took a break from my regular blogging, I took a break from social media, I hardly checked my email, I didn't edit any photos, and I did as little cooking and cleaning as possible! I only made one to-do list all week, and most days; I didn't even turn my computer on until late afternoon.
It was glorious, and just the break we needed! (you can read about what we DID do here)
Dave and I had a chance to relax and sleep in a little (when Nora let us), we had fun working on a few house/yard projects, we went for walks with Nora almost every day, we used several of our gift cards to splurge on going out to eat, and we spent lots time with each of our families.
I even took a nap!
I also had SO much fun documenting our week and sharing it here on my blog. It was a nice break from my "normal" post calendar and so far, I've received some very positive feedback. It also gave me a reason to take tons of pictures (I think I took over 200 pictures — which is totally abnormal for me!)
Over all, I would say that our week-long "staycation" was a complete success. Dave and I both feel refreshed, relaxed, and ready to get back to normal life again. I know we are both still looking forward to summer when he will be home all day again, but this break was just what we needed to make it through the last 2 months of school — and gear up for our kitchen renovation this summer 🙂
Have you ever experienced burnout? What helped you cope?