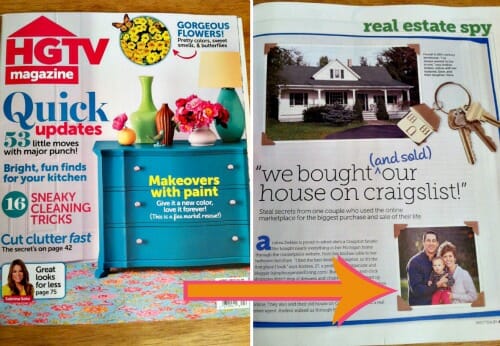 That's right friends — Dave, Nora, and I were featured in the April 2013 issue of HGTV magazine.
Well actually, our farmhouse was the main feature… but I'll take the 3-page center spread in a nationally recognized magazine any day!
As you can see, Nora is also super excited 🙂
One of the items on my "bucket list" was to some day have our home featured in a magazine. I honestly didn't think it would ever happen, but still, wouldn't it be SO cool if it did?
Well, it did happen. And it IS so cool!
WAY back in October of last year, I received a short email that said:
I'm a writer for HGTV magazine. I found you online and wondered if you would like to be in a story? If so, I'd love to talk!
I thought it was spam so I almost deleted it. However, right before I clicked "delete" I thought, maybe I better respond… just in case.
I responded, and boy am I glad I did!
Over the next few months, there were MANY email conversations, phone interviews, pictures, more emails, and then waiting until the April issue hit news stands last week.
Since I don't subscribe to many magazines, I actually had no idea the April issue was available yet — until all of a sudden, my email inbox and Facebook inbox were filled with excited and congratulatory emails from YOU!
Thanks 🙂
So the next day, I dashed out to Meijer and read the article right there in the checkout lane. It almost killed me to pay $3.99 for a stinkin' magazine — but I bought it (and I'm not going to throw it out after a month either!)
And lest you think my life is so cool that a magazine wanted to write about me — you should know that the whole point of the article was our farmhouse, and the fact that we both bought our "new" farmhouse and sold our previous house on Craigslist.
You all know that I'm basically a "Craigslist junkie" right?
After all, I have an entire series devoted to Craigslist on my blog, and almost everything in our home is purchased from Craigslist. So it really should be no big surprise that we used Craigslist to sell our old house (in only 3 days) after we found our lovely old farmhouse on Craigslist a few months prior.
The whole story still gives me goosebumps when I read it, and the magazine writers and editors did a fabulous job of capturing all the little details to make for a super fun story.
OK, now for some pictures!
Page one.
Here's the next 2 pages.
Larger view of page 2.
Larger view of page 3.
It took a while to put this article together, but I'm extremely please with how it turned out. I also have a new-found respect for anyone who works for a big magazine — what a lot of time and energy just for one article.
Also, I have to laugh because ALL the pictures for this magazine spread were taken with my iPhone — no fancy cameras or equipment! Maybe I really DO know what I'm talking about when I give photography tips 🙂
Oh, and just for the heck of it, I thought I'd share a comparison photo of one of the picture they used for the magazine and the actual picture I sent them. The picture I sent was just quickly snapped with my phone as we were getting ready for a walk. I was not expecting them to use this photo — but they did.
Do you see how they edited it?
Not only did they change up our landscaping, crop out our lovely American Flag, and remove the bunting on our front porch, they also used a key chain overlay to cover Nora!
Ha! See how sneaky those graphic designers can be!
That's why you can't compare your home to the photos in magazines.
Anyway, I can't say enough nice things about the folks at HGTV magazine — the writers I worked with were fabulous and the editor even called me personally to let me know how pleased she was with the final product.
So the next time you're standing in line at the checkout lane, pick up the April issue of HGTV magazine, turn to page 95, and read about our farmhouse!