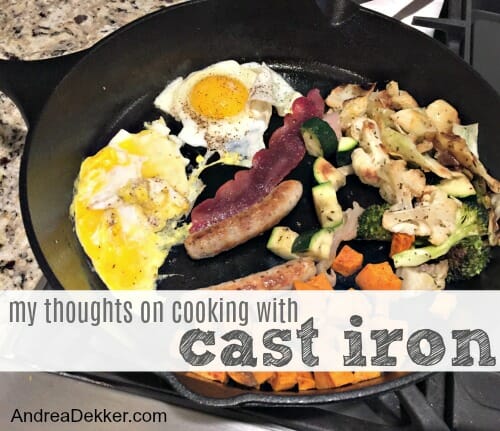 For more than 2 years now, I've hated my small and large frying pans.
I have 2 stainless steel saucepans that I like and one large stockpot I use all the time for soups, applesauce, etc. However, my non-stick frying pans were getting so scratched and nasty, I had to replace them.
I asked for a couple of new pans 2 years ago for Christmas (and I got them — yay!) However, by this past Christmas (only 1 year later) they were scratched again. I thought about asking for new pans AGAIN… but decided I just needed an alternative option.
I originally wanted to switch to Green Pans — but SO many people I talked to had negative experiences with Green Pans… so I was hesitant to shell out more money! And I have tried stainless steel frying pans before, but considering I cook eggs EVERY SINGLE MORNING, I just couldn't deal with cleaning stuck-on eggs every day (the eggs always stuck no matter what I did).
I posted a few questions on Facebook over the holidays, and the overwhelming response was for me to try cast iron skillets — something I really didn't want to do as I was intimidated by all the upkeep it seemed they would require.
SIDE NOTE: As I've mentioned before, I don't buy 'sets' of pots and pans — just individual items as I feel I need them or as something needs to be replaced.
Well, I'm assuming you guessed by the title of today's posts that I eventually took the advice of the majority and purchased 2 cast iron skillets just after the New Year.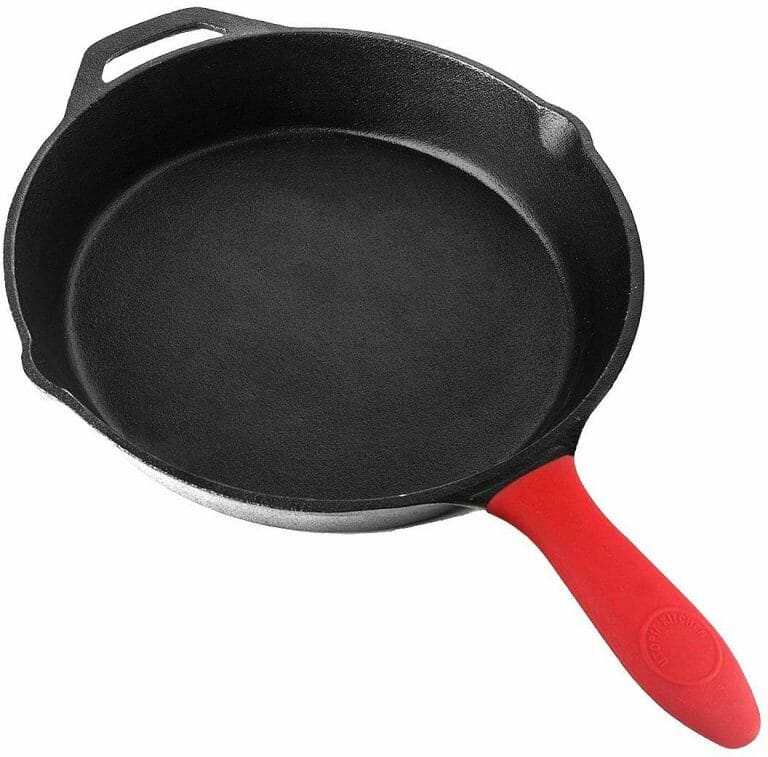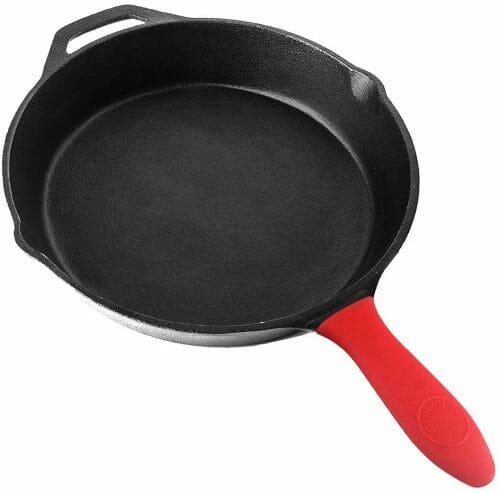 For the past 6 months, I've been cooking daily (sometimes 3 meals a day) with my cast iron skillets — and after a brief "learning curve" where I wanted to throw them out the window, I can now say I really enjoy cooking with cast iron.
I also love the fact that they don't get scratched, that they can go in and out of the oven, that they are super quick and easy to wipe up, and that they cook very evenly. Plus, they are really affordable!
Of course, there are several negatives associated with using cast iron as well — they are HEAVY, they can't go in the dishwasher, they are slightly more high maintenance than other pans (at least in terms of cleaning and drying them), and they could potentially scratch a glass-top cooking surface (we have a gas cooktop with cast iron grates).
However, for me, the pros seem to outweigh the cons right now — so I'm sticking with cast iron for the foreseeable future!


If you've ever wanted to try cooking with cast iron but felt intimidated or unsure, I hope today's post will help to simplify and bring some clarity.
.
How to Season a Cast Iron Skillet:
Even if your cast iron pan says it is "pre-seasoned" I'm almost positive you'll want to season it a few times on your own before using it. You'll most likely want to wash it with soap and water when you get it home, and once you wash cast iron with soap, it will wash any oil away, which means it will need to be seasoned again.
But don't worry, even though everything I read makes this process sound SO intimidating, it's really not! Let me give you the super-simplified version!
Scrub the skillet well in hot soapy water (one of the only times you'll use soap on your cast iron).
Dry thoroughly (I use a separate towel for this so my white kitchen towels don't get dingy).
Rub a thin layer of olive oil or coconut oil over the entire skillet with a clean paper towel.
Place the skillet upside down on a middle oven rack at 375°.
Bake 1 hour.
Turn oven off and let the skillet cool to room temperature in the oven.
Repeat steps 3-6 a couple of times until a good coating of oil has formed on your skillet. (I usually do it 3 times over the course of 3 days — just whenever I have my oven on)
Use a skillet to make your favorite foods.
Cooking With Cast Iron:
I'm definitely not an expert on cooking with cast iron, but I will give a couple of super simple tips for anyone wanting to try cast iron.
Tip #1: Make sure it's well-seasoned (see above).
Even if your pan says it's pre-seasoned, you'll still want to season it a couple more times to really build up a coating of oil on your cooking surface. This will help it cook more evenly and prevent food from sticking.
Tip #2: Preheat your pan well.
I was never great at preheating my pans, but with cast iron, everything will stick more if you don't preheat it well before you are ready to cook the food. I often turn my pan on 5 minutes before I'm ready to cook anything so the whole pan is very hot.
Tip #3: Use medium-low heat.
Our stovetop is VERY powerful (it has extra powerful front burners that can boil water crazy fast) so I usually keep our stove on low or medium-low when I'm cooking with cast iron.
Once the cast iron is preheated, it will retain its heat and cook very evenly, so you don't need crazy hot temperatures.
Tip #4: Give yourself time to learn (and make mistakes)!
As with any new technique or tool, you'll need time to learn. I've been cooking 2-3 meals a day with our cast iron skillets for the past 6 months and I'm still learning SO many new tips, tricks, and ways to make it easier.
If you really want to give it a good try, force yourself to try cast iron for at least 6 weeks (and put your other skillets away for that time).
.
How to Clean a Cast Iron Skillet:
Again, this topic is one I've read a lot about, and almost everything I read makes it sound so intimidating… but it's really not all the bad. I promise!
In my experience, the main thing with cast iron is to keep it dry, otherwise it will eventually get rusty.
Of course, if it does get rusty, you can just scrape the rust off, wash it with soapy water, and start the seasoning process all over again — so you really won't ruin your pan, just create a little more work for yourself.
Here's how I clean my pan (assuming it's already well-seasoned using the instructions above).
Remove all food from the pan.
Wait until the pan is cool enough to handle, then scrub it with a hard bristle brush or chainmail scrubber (see below for the tools I use) with very hot water. Do NOT use soap.
Dry immediately and thoroughly.
Rub a small amount of olive oil or coconut oil over the cooking surface (sometimes I just spray it with cooking spray) and put the pan away.
If you are worried about germs or bacteria, just put the cleaned, dried, and oiled skillet back on the stove on low heat and let it get really hot for 10 minutes or so, then turn the heat off and let your skillet cool.
And if there are stuck on stains or food odors, just scrub the pan with coarse sea salt and baking soda — it will easily rinse away.
The tricky part is that cast iron cleans up much better if you clean the pans right away, just after they are cool enough to touch (not 5 hours later or the next morning) so it's something I need to remember to do relatively soon after each meal.
Also, cast iron definitely can NOT be washed in the dishwasher, which is a BIG bummer for me. However, I like that they can't be ruined or scratched, so I'm willing to sacrifice a few conveniences for that.
.
The 2 Pans I Currently Use:
It would be VERY easy to get carried away buying all sorts of fantastic cast iron pans — and to be perfectly honest, there's a good chance I'll buy one more larger pan as I regularly wish I had 2 big pans and a small pan. But for now, the 2 skillets I have serve me well.
I have the 12.5″ Utopia skillet and an 8″ Lodge skillet — mainly because they were both "deals of the day" back when I purchased them at extremely reasonable prices!
So far, I am very happy with both of them and would definitely recommend either pan.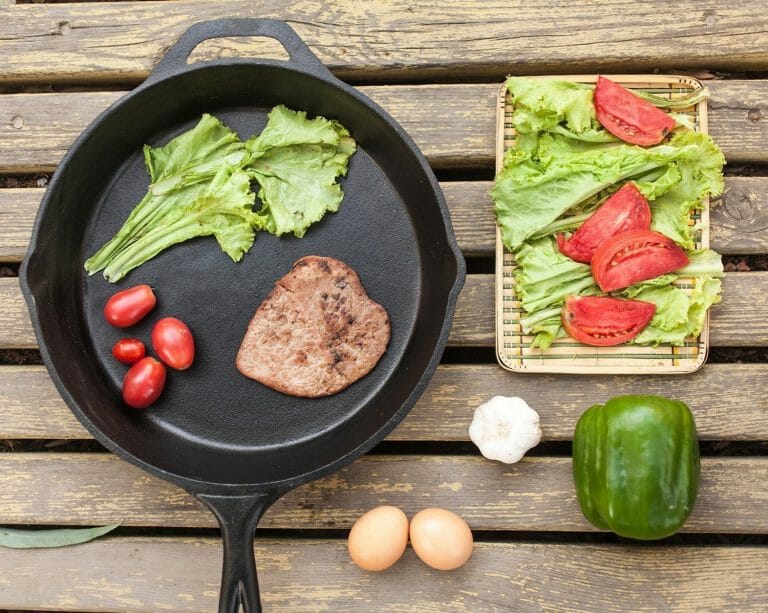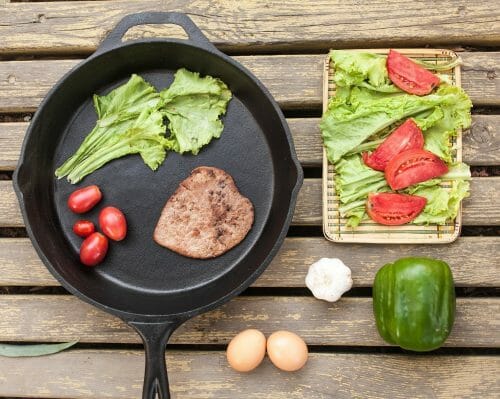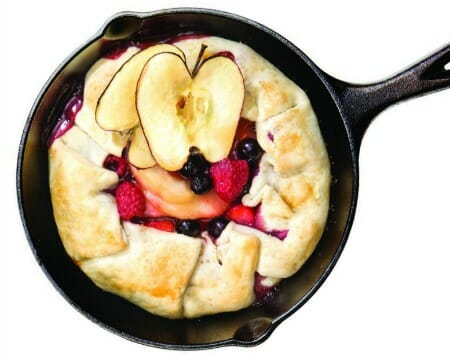 .
A Few of My Favorite Cast Iron Accessories:
I really love the silicone hot handle that came with my pans. You can buy one on its own here — it should fit any size cast iron skillet.
I also like this cast iron chainmail scrubber — it seriously gets everything off!
And finally, I use this hard bristle vegetable cleaning brush when the pan isn't that dirty and I just need to get some crumbs out. I ONLY use it for my cast iron (not vegetables!)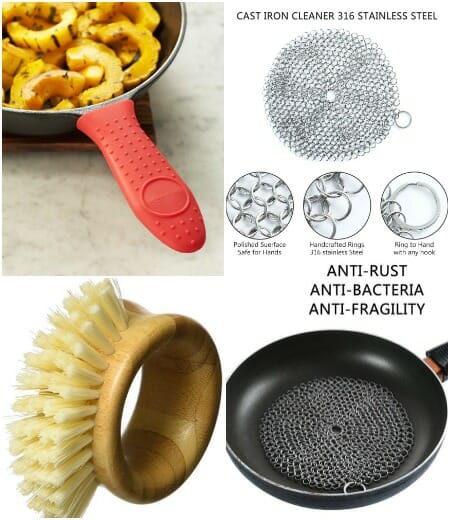 .
So that's it — a few of my thoughts after 6 months of daily cooking with cast iron.
I'd love to know your thoughts too…
Do you love cast iron? Hate it? Never tried it?