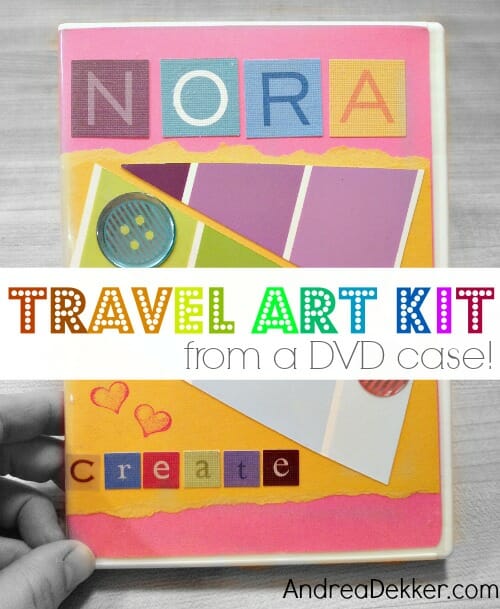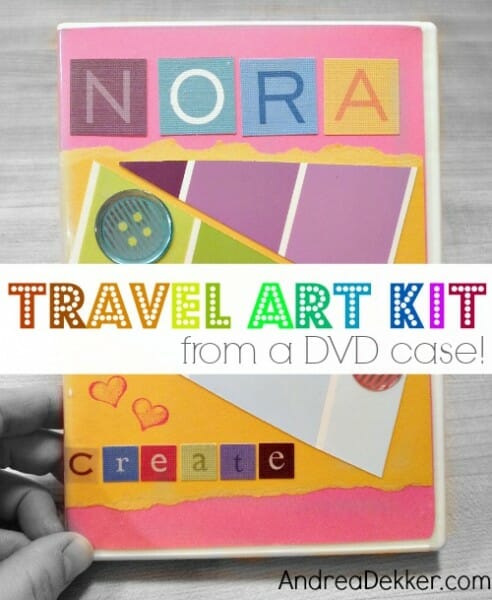 I've mentioned Nora's LOVE of arts and crafts before — and I even shared how I organized our limited supply of crafty items.
However, as I was planning ahead for when Nora would come visit Simon and me in the hospital, I was thinking: "she's 2, she's not going to last 10 minutes without going stir-crazy in that hospital room."
So I started coming up with ideas of things I could pack to keep her occupied for at least a few extra minutes.
I assumed the initial "new baby brother" would occupy her for at least 5 minutes… and then we had a couple gifts to give her. We'd take a few pictures, maybe watch a show on the iPad etc. etc.
But then what?
Thankfully, I found a really neat idea on Pinterest for a travel art kit made out of an old DVD case. I immediately (like literally at that exact moment) took an old DVD case from our TV cabinet and created a travel art kit for Nora.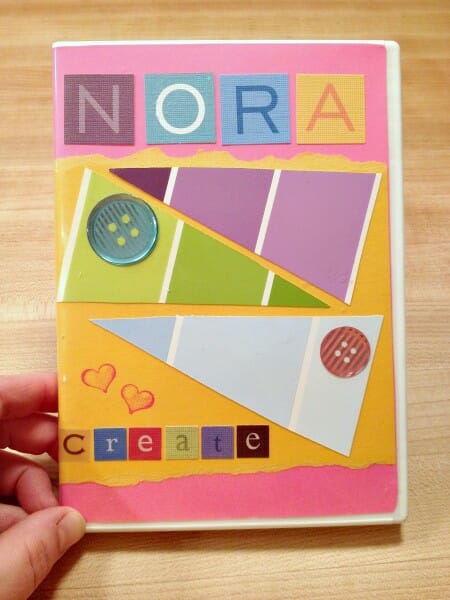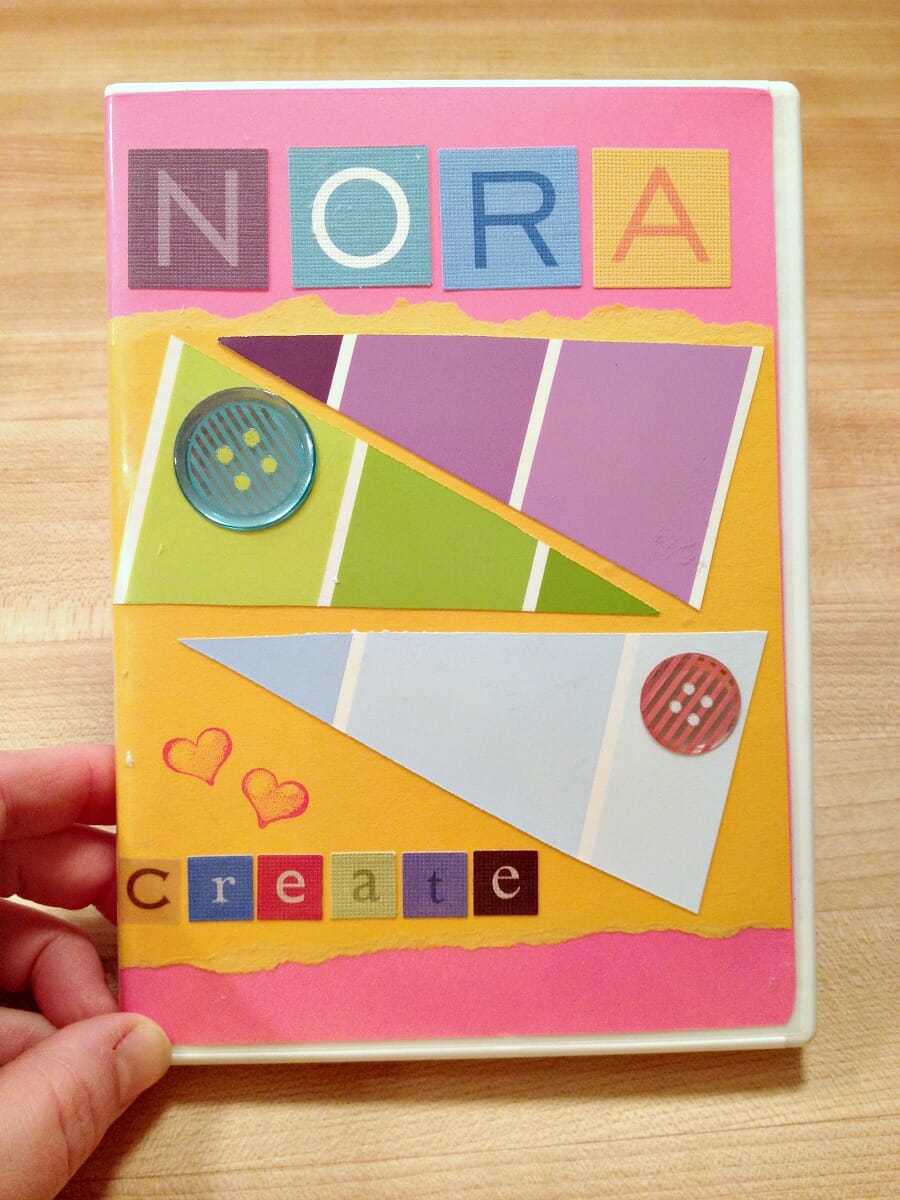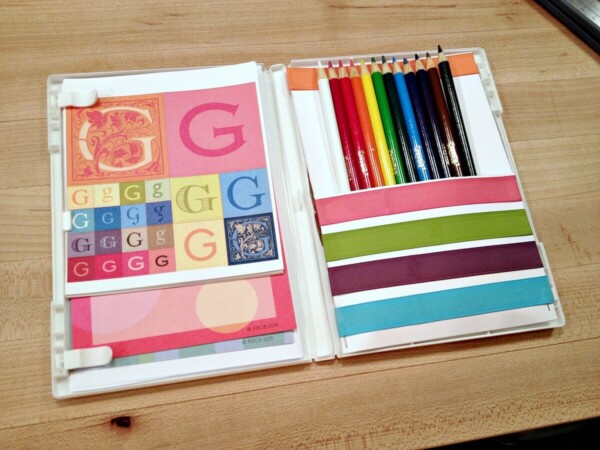 It was early Sunday morning, I couldn't sleep because I was so uncomfortably HUGE, and I was enjoying a few rare moments of total peace and quiet while everyone else slept.
I whipped out the entire project in less than an hour — and that was after starting over 3 times because I kept messing up!
Then I stashed the travel art kit in my hospital bag and gave myself a little pat on the back for buying a few extra minutes of toddler time when Nora would eventually come to visit us in the hospital (not to mention we'll definitely be able to use this kit when we're out and about in the future!)
For anyone going on spring break or planning an upcoming trip with children, this might be a really great project idea to do NOW and then surprise them with later!
Here's a few more pictures and some basic directions:
STEP 1: Find a DVD case and cut out the raise part for the disk.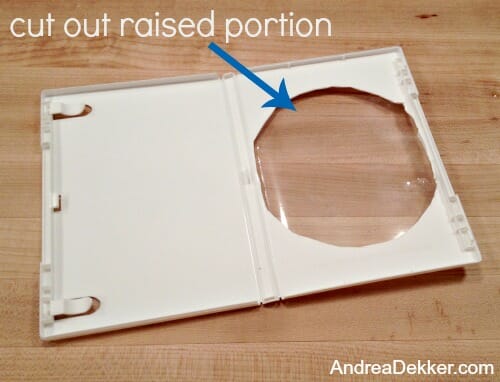 This was FOR SURE the most difficult part because the plastic is REALLY tough. I used a scissors that was specifically for cutting plastic and it was still hard. Just take your time!
.
STEP 2: Create a "pouch" for pencils or crayons.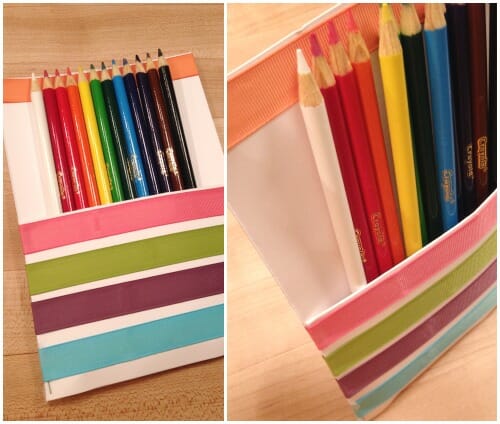 I just used a piece of heavy card stock, cut to the size of the DVD case. Then I stapled a 1/2 sized piece of card stock to the front and covered it with some ribbons (so you couldn't see the staples).
I taped the bottom of the pouch so the pencils wouldn't fall out.
.
STEP 3: Glue the pencil pouch into the DVD case.
I used a hot glue gun — but I'm guessing super glue (or even really sticky double-sided tape) would also work.
.
STEP 4: Add paper and/or stickers to other side of case.
I cut some plain white paper to the size of the case and stuck that inside the clips on the left side of the case. I also had a few 5″ x 7″ colorful note cards that I added so she could have some colored paper to draw on too.
Since Nora is absolutely obsessed with stickers AND the alphabet lately, I added some letter stickers too.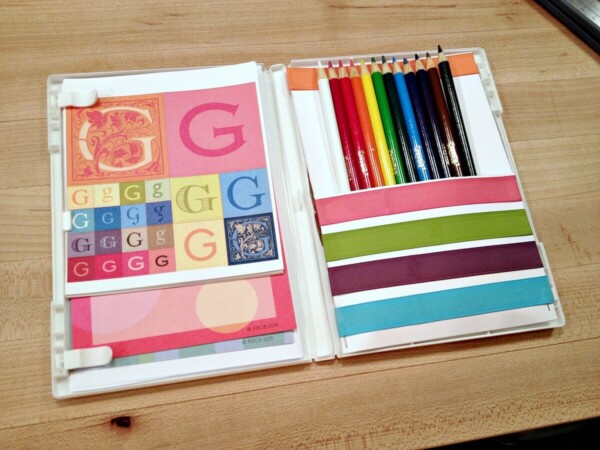 .
STEP 5: Make a cover for the case.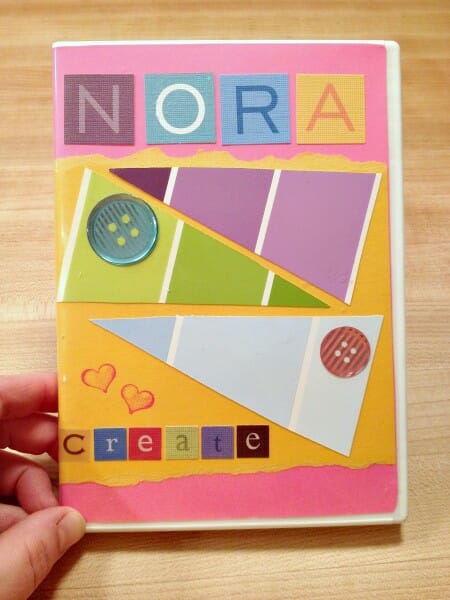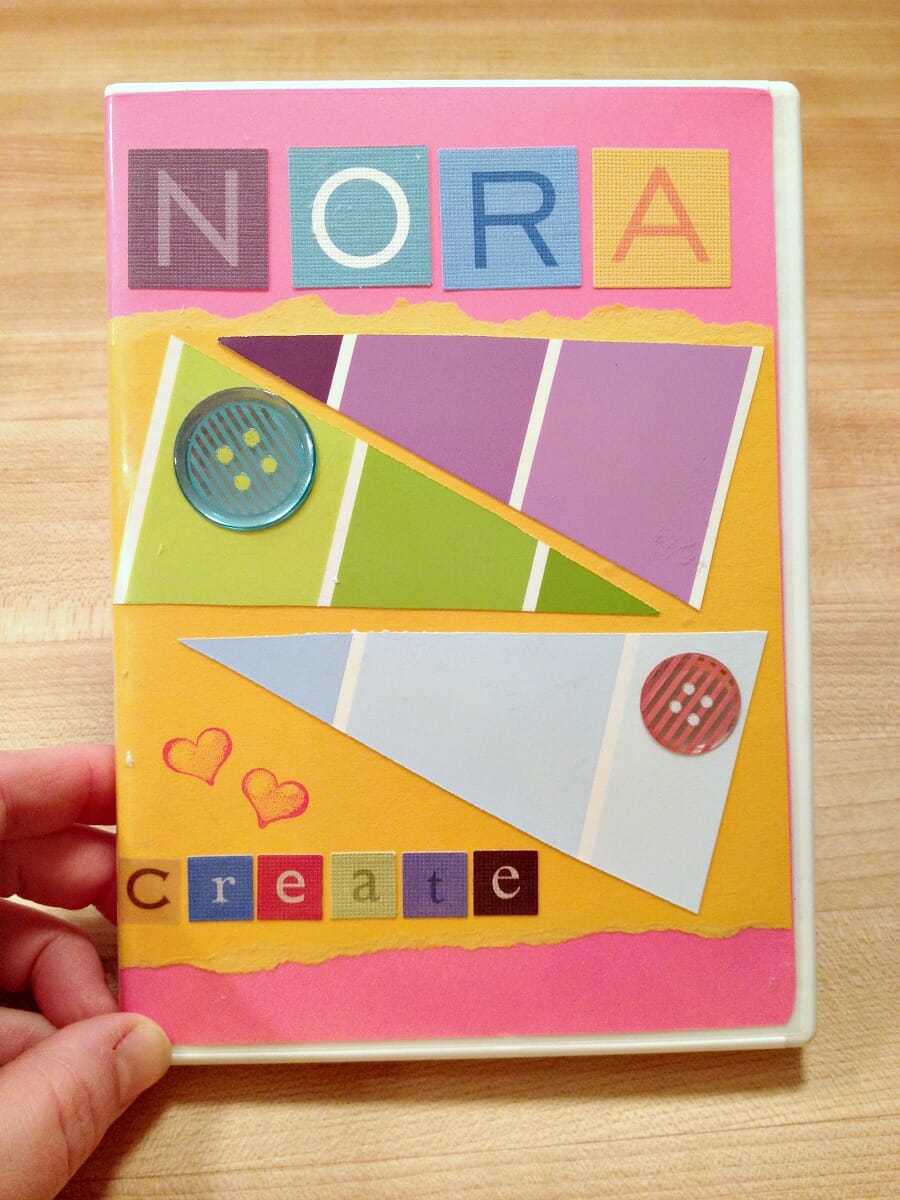 This was really easy and really fun. I saved the previous cover and used that as my template to cut out some bright construction paper.
I also added some additional alphabet stickers to the back of the case since she could sing the ABC's all day, every day if I let her 🙂
That's it — and yes, it honestly did take me less than an hour from the time I saw the idea on Pinterest until I was completely finished and had my supplies cleaned up.
Obviously, you could get MUCH more creative than I did — but for Nora's needs, this case is just right. And since I didn't spend much time or any money making it, I really don't care if it get's ruined… after all, we have PLENTY more DVD cases I could use to make another one!
What are your favorite ways to occupy young children when traveling?