I talk a lot about budgeting…
The list could go on and on!
I'm a huge advocate for budgeting because I've seen first-hand how living within a budget helps us to simplify and organize our lives (not to mention stay out of debt).
I've shared my simple financial spreadsheet and I know many of you are currently using it to help track and manage your finances. In fact, even if you don't personally use a budget, I think you would still agree that budgeting is a good idea.
Right?
Well today, I'd like to talk a little bit more about budgeting — but this time, I'm going to focus on creating and using a budget to manage your space.
Yup, a space budget!
If you think about it, your bedroom, basement, closet, kitchen, office, or any other area of your home is a fixed amount of space… just like your finances are a fixed amount of money. It would be fabulous if we could magically make more space in our homes… but unfortunately, that's not the case (unless you're willing to knock out walls like we did — or build an addition!)
So just like we need to properly manage and allocate our financial resources, we should also try to properly manage and allocate our space resources as well.
This means, clearing the extra "stuff" from our homes and paring down to the basics. It also means not buying something if you don't have the space (even if it IS a fabulous deal).
If you've never thought about creating a space budget before, here are a few tips to help you get started.
1. Know how much space you currently have.
Have you ever actually measured your closet, your bathroom vanity, your kitchen pantry, or your "junk drawer" to know how much space you have?
My guess is probably not. (Don't worry, you're in the vast majority; only weirdos like me measure every tiny space!)
If you know exactly how much space you're starting with, it will make the organizing process SO much easier.
2. Be realistic with how much you can fit in your space.
Once you know how much space you have to work with, you have to "get real" and be honest with yourself about how much you can realistically fit in that space.
So if you have a very small bedroom closet, I can guarantee that you won't be able to fit as much stuff in your closet as we have in ours. And our closet won't hold nearly as much as a large walk-in closet.
Yes, you can buy space-saving organizing tools — but in general, you really can't make more space. So the best way to get started with your space budget is to realize how much space you actually have (or don't have!)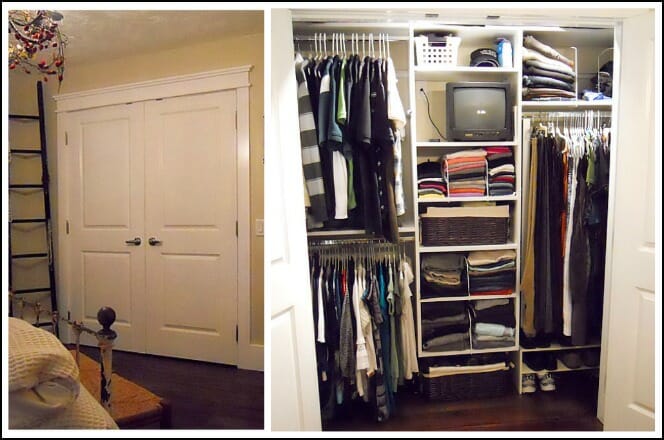 3. Purge anything that doesn't fit in your space.
So this is the hard part — because it involves work. Lots of work!
If you are (or have been) in a considerable amount of debt, you know it takes a lot of work to climb your way out of debt and start living on a fixed budget… right? Well, the same is true when it comes to living on a space budget.
If your home is filled to the brim with clutter and junk, it's going to take awhile to get back to "ground zero" and start the process of living within your space budget. But don't let this stop you. I promise that if you just do a little bit every day (15-30 minutes) you WILL make progress and start to see light at the end of the tunnel eventually!
If you need some encouragement and motivation, here are a bunch of my posts about purging 🙂
4. Think BEFORE bringing anything new into your space.
The next time you're tempted to bring something into your house (whether it's junk mail, new clothing, a fabulous garage sale find, or even a gift) stop and think 'do I have the space for this item in my home?'
If not, then don't let it come inside!
This might sound somewhat crazy and extreme — but I'm sure many of you have asked yourself 'can I afford to pay for _______?' and if the answer was no, then you didn't buy it (at least I hope not.)
So why is it so weird to also stop and consider 'can I afford to make the space for_________?'
Oh, and don't feel like you have to use every square inch of space in your home — it's OK to have an empty drawer or cabinet (we have several at our house!) I'm assuming you don't spend every penny you make each month, so why do we always feel like we need to use every inch of space in our homes? Leave a little breathing room!
5. Continually reevaluate how you're using your space.
Any good financial budget requires regular "check ups" to make sure the numbers balance out, the bills are paid, and there's still a few bucks left in the checking account. The same concept holds true for space budgets as well.
Spend some time each week and/or each month going through some of your trouble areas (kitchen counters, junk drawer, bedroom closet, etc) and not only purging anything you don't need, but also monitoring how you're using that space. Is there a better way you could be using that space? Is that space still feeling very cramped and disorganized? Could you find an organizing tool that might help you to better utilize that space?
Keep asking questions and don't be afraid to change/alter how you use a specific space. Try to think creatively and outside the box to come up with a new (possibly better) solution for your storage woes.
My all-time favorite thing about organizing is when I have an "ah-ha moment" and come up with a better way to organize something. I told you I was weird though!
If your home/closet/office/car/basement/garage, or any other space in your life is feeling crowded, cramped, and chaotic, a "space budget" might be just what you need to reclaim those spaces.
Obviously organizing (and budgeting) is a process that won't happen over night. But if you get started now, you might be surprised at how much progress you make by the New Year… and won't it be great to start out the New Year with a clean, organized home?
Do you have a space budget?