Looking for another simple, delicious way to use up your fresh garden produce? Me too!
Last week, I made an excellent vegetable stir-fry. This week, I tried Greek Orzo; it was a big hit. I served it with grilled chicken and cheesy garlic bread (so I didn't even have to turn the oven on!)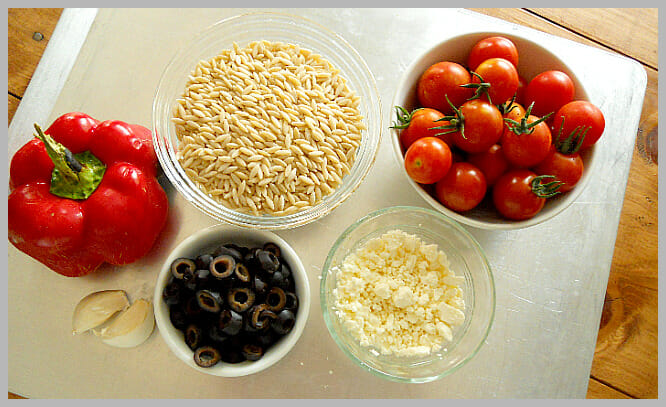 Ingredients
3 T. olive oil
1/2 c. lemon juice
1/2 c. olives, chopped
2 ripe tomatoes, seeded and diced
1 red bell pepper, chopped
1 red onion, chopped
2 cloves garlic, minced
1 t. finely chopped fresh oregano
8 oz. crumbled feta cheese
1/2 lb. dried orzo pasta
1 c. chopped fresh parsley
Directions
In a large bowl, mix the first 9 ingredients — let stand at room temperature for about 45 minutes.
Bring a large pot of lightly salted water to a boil (do this about 10 minutes before you're ready to eat)
Add orzo and cook for 8 to 10 minutes; drain and toss with the vegetable mixture.
Sprinkle with chopped parsley to serve.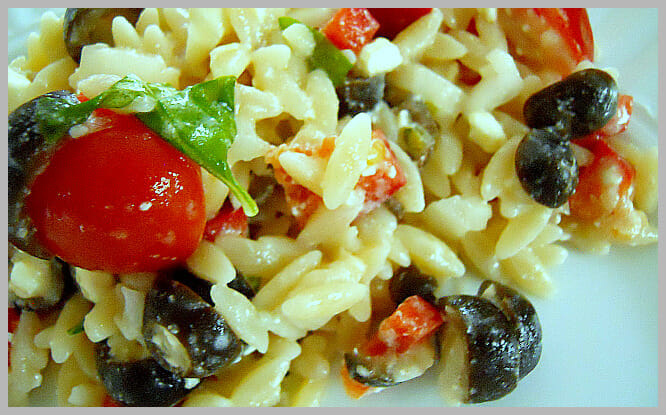 Orzo is a nice alternative to pasta and can be served as a side dish or main course. It's a favorite over at our house and it heats up great for leftovers (yup, I speak from experience!)
What are you doing with your extra vegetables?
Visit my virtual recipe box for more simple, delicious, family friendly, recipes!