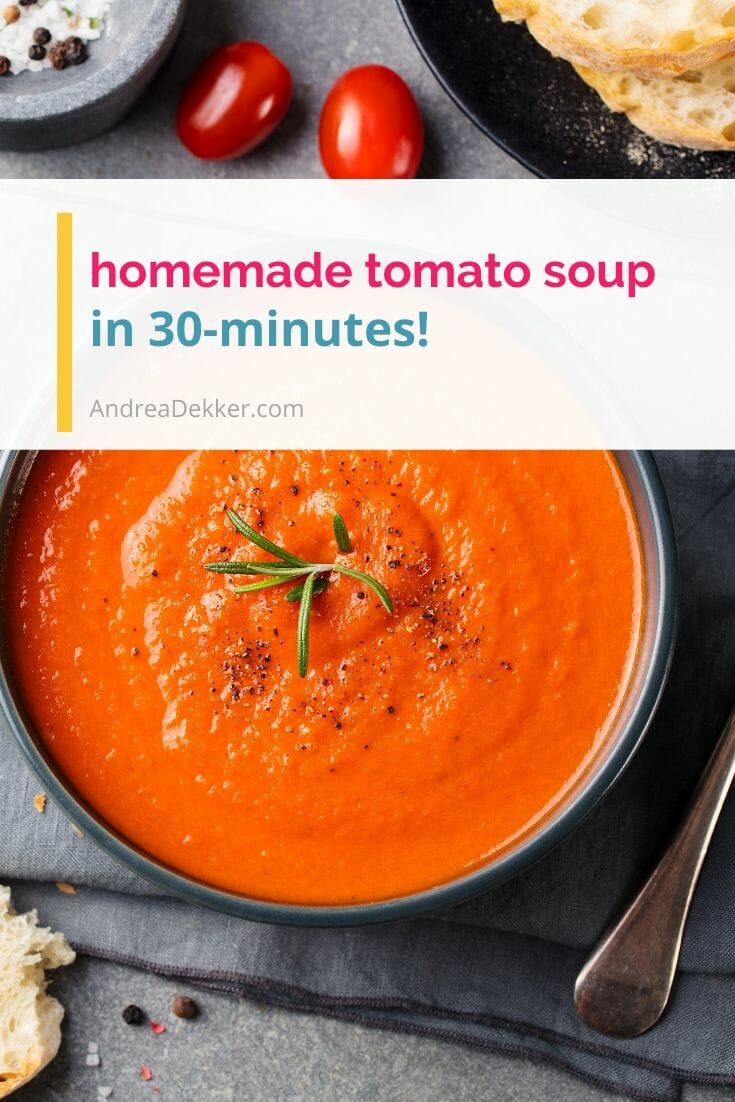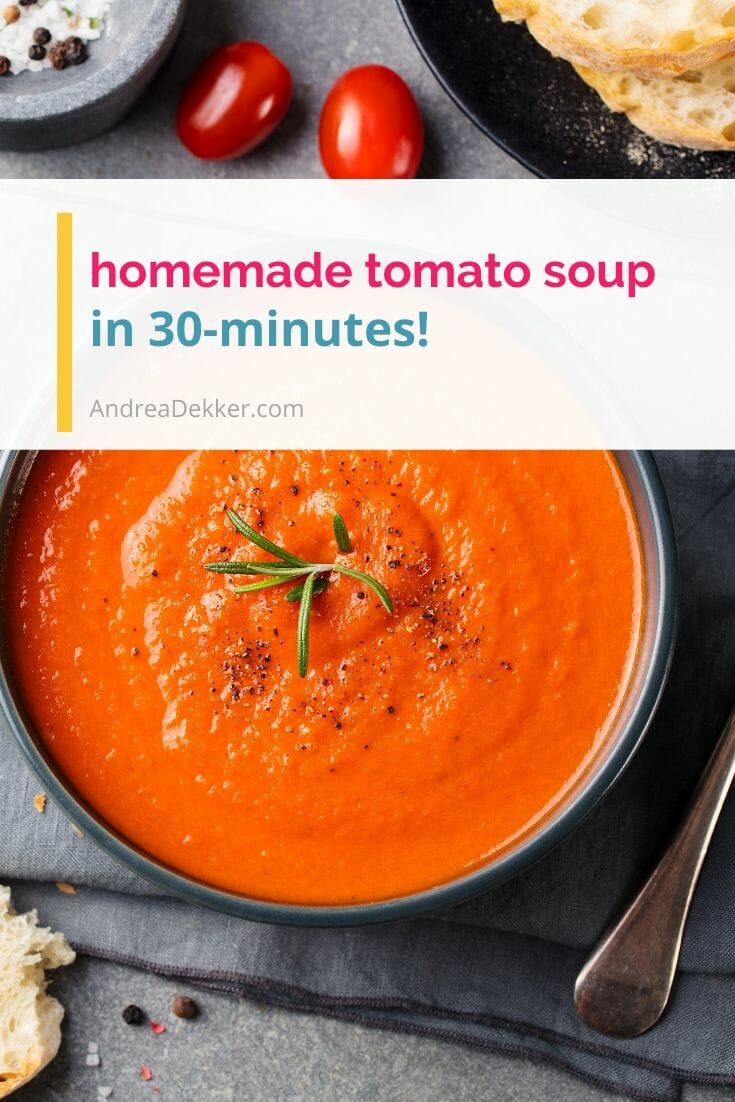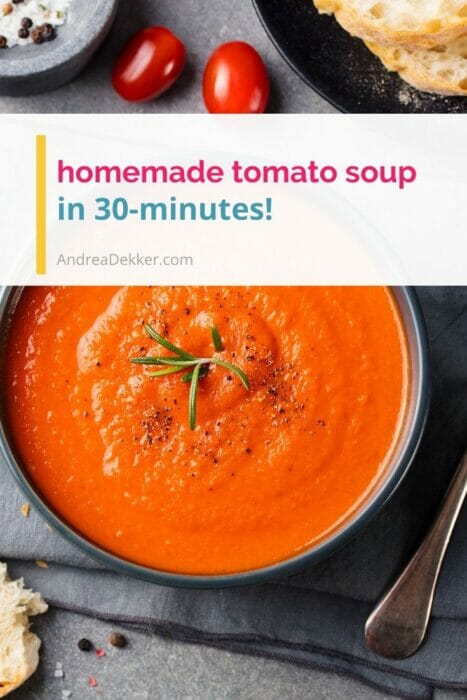 Although my childhood self was not keen on tomatoes, I do always remember liking tomato soup.
Later, as an adult, I tried to force myself to enjoy the taste of tomatoes. It took me almost a decade after marrying Dave to FINALLY get to the point where I liked eating tomatoes — meanwhile, tomato soup was often on our menu plan as it was one the many soups we both really enjoyed.
Of course, it was always store-bought tomato soup from a can (or a box if we felt like buying the fancier stuff.)
Nowadays, I make tomato soup from scratch, and it's not nearly as difficult or time-consuming as you might think — especially if you used canned tomatoes!
I have made tomato soup from fresh-from-the-garden roasted tomatoes, but it is SIGNIFICANTLY more work than using canned tomatoes, and I honestly don't think the taste is much better.
It has a "different" taste, but based on the amount of extra effort (and extra dishes) required to roast, puree, and strain the tomatoes, it's not something I plan to do with any sort of regularity.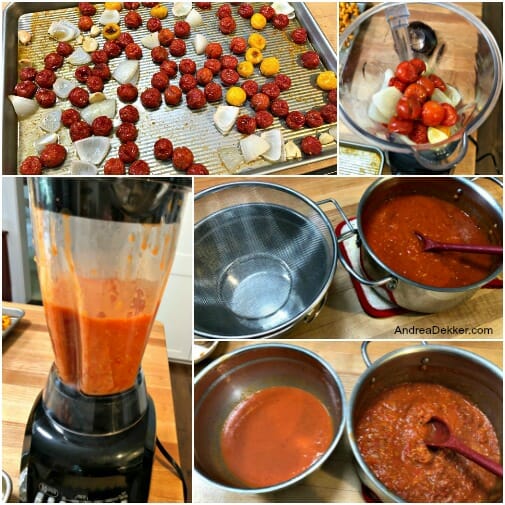 On the other hand, homemade tomato soup using canned tomatoes is a meal I can whip up in 30 minutes — which is just enough time to make several grilled cheese sandwiches and set the table!
If you have extra time, you can let this soup simmer on the stove for a while… maybe with a rind of fresh Parmesan in it (or just a little shredded Parmesan cheese).
Either way, this homemade tomato soup is the perfect meal for cooler fall nights — one you can most definitely pull off on busy weeknights!
Yield: 6
30-Minute Homemade Tomato Soup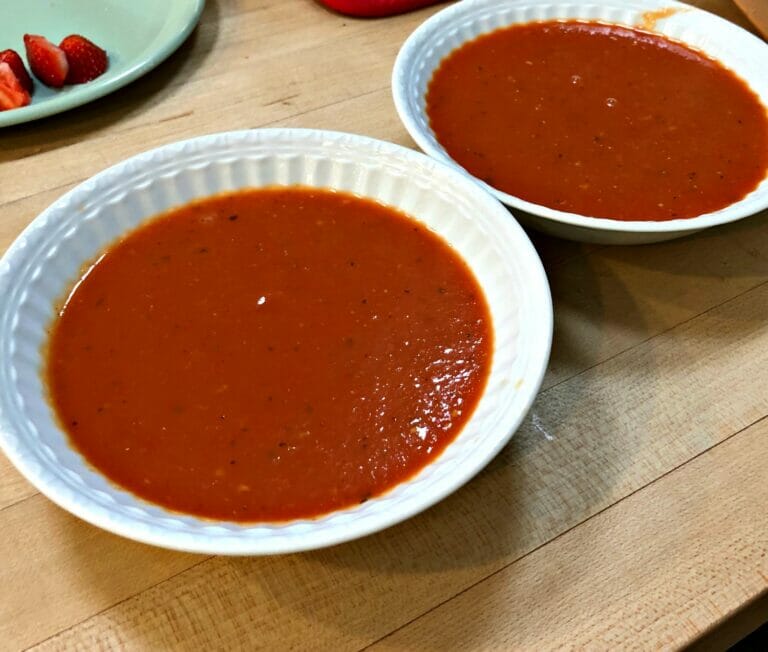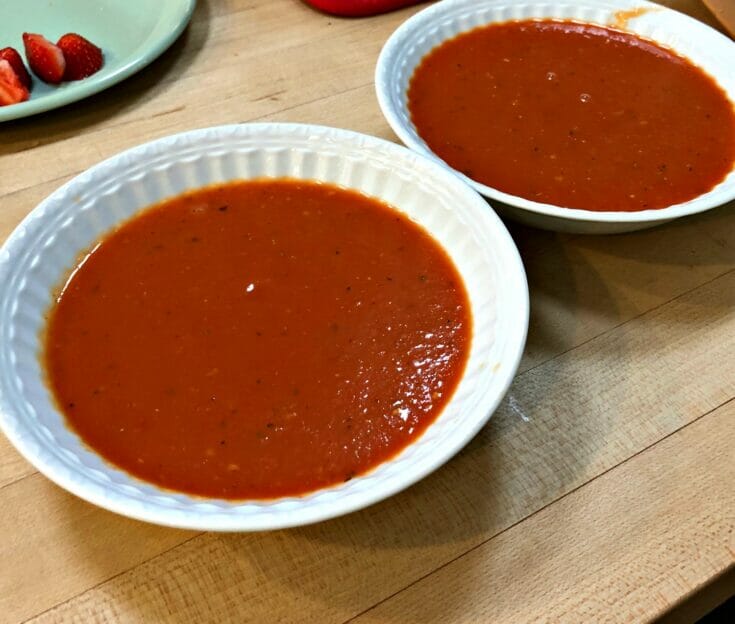 This homemade tomato soup is a perfect comfort food for Fall -- one you can easily have on the table in under a half-hour!
Ingredients
1/4 c. olive oil
1 T. minced garlic
1/2 t. dried basil
1/2 t. dried oregano
1/2 t. dried thyme
1/2 t. freshly ground black pepper
1/4 t. dried rosemary
pinch red pepper flakes (optional)
1 can (6 oz) tomato paste
1 T. brown sugar
1 can (28 oz.) crushed tomatoes*
2-3 c. broth
salt to taste**
Instructions
In a large heavy-bottomed stockpot, heat olive oil over medium heat.
Add garlic, basil, oregano, thyme, pepper, and rosemary. Sauteé until garlic is tender (about 2-3 minutes
Whisk in tomato paste and brown sugar until smooth, stirring continually. (1 minute)
Add in crushed tomatoes and as much of the broth as you want to get the desired thickness.
Add salt to taste (see notes below).
Let simmer until heated through, stirring occasionally.
Serve with Parmesan cheese or even a little drizzle of heavy cream.
Notes
* If you don't have crushed tomatoes in the house, simply put diced or whole canned tomatoes in a blender and pulse for a few seconds.
** The amount of salt this recipe needs will vary significantly depending on the type of broth you use. I use homemade bone broth with no added salt -- so I usually add a full teaspoon of salt to my soup. However, store-bought broth has a lot of extra salt in it already -- so you might not need to add nearly as much salt as I do. Just taste it a few times before you decide!
Nutrition Information
Yield
6
Serving Size
1
Amount Per Serving
Calories

180
Total Fat

12g
Saturated Fat

2g
Trans Fat

0g
Unsaturated Fat

9g
Cholesterol

7mg
Sodium

442mg
Carbohydrates

12g
Fiber

0g
Sugar

6g
Protein

6g
Nutritional information is approximate and does not account for additional ingredients or added toppings.
NOTE: I usually use home-canned tomatoes, but I just wanted to show that this recipe is very doable with store-bought tomatoes too.
There you have it… a simple recipe for one of my most favorite comfort foods, and just in time for the official start of Fall later this week!
What is your favorite Fall soup?
Visit my virtual recipe box for more simple, delicious, family-friendly recipes!