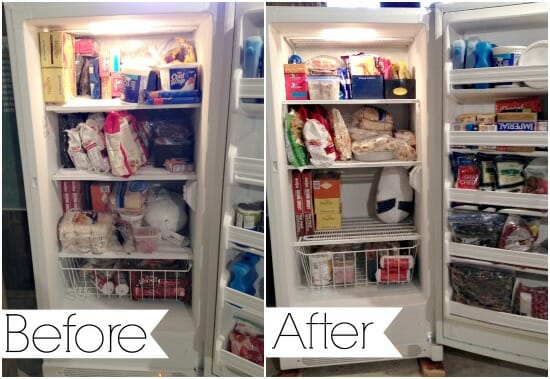 As I mentioned in this post, one of the things I really wanted to finish before the new baby arrives was defrosting our deep freezer in the basement. We have been meaning to do it for a few months now, but wanted to wait until it was nice and cold outside so we wouldn't have to worry about packing all the food up in coolers to keep it cold.
So two weeks ago, I told Dave, "today is the day" (for the freezer, not the baby!) and I went downstairs to start unloading the freezer.
It honestly wasn't that bad, it didn't take that long, and it sure feels good to be done with it.
Today, I'm sharing our simple freezer-defrosting process with you — but before we get too far into this post, I want to take a minute to answer a few questions I get over and over regarding our deep freezer…
.
1. Why do you have a manual defrost freezer when you could get a frost-free freezer?
This is actually a pretty good question if you've never done any research about freezers. After all, wouldn't it be SO much easier to buy a frost-free freezer and never need to deal with the hassle of manually defrosting it every couple of years?
Yes, it would be less work, but a frost-free freezer also has the potential to cause more freezer burn on your food because the temperature is always fluctuating (warmer to prevent any ice from building up, then colder to cool the food back down again). It's not a huge deal — but if you want to store your food long-term (6-18 months) you'll definitely want to buy a MANUAL DEFROST freezer.
So yes, we have to deal with this frosty build-up every couple of years — but as a results, our food stays fresher longer!
Plus, it only took us about 2 hours to go from the photo above to the photo below… so not that bad considering the money we've probably saved on freezer-burned food over the past 2 years!
2. Why do you have an upright freezer versus a chest freezer.
We have an upright freezer simply because that's our preference. Neither one of us like digging through chest freezers — which is especially inconvenient when you have a large belly!
It's true that you can technically fit more per square foot in a chest freezer, but the convenience of being able to quickly see everything we have in the freezer and keep everything nicely organized is more beneficial for us.
3. How often do you defrost your freezer?
This is the first time we defrosted this freezer since we purchased it over 2 years ago — and it honestly wasn't THAT bad. Ideally, I think the stores would tell you to do it every year, but with our old freezer and this new freezer, we just did it whenever we felt it was necessary and whenever we had time.
Obviously, you don't want to to let the ice build up too much as it will take away from the amount of space you have to store your food — but I'd say every year to every 2 years would be about right.
.
OK, Now Let's Talk About HOW we Defrost our Deep Freezer:
The process was actually pretty simple, relatively painless, and only took about 4 hours from start to finish (and that included the time we let the freezer cool down again before loading it back up.)
The actual time to defrost and clean the inside of the freezer was just a little under 2 hours (not bad if you ask me.)
Here's a look at our freezer before.
Not totally horrible, but definitely getting some ice build-up and definitely not as organized as it could be.
STEP 1: Unplug freezer and remove all contents.
This is probably the most annoying part for me. Thankfully all I had to do was load up our food into laundry baskets. Dave took care of the "heavy lifting" to bring everything outside to sit under our covered breezeway.
It was only about 10*F outside when we defrosted our freezer so the food actually stayed pretty cold!
STEP 2: Prepare for lots of water!
Once the freezer was empty, I put large pans on each shelf to catch the majority of the dripping water from the shelf above. You could also put thick towels on each shelf and then ring them out periodically.
STEP 3: Add a portable heater for efficiency.
Then we put a small space heater in front of the freezer to speed up the process.
I went downstairs every 20-30 minutes to check on the progress and empty the pans. I also used a plastic putty knife to chip away at some of the larger chunks that were melting away but not fully disconnect yet. This really helped to speed up the process in my opinion (if you do this, I'd definitely use a plastic putty knife so you don't scratch anything inside the freezer).
STEP 4: Dump out pans, wipe out access water, and clean the inside.
Once all the ice had melted away, I wiped out any extra water with a super absorbent microfiber cloth — and then also wiped down the dust, dirt, and crumbs on the inside of freezer.
STEP 5: Plug it back in and wait for it to cool down.
Once we plugged it back in, it only took about 2 hours for it to get nice and cold again.
STEP 6: Load up the food.
After it was cold enough, we brought the food back in and I took just a few extra minutes to organize it a bit better than it was before.
I also took note of items that might have been in there for a while and planned to use those things up in our next meal plan (or at least in the next couple weeks).
Then I made a list of things I wanted to make or buy to re-stock our freezer over the next few weeks before baby — just so I can cross one more thing of my to-do before baby list!
Can you believe that there was the same amount of food in the before and the after pictures — it's just organized A LOT better in the after pictures.
And if I'm really honest, there is actually a bunch of food from our kitchen freezer in the after picture because we had so much extra room and I know that the food will keep longer in the deep freezer!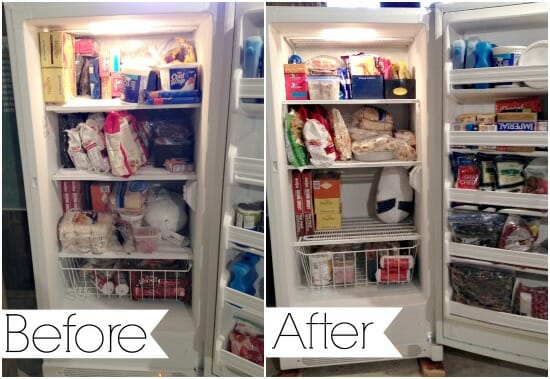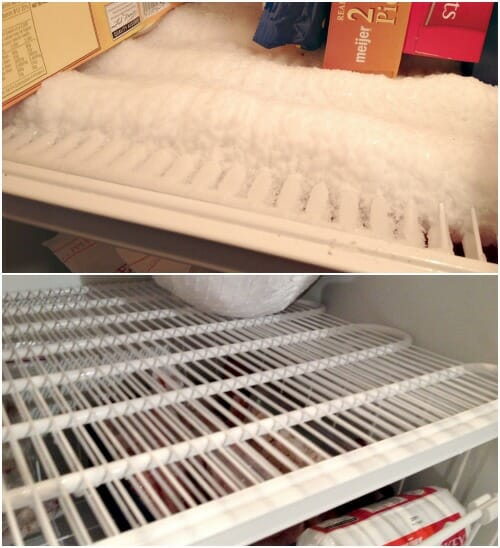 Ahh… so much nicer without all that icy build-up — and now I don't need to think about it again for another 2 years!
Do you have any freezer defrosting tips or tricks?