It's been just over a year since we finished our FABULOUS bathroom renovation… and we are still pleased as punch with how it turned out!
In fact, just a couple weeks ago, my dad asked me if we would have done anything differently now that we've been living here for a year. I didn't even have to think before responding with a huge NOPE!
In case you can't tell, the "after" picture is on the right 🙂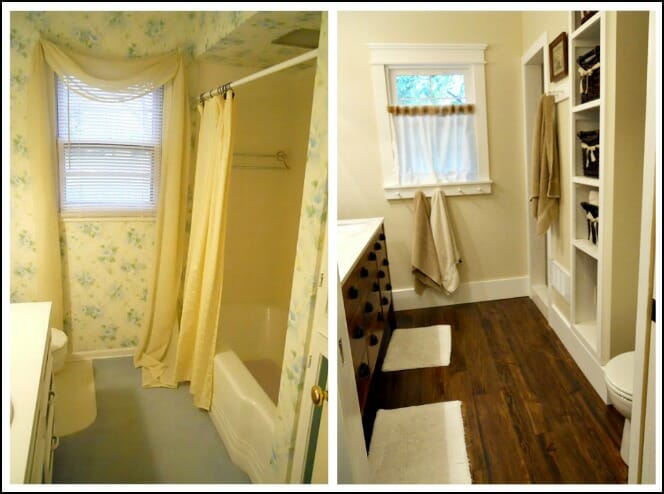 I can't believe that I was almost persuaded by so many people who told me I was nuts for choosing a furniture-like bathroom vanity instead of a traditional vanity with a lot more storage. Or that I would regret not putting cabinet doors on our built-in "linen cabinet". They said I was making a mistake by using open baskets — but I knew I could handle a little less practical storage to get the look I wanted.
After all, I'm kind of a freak when it comes to clutter control and purging!
Even though there were times when I questioned my own judgement, I'm happy that a full year later, I can confidently say that I wouldn't change a thing.
I'd also like to say "I told you so" to every person who doubted me 🙂
Anyway… since our bathroom does have a bit less storage than many "master bathrooms," I knew I would have to get creative with how I organized everything in order to accomodate our daily toiletries, extra towels, cleaning supplies, and all the extra toiletries I stock up on when I can get them free by playing the drugstore game!
And since it's always easier to "show" rather than "tell"… let's go on a little tour of our bathroom.
There are really only two spots to store things in our bathroom — either the baskets on our built-in shelves or the vanity. And then we also have a bunch of hooks to hang towels, robes, and clothing… but we'll start with the shelves.
THE SHELVES:
I absolutely LOVE these built-in shelves and since we made them to accomodate these baskets from World Market, we were able to fully maximize our storage space while adding a decorative element to our somewhat small bathroom. Plus, since the baskets are almost as tall as the cubbie holes, you can hardly even see all the goodies I'm hiding in there!
We have 5 of the same baskets and they each are full of stuff. One has extra towels, one is full of toilet paper, and the other three hold various toiletry items and cleaning products.
It is crazy how much I'm able to pack into those baskets — and since the baskets are out in the open, it's really easy to find whatever we need or to restock with new items as necessary.
Plus, I love the look of the baskets… I'm definitely not planning to put doors on the shelves any time soon!
THE VANITY:
In case you weren't following my blog last year, I should mention that my uncle custom made us this vanity. We stained it to match our flooring and then added all the hardware. So I can't tell you where to buy it… and we don't have any "plans" or instructions to share either. Sorry!
Since our vanity only has 3 small drawer and 2 VERY small cabinets (especially since the sink takes up most of the storage space) I knew I had to use the vanity to store the items we used on a daily basis.
We store a few cleaning products and some taller bottles of lotion, hairspray, mouthwash, etc. under the sink, but that's it. There really isn't room for much more.
We use the top drawer for all the items we use on a daily basis (toothbrush, hair gel, deodorant, chapstick, etc.) I actually use the wooden organizer that came with our silverware to organize our bathroom drawer. It's worked perfectly for several years now and it was free!
We use the bottom drawer for all our travel-size toiletries, and travel toiletry bags. This might seem like a waste of space, but we actually use our toiletry bags on a very regular basis, and I have a ton of uses for sample-size products so those get used a lot as well.
The second drawer is basically empty — which was a huge shock for me too. Since Dave and I don't have many toiletries, we were basically able to fit everything we needed in the top drawer — which left the middle drawer empty besides a stack of extra organizing containers and my blow drier (I can't even tell you the last time I used it!)
I figure we'll use this drawer for toddler things once Nora gets a bit older, but isn't old enough to move all the way upstairs. She can store her hair clips and baby toothbrush in there and she'll actually be able to reach them.
So apparently our vanity has plenty of storage for us 🙂
THE HOOKS:
I've never loved the look of shiny chrome or brass towel bars, and with extremely limited wall space, I knew I would have to come up with a creative solution if we wanted to have enough space to hang 2 or 3 wet towels along with any robes or clothing we brought into the bathroom.
And since we chose to replace our traditional swinging door with a space-saving pocket door, we didn't even have the back of the door for hooks or extra storage.
So I came up with a pretty clever idea all on my own (this was before Pinterest!) and installed shaker pegs directly on top of the existing window trim.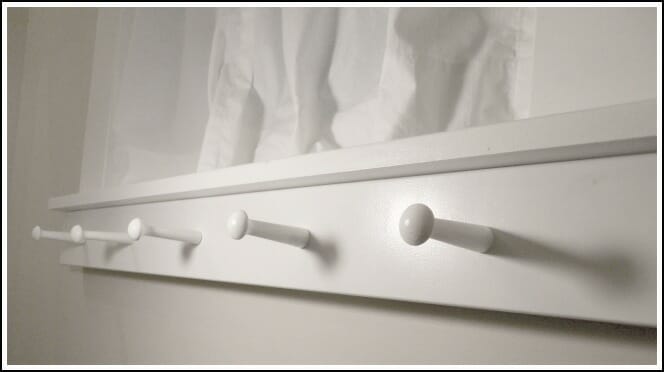 I was a little nervous as I wasn't sure what it would look like, but we are thrilled with the results and I honestly don't think I could have come up with a more perfect storage solution for our 120 year old farmhouse bathroom!
In fact, we like them so much that we installed 3 more pegs next to our shower.
They offer flexible (and somewhat decorative) storage and take up minimal wall space. Win, win, win!
So that's how we organize everything in our somewhat small bathroom (it's an 8'x8′ square). We did give up a decent amount of usable space to accommodate our vanity, walk-in shower, and the open shelves… but we've definitely been able to maximize the storage space we do have by keeping things organized and by limiting the amount of "stuff" we have.
Maybe our specific storage ideas wouldn't work in your bathroom, but hopefully something in this post inspired you or gave you an idea of a way you can better organize your bathroom.
Do you have any other simple bathroom organizing tips?