I don't think it's a big secret that Nora has been quite a challenge for us these first few months!
Despite our best and most diligent efforts to get her on any type of schedule or routine… she just won't have it. Every day is completely different. Some days, she's a little angel; other days, she screams for hours at a time.
Things are definitely getting better now that she's almost 6 months old (yeah I know, she's getting so big!) and looking back, it seems I might be learning more from my fussy babe than I thought…
Empathy
Before we had Nora, I was often judgmental of other parents when I saw their kids throwing temper tantrums in restaurants, grocery stores, church, etc. After all, why can't they "get their kids under control" and "stop their baby from crying"; it can't be THAT hard, can it?
Now I know better!
And while we personally try not to bring Nora to places where she could disturb other people, there have been a couple times when she started crying (loudly) in the grocery store… and I couldn't do anything about it. She had just eaten, had her diaper changed, and she snoozed in her carseat as we shopped… so I had no idea how to stop her crying. There was nothing I could do.
I'm guessing many of you are nodding your heads right now thinking, been-there, done-that.
Patience
OK, so I'm still working on this one… but I honestly feel like I have much more patience NOW than I did 6 months ago.
There have been days when she cries and fusses all afternoon, but I can deal with it, put on a happy face, and have dinner ready when Dave and Sarah get home from school.
And when she wakes up (multiple times) in the middle of the night, I'm still so tired… but I don't have the incredible amount of anxiety I had in those first few months. I know I'll be able to get her back to sleep eventually.
Aren't you so proud of me 🙂
Flexibility
Since Nora refuses to get on any sort of schedule, we've just started to go with the flow — and believe-it-or-not, I'm actually getting pretty good at it!
We never know when she will decide to fall asleep at night (some nights she's sound asleep by 7:30, other night's she's wide awake until 11:30 or midnight). We used to sit around at night with the lights and TV off, trying to rock her to sleep. But since that doesn't work, we've started living again and are actually doing things we want to do.
We'll watch TV, go for a walk, do something with friends, etc.
Of course, we come home much earlier than we did before, and we still try to create a routine of bath, pajamas, eat, sleep… but we're also more realistic and if we can tell that she's wide awake, we don't try to "force" her to fall asleep.
Just this past weekend, we took her to Dave's school's prom. We were only out until about 8:30, but we had so much fun… and the kids LOVED it! Plus, I think being around all those people tired her out.
Humility
Not only did I have NO idea what I was doing when I brought Nora home from the hospital, I was also not very accustomed to relying on other people for help.
In case you haven't noticed, I'm kind of a DIY gal — and I'm pretty determined to figure things out "on my own". After all, I learned how to do basic electrical work in an afternoon, I taught myself HTML coding in a week, and I managed to start my own business when I was 21… so a baby really couldn't be THAT hard, right.
HA!
Dave and I are VERY thankful for our family and friends — for all the people who brought us meals and gave us gifts; for my parents who are ALWAYS finding the best deals on every baby item we could ever want; for Dave's parents who have invited us over for more meals than I can count; for my sisters who have willingly stayed with Nora over night so I could actually sleep; and to both our families for their never-ending "free babysitting" offers…
Maybe I can't always do it all 🙂
Sacrificial Love
Yes I love Dave, I love my family, and I love my friends — but they don't ask me to feed them every 2 hours, clean up their poop, and tend to their needs all hours of the night!
Obviously, I knew that sacrifices were a huge part of having a baby — but I don't think I fully understood how many sacrifices I'd have to make.
A couple years ago, I remember telling my mom about how my friends wouldn't eat when their food was hot because they HAD to feed their babies, and they couldn't do what they really wanted to do because they HAD to take care of their children. She just smiled at me and said that once I was in that situation, I would WANT to do those things… she was right.
And seriously, how could you NOT love that smile!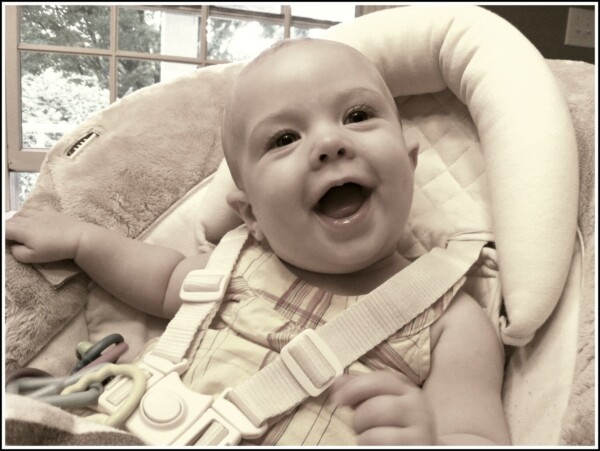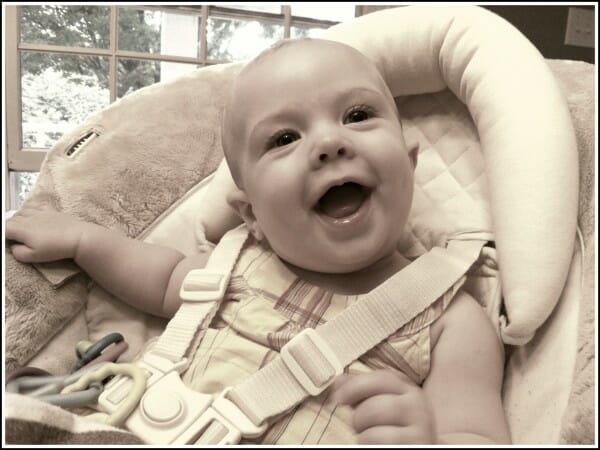 So it seems I'm learning a bit more than how to properly install a carseat, set up a pack n' play, change a "blow out diaper", and get out the door on time…
Thanks for being such a good teacher Nora 🙂