I've always had a fair amount of gift wrap, bags, tissue paper, ribbon, etc. because I like to be prepared in case I need to give a last-minute gift. Plus, I reuse bags, tissue paper, etc. (as long as they are still in good condition), so I usually get a lot of "new" wrapping supplies this time of year!
I was starting to get overloaded a bit so over Christmas break, so I took about 30 minutes to VERY QUICKLY go through my wrapping supplies and get organized again. I purged everything that was ripped or unusable, I donated anything I didn't like or want, and then I reorganized the rest.
BEFORE:
AFTER:
I also have a couple rolls of white paper, brown craft paper, and red/green paper that aren't in this picture. Plus, I have a basket of ribbons, bows, etc. I try to keep my gift wrap to a reasonable amount while still having a variety of wrapping options for different gift-giving occasions.
This year, after I organized the gift wrap, I decided to move it all to a different storage location.
We used to store it all in the back of our office closet… but it was really hard to access and I couldn't store the wrapping paper back there because it was too tall.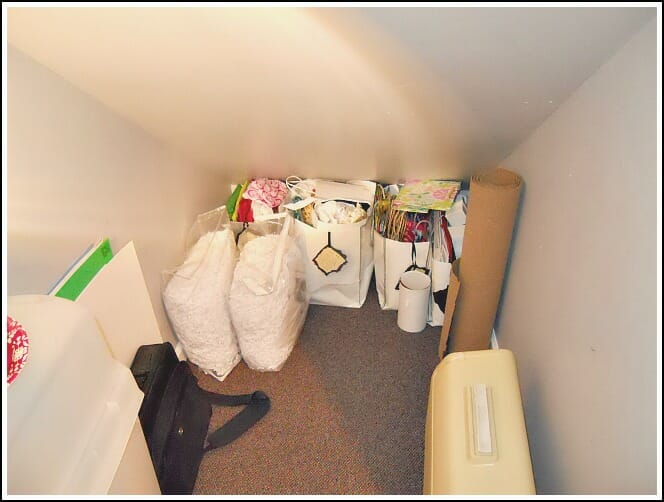 So since I don't need to access the gift wrap on a regular basis (and since we're trying to clear out the office closet for another project), I decided to move the gift wrapping supplies to an empty computer armoire in the landing area upstairs.
We found this armoire on Craigslist for only$40.00 and have basically been using it as a "decoration" for the past 2 years.
The whole moving process only took about 15 minutes (after I had things organized) and I'm thrilled with how it turned out!
I'm storing the rolls of wrapping paper on the pull-out keyboard tray.
Then I have one bag of boxes, one bag of gift bags, and a basket of ribbons/bows/etc. on a lower pull-out shelf.
I put tissue paper and "stuffing" in 2 of the smaller side shelves.
And I even have room for some of our shipping boxes and packaging tape on the very bottom shelf.
In the top half of the cabinet, I put box with extra gifts, a basket with tape and scissors, and then a few more smaller gift boxes.
Done!
All our wrapping supplies are now in one convenient location, they are all easily accessible but out of the way, they are hidden behind closed doors, and best of all, they are completely out of Nora's reach 🙂
I don't foresee needing this cabinet for anything else in the near future (we don't even use the upstairs except when guests stay with us), so I think this will be a fabulous place to keep our wrapping supplies for at least a few years!
How do you store your gift wrapping supplies?