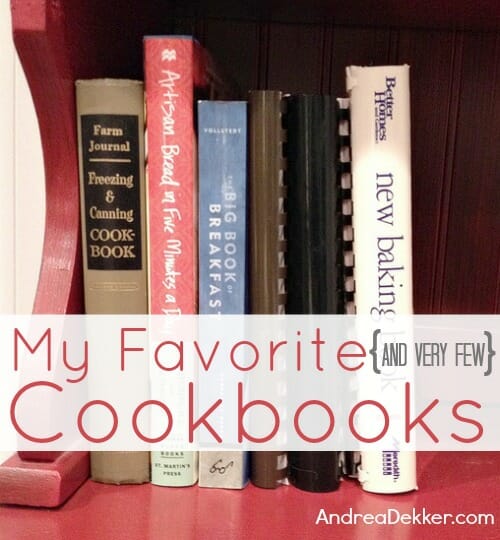 When I was first married, I received a massive amount (like boxes and boxes) of really nice cookbooks from an older friend who absolutely LOVED to cook and wanted to pass on some of her collection to me.
I was beyond thrilled to get all those fabulous cookbooks and start my own collection… until I realized that anytime I wanted to try a new recipe, I simply went to the internet and did a Google search, looked up a favorite cooking blog, or scoured AllRecipes.com for specific ingredients or specific recipes.
I almost never looked at my shelves (yes, plural — there were multiple shelves) of brightly-colored cookbooks; and if I did, it was just to oooh and aaah over the fabulous recipes and gorgeous photography.
The recipes just weren't super practical to make — and again, it was just so much easier to do a quick internet search, pick one of 50 similar recipes, AND read the reviews to know which recipe others liked best.
I slowly began to purge some of my massive cookbook collection — selling some, donating some, giving some to family and friends who expressed interested in specific books, etc. etc.
And then we moved 3 years ago and I purged even more.
However, up until last year, I still had a FULL SHELF of cookbooks in our kitchen — and only used a few of them on a regular basis.
Although I had the space to store them, I sort of felt like a hypocrite "hoarding" all these cookbooks that I didn't want, need, use, or love. I just kept them because it was easier than getting rid of them (ahem, who can relate to that!)
Then last fall, when we were fully finished with our kitchen renovation, I decided that I would ONLY keep the very few cookbooks I used on a regular basis — and then purge the rest.
And I did!
I put them all in a donation box, let my 2 recently married sisters look through them, and brought the rest away.
Boy did that feel good!
Now I just have a few cookbooks — and they're ones I actually use (imagine that!).
The ONLY cookbook I don't necessarily use is this old antique one — but it was from my grandma's kitchen (who has now passed away) and I do enjoy looking back through the old-fashioned recipes. Plus, I think it's OK to keep one sentimental cookbook 🙂
So since I'm regularly asked what my favorite cookbooks are, I thought I'd quickly list them out for you — after all, it is a pretty short list now!
The photo above is literally the ONLY cookbooks you'll find anywhere in my house right now — I promise!
1. The Better Homes and Garden New Baking Book:
I got this one as a Christmas gift from Dave's sister and it's basically been my go-to baking book ever since. There are HUNDREDS of amazing recipes inside these pages — some really simple and traditional favorites, some a bit more fancy and elaborate (for when I want to try something new).
But since Better Homes and Garden magazine is by-far my most favorite magazine, it's really no surprise that their cookbook is one of the very few that has survived my many cookbook purges.
2. Artisan Bread in Five Minutes a Day:
I got on a bread-baking kick a couple years ago and was instantly impressed with the Artisan Bread in Five MInutes a Day cookbook. It basically has a few "base recipes" for making bread dough in bulk… and then storing it in your fridge until you're ready for another loaf.
You can make bread, rolls, buns, cinnamon rolls, etc. all from the same dough — and all you need to do is scoop out the dough you need from the container in your refrigerator, let it rise, and then bake.
It's by far the simplest way I've found to make homemade bread on a regular basis — and without a bulky bread machine.
3. The Big Book of Breakfast:
Dave and I LOVE breakfast — so much that we have some type of breakfast for dinner almost weekly (plus lots of big breakfasts on the weekend).
I love all the recipes in The Big Book of Breakfast, and have actually broken the spine of the book in many different places because I've made some of the recipes SO often!
I use each of the 3 cookbooks above on a regular basis — but for my daily and weekly meal planning and cooking, I either browse through the recipes here on my blog or the 3 cookbooks below.
The first one was from Dave's mom the 2nd Christmas we were married. It has all Dave's favorite recipes — and a bunch of traditional "Dekker favorites". I use this a lot when I'm making food for Dave's family, or if I just really want to make Dave happy 🙂
The other two books were both wedding gifts (clearly from very practical cooks!) One is a local school cookbook and the other is a local church cookbook. ALL the recipes inside are simple recipes with normal ingredients, made by busy moms for busy families.
I've gotten more than my fair share of use out of these books (especially those first few years of marriage when I was still figuring out how to cook!)
So there you have it — my super short list of favorite cookbooks.
Nothing too fancy, but oh so useful for my cooking style and our family's tastes.
What are your favorite cookbooks?