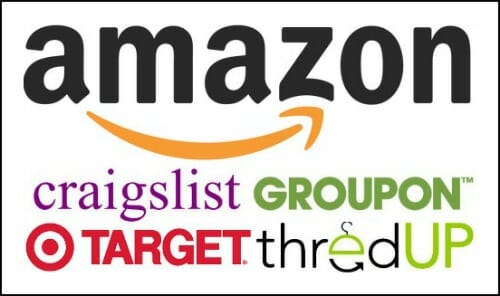 Over the past two years, the way I shop has changed significantly — and I now do almost all my shopping online (outside of my weekly grocery run).
I save a bunch of time and gas money by shopping via my computer!
Plus, I don't have to load up the stroller, the diaper bag, and everything else that comes with carting a toddler around. I don't have to worry about store hours, finding a parking spot, or waiting in a long checkout lane. I don't have to lug heavy packages through the store, out to my car, and then into my house. And I don't have to wonder "will this work for me?" because I can read the reviews before I buy.
I'm now to the point that whenever we need something, I either add it to my Amazon Wish List or head straight to the computer and do a quick search to find the best price.
I've gotten quite a few questions asking about what online shops I use most — so I thought I'd share my favorites today… and I'd love to know your favorites too so leave that information in the comments!
But before I get started, I want to point out that I'm definitely not a "shop-a-holic".
I keep a running list of items we need/want to purchase and I usually place an online shopping order once a month (maybe a bit more around the holidays).
I truthfully do not feel like I spend more money or make more "impulse" purchases by shopping online — in fact, by buying ONLY what we need and ONLY when we need it, I most likely spend less than if I had to look through an entire store or mall to find what I wanted.
That said, if you know online shopping is more "tempting" for you, or it's just too easy to make impulse purchases with your credit card and computer so accessible, then maybe online shopping isn't for you — and that's OK.
However, for those of you who just hate the mall (like me!), dread schlepping your kids all around town to find that one specific thing you need, or just live far away from a convenient shopping location, then keep reading!

1. Amazon.com
Obviously, I can't write a post about my favorite online shopping sites without including Amazon.com as #1. I make over 75% of all my online purchases through Amazon — and I've had only 1 error to date (it was fixed within the week).
Amazon makes it extremely simple to buy and return items, and they sell almost everything! However, my favorite thing about Amazon.com is that I can read tons of reviews for every product I'm interested in buying.
I've also started giving Amazon.com gift cards this past Christmas — and the recipients were all thrilled. I think I received more Thank-You emails and cards for the Amazon.com gift cards than anything else I gave.
This might be my new go-to clutter-free gift idea!

2. Craigslist
I know Craigslist is a little different because the items aren't shipped directly to your home, but I had to include this in my list of favorite online shopping sites because almost every piece of furniture in our house is from Craigslist. And, as you might have noticed in my post last week, our house was actually purchased via Craigslist too!
Craigslist can definitely be "hit or miss"; however, if you're in the market for something specific (example: Pottery Barn Sofa, Webber Grill, Honda C-RV, Graco Stroller, girls size 5 sandals, etc.), you can set up a search for that specific item and then "subscribe" to that search's RSS feed so you'll be notified when new items in your search are available (here's a post that talks more about how to do this).

3. ThredUp
ThredUp is a pretty cool website for buying used children's clothing. It's basically like an up-scale consignment shop or mom-to-mom sale… but without the driving, without the crazy moms grabbing everything in sight, without the long lines, and without the exhaustion.
The prices are a little more expensive than garage sales, but certainly less then buying new from the store — and ThredUp makes it really easy to shop by brand, by color, by size, or by the type of clothing you're looking for.
In my opinion (and remember, I hate shopping) the marginally higher prices are MORE than worth the convenience of sitting at home, only searching for exactly the items I want, and having them shipped to my front door in about a week.
Oh, and if you've never used ThredUp before, you can usually get a $10 credit for your first order when you create an account — that means you can probably get at least 2 items for free!
UPDATE: I just got an email from ThredUp with a coupon code for $15 off your first purchase (good 3/20 – 3/22/2013). Simply create your account, and use the code MAR15 at checkout!

4. Target.com
I often receive Target gift cards for Christmas and birthdays, so whenever I need/want a new article of clothing, Target.com is usually my destination of choice.
I will purchase a few different sizes, order everything with free shipping, gift cards, and coupons (if applicable) and then return anything that doesn't work to our local Target store (which only takes about 10 minutes of my time to pull in, park, return the item, etc.)
This way, I can try on the items in the comfort of my own home with matching accessories and when it's convenient for me. Plus, I don't need to try and cram me, Nora, the cart, and my clothes in a changing room (not to mention I don't need to wait in a long checkout line with a slow cashier).

5. Groupon
I don't use Groupon too often, but the few times I have used it, I've scored some crazy deals on things I was going to purchase anyway (like dinner at a favorite restaurant or a spray tan for my sister's wedding).
If you don't know what Groupon is, it's basically an online "deal site" that allows you to get really good deals for local companies, restaurants etc. Click here to learn more!
I honestly can't even tell you the last time I purchased anything other than groceries from an actual store — and other than these five websites, I can't really remember purchasing from anywhere else for a LONG time.
I realize that my hatred of shopping malls might be a little over the top — and if you enjoy shopping, then by all means, head to the stores. However, for those of you who would rather shop in your pj's and have the packages delivered to your front door, I'd definitely recommend all five of these online shopping destinations!
What are your favorite online shopping websites?
DISCLOSURE: Some of the links above are affiliate links — which means I may get a VERY small percentage of the sale if you make a purchase through my links. However, I hope you know that I'm only promoting these websites because I personally use and love them! Read my full disclosure policy for more information.