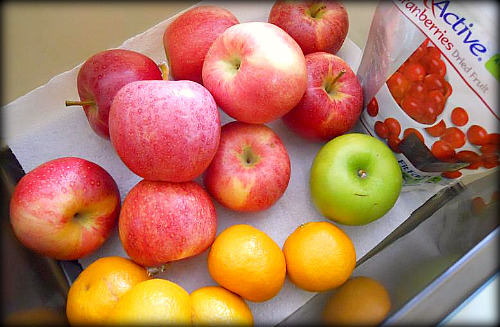 We are BIG "snackers" in our house — and we ALWAYS have a large assortment of cookies, bars, ice-cream, cake, pie, and candy to pack in our lunches, to eat for dessert, and just to snack on around the house.
And while I'm definitely not opposed to occasional (or somewhat frequent) sweet treats, I know that I have to balance those with healthy snacks throughout the day — especially since I'm almost always hungry!
However, I'm busy… and I assume you're busy too, which makes eating healthy THAT much more difficult.
If you are struggling to come up with quick and easy snacks that are also healthy, here are a few of my favorites… most of which are also great ideas for school lunches!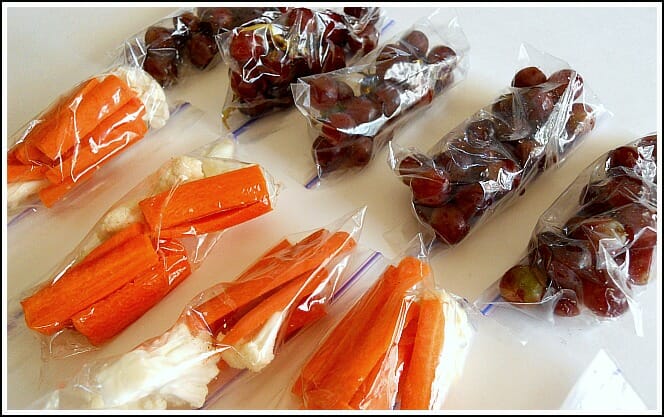 FRUIT & VEGGIES:
I like to keep a variety of fruit and veggies on hand — and I almost always wash it BEFORE I put it away. I found that if I didn't wash it, I was less likely to eat it for a quick snack because it required one additional step.
Also, if possible, I'll have all my fruit and veggies cut up and ready to eat — with the exception of apples and bananas because they get brown so quickly.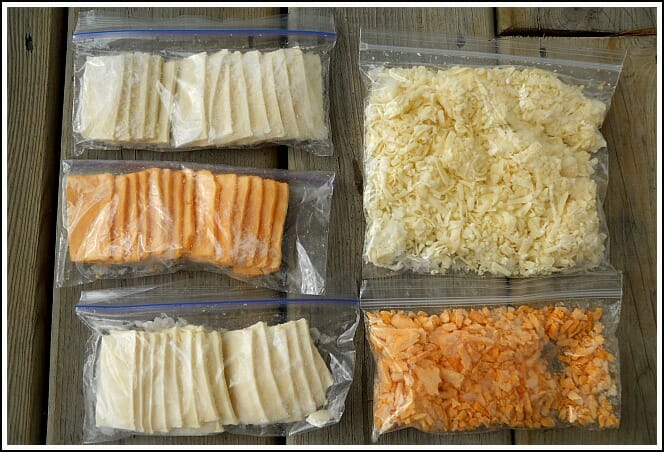 SLICED CHEESE & CRACKERS:
I always try to keep a variety of sliced cheeses and crackers in the house (I know crackers aren't great, but I'm pretty sure they're better than chips) for when I'm craving a salty snack or something with a little more substance.
PRETZELS:
I only recently started loving pretzels — and now I can't stop eating them! They are another great (and somewhat healthy) snack when I'm craving a salty treat.
And they are even better with a few M&M's 🙂
GRANOLA BARS:
OK, so my recipe for granola bars isn't exactly a health food — but they sure are delicious and I have to believe they are better than eating a huge piece of cake 🙂
FRUIT LEATHERS:
I buy organic fruit leather from Amazon.com and we eat these as snacks all year long. They come in a variety of flavors and are super portable — which makes it easy to always keep a few in my purse!
If you have a food dehydrator, you can actually make your own fruit leather too.
YOGURT & GRANOLA:
I have my own recipe for homemade yogurt — and the most delicious homemade granola I've ever tasted. I haven't been very faithful at making either of these recipes lately, but they are a great healthy snack I try to keep on hand as much as possible.
NUTS:
Nuts are pretty expensive, so I don't often have huge quantities. But I usually keep a few containers of nuts on hand for a quick snack.
MUFFINS & QUICK BREAD
Yes, some recipes have quite a bit of sugar in them, but for the most part, I'd say muffins and quick breads are a much healthier alternative to cookies and brownies. Plus, I usually try to slip in some ground flax seed which makes me feel just a little bit better!
My all-time favorite muffin/bread recipe is banana chocolate chip — SO GOOD!
These are just a few of the snacks I always try to keep on hand to reduce the amount of sweets I consume each day.
What are your favorite healthy snacks to keep on hand?