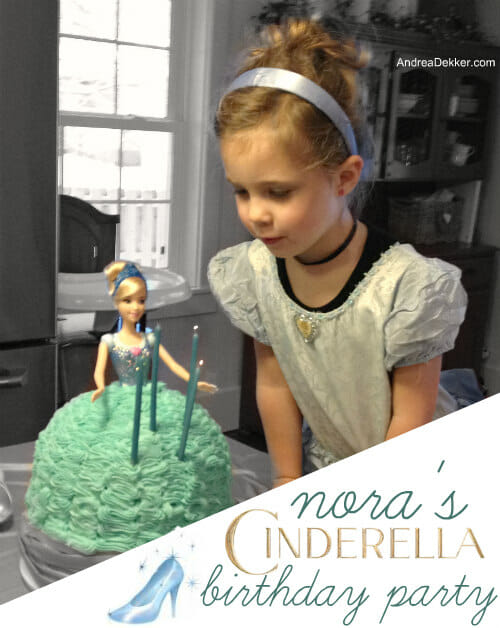 This past weekend, we celebrated Nora's 4th birthday with a fun Cinderella-themed birthday party.
She had originally requested a Cat In The Hat birthday party, but after starting preschool this Fall, she changed her mind and said a Cinderella birthday was what she really wanted 🙂
I was excited to try my hand at making a Cinderella cake — and Nora was THRILLED to be able to dress up like Cinderella for both her party and for Halloween (the benefits of having a November birthday!)
And just like that… we have a FOUR YEAR OLD!
Here are a few photos from the party!
We've enjoyed getting dressed up to some degree for all our kid's birthday parties so far. I guess it all started because Nora's birthday is just a few weeks after Halloween and she LOVES LOVES LOVES getting dressed up.
This year was the most "involved" costumes ever as the whole family got dressed up, but the costumes themselves were very simple. I found the Cinderella dress for Nora back in October and she wore it for Halloween ($5 on Craigslist!), and we've had that pumpkin costume for a few years already — they use it for dress up.
I made the Prince Charming costume for my brother-in-law to wear for Halloween — but he's the same size as Dave so the plan was always for Dave to borrow it for the party.
My Fairy Godmother costume was just a choir robe from our church paired with my grayish blue hooded sweatshirt, Nora's pink tights tied into a bow, and a knitting needle 🙂
The plan was for James to be a mouse, but he slept for most of the party.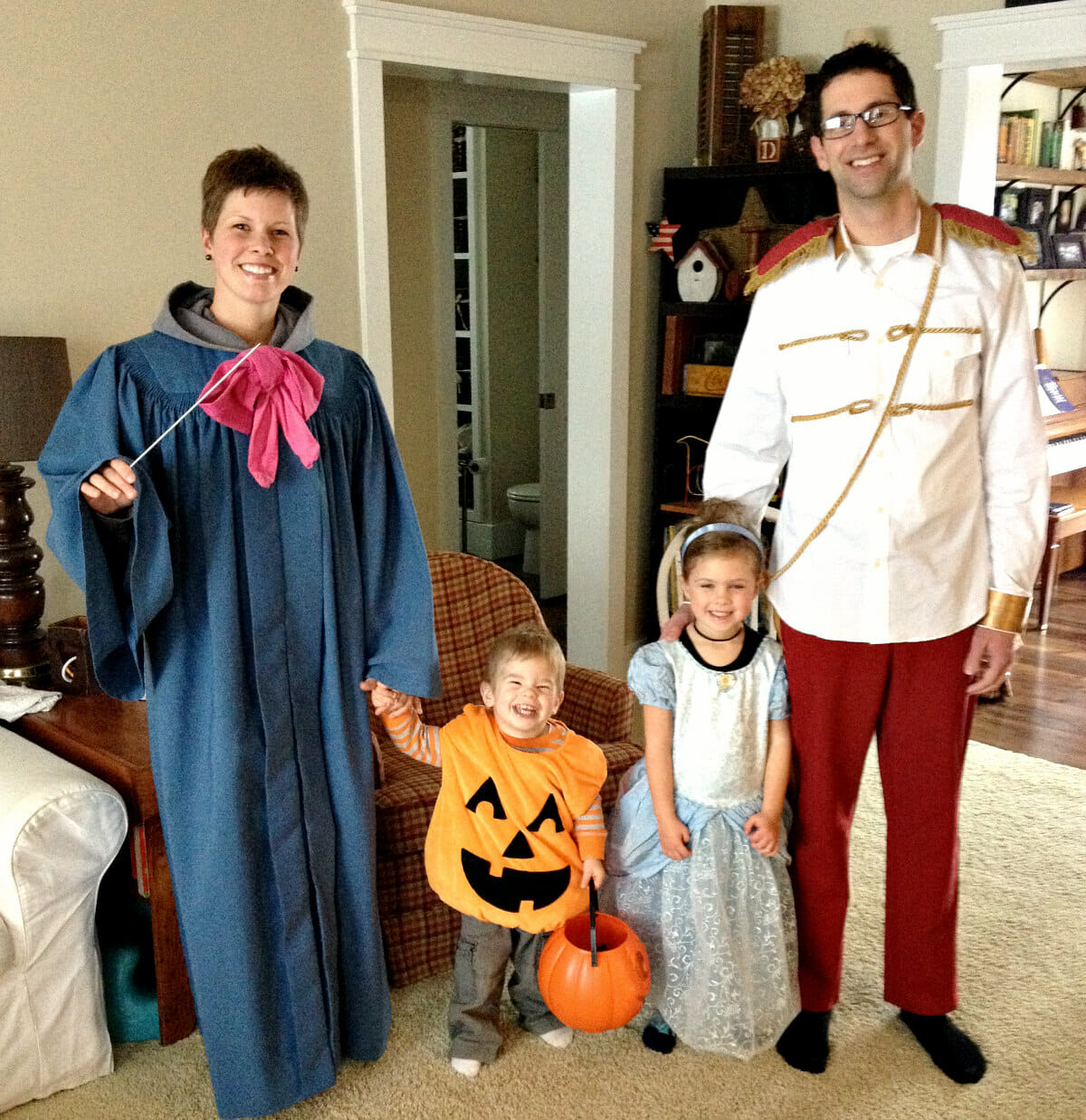 As always, the food for our party was VERY simple!
Apples and caramel, chips and salsa, our favorite candy corn mix, some chocolate candies, cake, and ice cream.
I was originally quite intimidated about making the Cinderella cake — but it was SOOOOOO easy!
I just used a domed cake pan plus two 8″ round cakes to give it extra height (I used 2 boxed cake mixes). I also made a double batch of this delicious cream cheese frosting, tinted it neon blue, and used a medium star tip to pipe it on. The whole frosting process only took me about 15 minutes!
I did run into a little issue with Barbie's legs being too long — but I remedied that by putting the cake on a plastic plate and cutting a hole in the middle. The I set the plate on a jello mold so the feet could protrude down into the center of the mold. I covered the mold with the same silver plastic that I laid over the counter and no one ever knew anything was funny.
Nora was spoiled with lots of fabulous gifts from her grandparents, great-grandparents, aunts, and uncles… she got dress-up clothes, books, the Frozen soundtrack, stick-on earrings, PJ's, finger paints, a puzzle, gloves, socks, tiny whisks for her kitchen set, a Cinderella Barbie (the one in her cake), and a watch (something she has been begging for!)
We also gave her $4 and I'm planning to go set up a bank account with her next week!
Here's one of Simon… because he's so stinkin' cute!
After opening the gifts, we sang Happy Birthday and she blew out her candles.
After our party guests left, we had fun playing with her new toys, reading her new books, putting her puzzle together, and trying on the new dress-up clothes.
Then, the next morning (her actual birthday) we had one more present for her to open and we measured her on our growth chart — she was thrilled to see that she grew almost 4 inches!
All in all it was a fun party and a fun birthday weekend.
I'm glad she has Christmas to look forward to now — otherwise I think she might already be planning her 5th birthday party 🙂