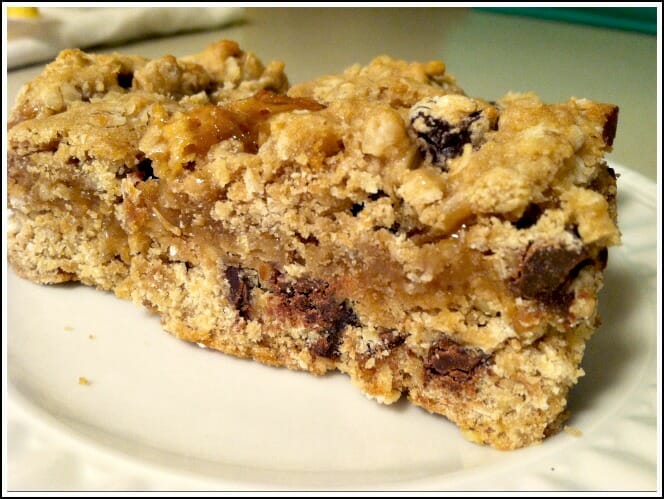 During our spring break staycation, I spent one afternoon in the kitchen baking up a storm. I filled an entire shelf in our deep freezer with baked goods… and of course, we ate a bunch too.
Most of the recipes I tried were brand new to me, and one of our favorites were these Oatmeal Caramel Bars.
I love 3 things about this recipe (besides the taste):
It uses really simple ingredients that almost anyone should have on hand.
It's very quick and easy to make.
It makes 2 large 9″ x 13″ pans so you'll have plenty to eat now and freeze for later!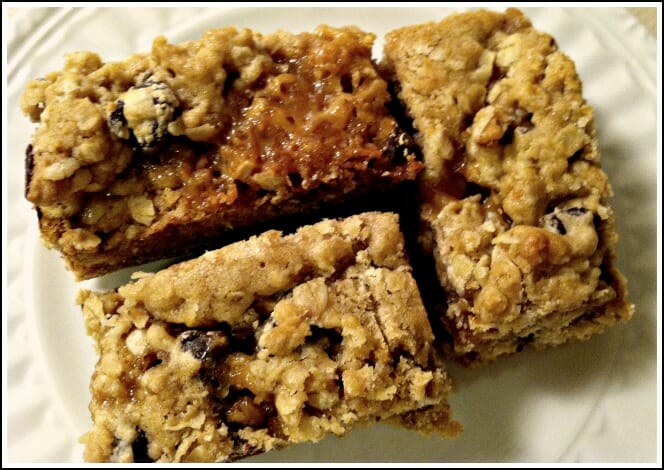 Recipe for Oatmeal Caramel Bars:
Ingredients
3 sticks of butter
3 c. brown sugar
3 eggs
1 T. vanilla
2 t. baking soda
3 1/2 c. flour
4 1/2 c. quick-cooking oats
2 c. chocolate chips, white chocolate chips, or dried fruit (optional)
1 c. chopped nuts (optional)
2 7-oz. bags caramels (about 45-50 caramels)
1/4 c. milk
1 T. vanilla
Directions
Preheat oven to 350*F
Grease and flour TWO 9″ x 13″ baking dishes; set aside
In a large mixing bowl, beat butter, sugar, eggs, and vanilla until combined
Add in the flour, baking soda, and oats (your bowl will be quite full!)
Press 1/3 of the mixture into each of the 9″ x 13″ pan (you will use 2/3 of the mixture total)
Sprinkle with chocolate, dried fruit, or nuts (if desired)
In a saucepan, combine caramels, milk, and vanilla — cook over low heat until caramels are melted.
Pour caramel mixture over the oat mixture in each pan
"crumble" the remaining 1/3 of the oats mixtures over the caramel in each pan
Bake at 350* F for 25 minutes or until the top is brown and the center is set.
Cool and cut into bars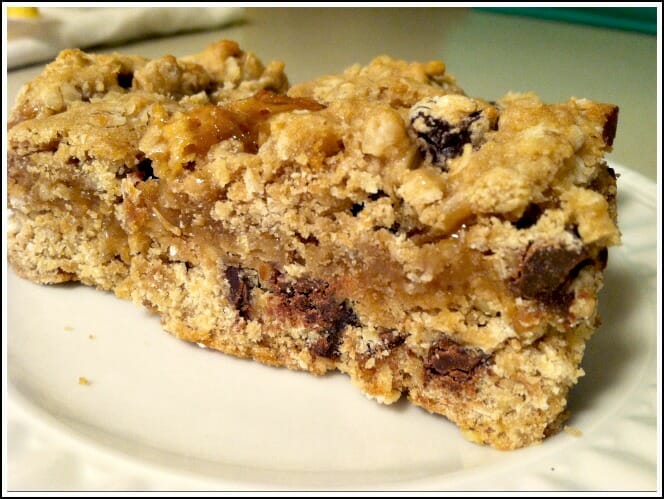 This recipe is sooooo good. And I love that you can add all sorts of "extras" to fit your family's taste buds. We're big chocolate lovers in our house so I always add a healthy dose of chocolate chips, but dried fruit and nuts might be a nice combination too!
Also, in case you are wondering, I just pulled another batch out of our freezer and they taste fantastic!
What mix-ins would you add to this recipe?
Visit my virtual recipe box for more simple, delicious, family friendly, recipes!