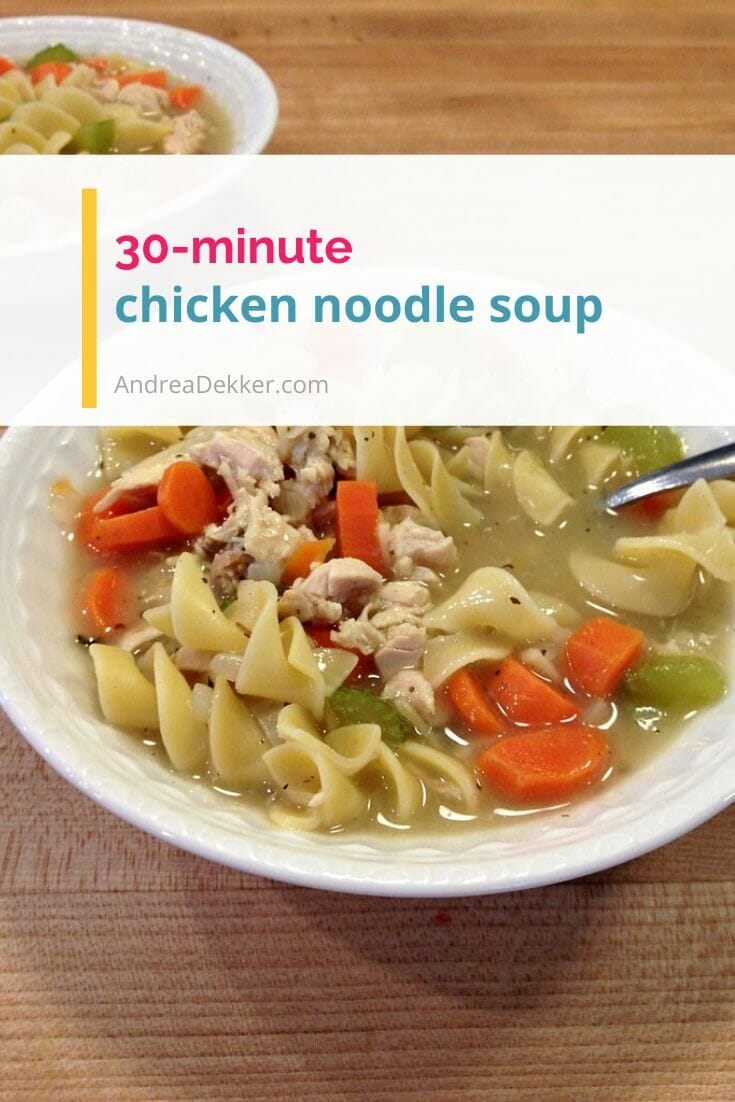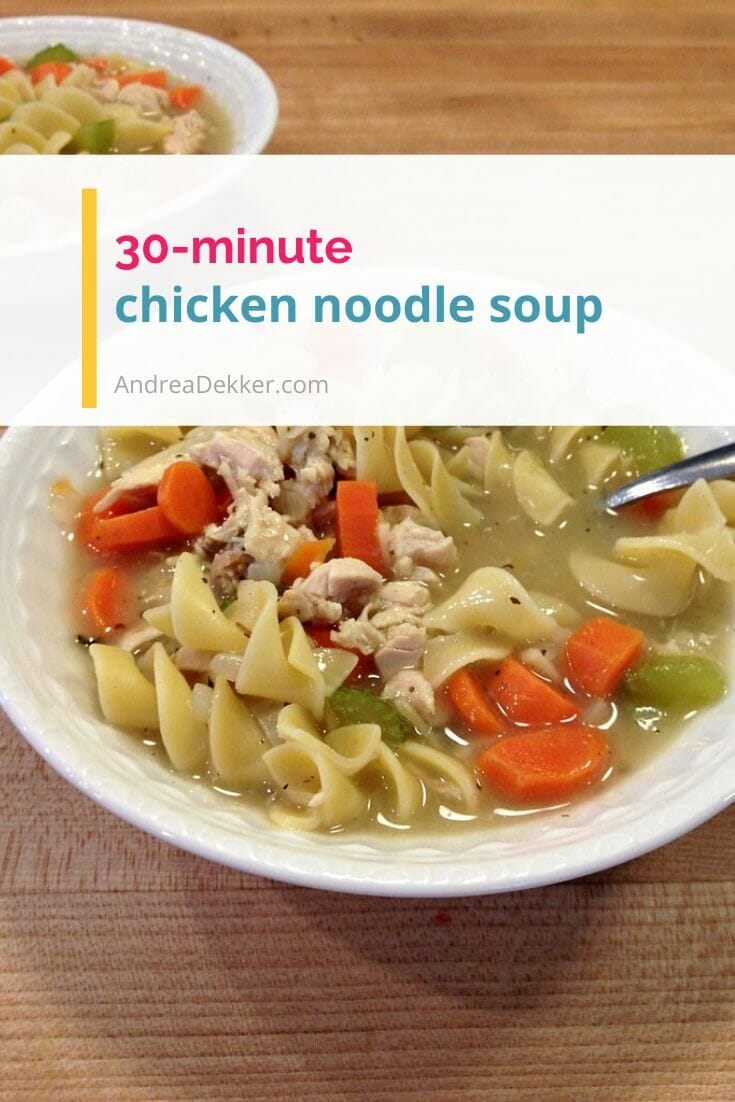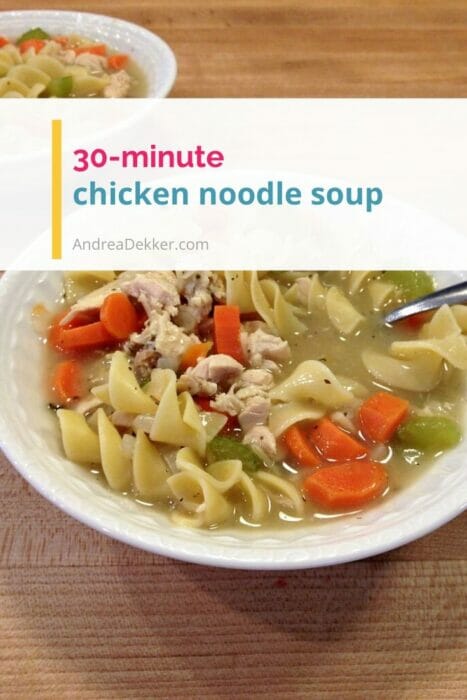 We've been eating A LOT of soup lately.
The cold, snowy weather (along with potential pregnancy soup cravings — yes, it's a new one for me too) means I've been making large pots of soup at least once a week with lots of leftovers for lunches (or random snacks throughout the day!)
As you can imagine, I've quickly plowed through my list of tried and true soup recipes… so I've been on the lookout for new soup recipes — or at least eager to make some tweaks to my current recipes.
A couple of weeks ago, I was in the mood for my favorite chicken and rice soup. I had a bunch of chicken already cooked and shredded in freezer containers, and plenty of veggies to use up. The only problem was, I had about 2 Tablespoons of rice left with no back-up bag (and I realized this around 4:30pm AFTER my homemade bread was already baking).
I did have 3 bags of egg noodles in the house — and decided that chicken noodle soup would be just as delicious as chicken and rice soup.
I quickly flipped through a few of my favorite cookbooks and skimmed through AllRecipes.com looking for different chicken noodle soup recipes and ideas. After about 10 minutes, I had come up with a "newish recipe" that used ingredients I had on hand, and (best of all) could be made in less than 30 minutes!
I was slightly skeptical if we would like this new chicken noodle soup as much as my favorite chicken and rice soup — and I have to say, I was pleasantly surprised with how delicious it was. Dave and I eagerly had seconds, as well as polishing off the leftovers for lunches throughout the next week.
Dave said he would probably still choose my chicken and rice soup, just because he prefers thicker soups; but it's a hard toss-up for me. This chicken noodle soup was REALLY good… and I still can't get over how easy it was to make!
Recipe for 30-Minute Chicken Noodle Soup
serves 6-8 — but you could easily make a double or triple batch
INGREDIENTS:
1 T. oil or butter
1 onion; diced (about 1 c.)
8 c. broth or water (I add 2 chicken bouillon cubes if I use water)
1 t. poultry seasoning
1 t. dried basil
1 t. dried thyme
1 t. salt (or to taste)
1/2 t. garlic powder
1 bay leaf (you could also use dried bay if you don't have the leaves)
1 c. carrots; diced (about 4 full carrots)
1 c. celery; diced (about 3 stalks)
1/3 c. cornstarch or flour
1/2 c. water
2 c. chicken; cooked and chopped
8 oz. extra-wide egg noodles (1/2 a bag)
DIRECTIONS:
In a large stock pot, melt butter over medium heat
Add onions and cook until soft
Add broth, all seasonings, carrots and celery and bring to a boil
Boil for 15 minutes (or until veggies are getting soft)
Dissolve cornstarch in 1/2 c. water and add to the broth mixture. Stir until slightly thickened (it won't be very thick yet)
Add chicken and egg noodles and cook until noodles are tender
You may add more broth or water after noodles are cooked if you want a thinner soup.
Remove bay leaf, eat, and enjoy!
As always, feel free to customize the seasonings, veggies, and noodles to your liking — and yes, you could definitely substitute turkey instead of chicken.
One note I feel I should mention: If you are planning to make a huge batch and freeze it, I would leave the noodles out. Then, when you defrost the soup, just add cooked noodles in at that point.
I have found that freezing cooked noodles in a soup broth doesn't work nearly as well as freezing cooked noodles in a pasta dish. Maybe it's just me, but they seem way too mushy for my liking.
That said, this soup tastes amazing as leftovers for the next several days — so you could still get a few meals out of a double batch by simply storing it in your fridge for the week.
I know homemade (from scratch) soups can seem really intimidating for some people, but I truly did make this entire meal from scratch in less than 30 minutes (and that was stopping to take pictures every step of the way too!)
I did have my chicken cooked and chopped up ahead of time (in the freezer) so that definitely helped the process go faster, but the soup was literally in bowls on the table less than 30 minutes after I decided what recipe I was going to make.
Visit my virtual recipe box for more simple, delicious, family friendly recipes!