8 Tips to Speed Up Your Weekly Cleaning Routine
posted by Andrea | 05/3/2016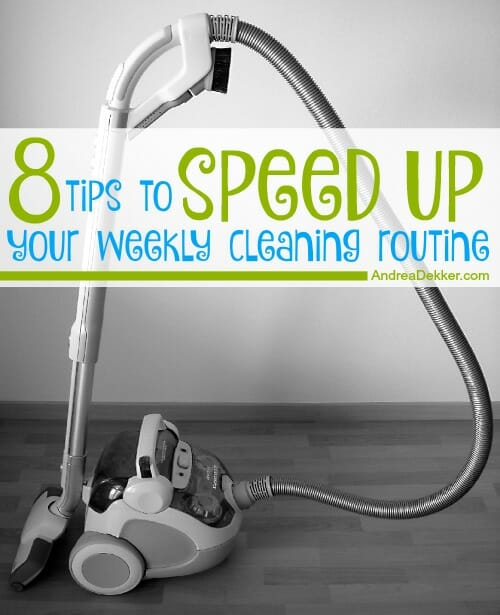 In general, I truly do not mind cleaning. It's not my most favorite activity ever, but it's not my least-favorite either.
And since I usually do most of my cleaning when kids are sleeping, or otherwise occupied, it serves as a good opportunity for me to zone out and perform the monotonous tasks without much mental energy required (these days, I'm learning to be thankful for tasks that require small amounts of mental energy!)
Of course, I love the end results of a clean house, but even with several other things on my to-do list, it's not difficult for me to carve out a little time to spray, scrub, swoosh, sweep, swipe, and shine.
That said, I'm not willing to spend long hours just to get a clean house. I'm always looking for little ways to speed up my weekly cleaning routine… here are a few that work well for me.
1. Declutter first.
I'm not sure if this is really a "cleaning chore" for me or simply a "way of life" — but I know that cleaning goes exponentially faster when my home is less cluttered.
Although I try to keep the house regularly picked up and organized, I do always take a few minutes to declutter a room before I clean it.
At the very least, I would suggest putting all the clutter from one room into a large clothes basket so you can clean the room faster and without worrying about moving things around. Ideally, once you're finished cleaning, you will put the contents of the basket away!
2. Only clean what's dirty.
I'm getting better at this one as I have more children!
I used to clean everything every week, even if it wasn't really dirty. Now, I only clean what's dirty… and sometimes I even leave the dirty (and especially dusty) things until I have the time to tackle that space.
Bathrooms, kitchen counters, and floors are my main concerns — if those areas stay relatively neat and clean, I don't feel like I need to spend a lot of time in other areas of the home.
3. Set a deadline.
Although I try to keep up with the cleaning all week long — doing various small tasks here and there, I usually try to do the majority of my "weekly cleaning" on Friday afternoon so it's done BEFORE the weekend.
About a year ago, I realized that I did NOT want to spend any amount of time on Saturday cleaning, organizing, doing laundry, etc. So I decided to try and finish everything on Friday… and I did!
It made the weekend seem more free and available, with fewer to-do's for me to cross off.
Since then, I've used Friday night as my self-imposed deadline to have the floors vacuumed, the bathrooms cleaned, the laundry washed and put away, and the kitchen cleaned.
Of course, that won't work for everyone's schedule — but the idea of setting a deadline for your cleaning tasks really does help to speed the process along. Even something as simple as setting a timer for 20 minutes to make sure you don't end up spending too much time in one area of your home is a great motivator to work quickly.
Also, while I personally don't stress about keeping my house perfectly clean for company, I know many people who regularly invite friends or family over for dinner, and then use that as their "deadline" to have the house clean. If it works — I'd say go for it!
4. Use fewer cleaning supplies.
I completely decluttered my cleaning supplies a few years ago and now I only use a handful of my favorite products…which actually does speed up the process.
Also, I implemented a "bathroom cleaning bucket" a few years ago. It has worked SO well to corral everything I need to clean our bathrooms all in one spot. Plus it means there are no cleaning supplies in the bathrooms (where my crawling children always seem to gravitate!)
If you really want to minimize and simplify, I'd suggest buying a few containers of disinfectant wipes and using those on all your surfaces (I may or may not use this as my quick-cleaning method from time to time!)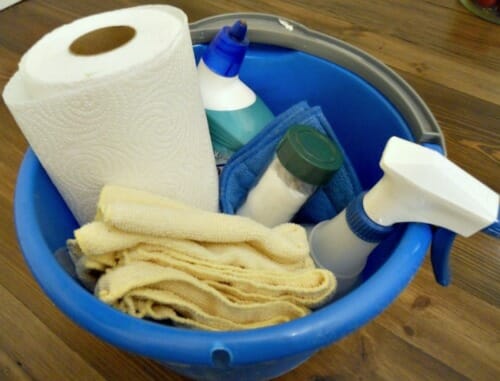 5. Hire help.
We don't hire anyone to do our regular weekly cleaning — but we DO hire professionals to do some of our deep cleaning.
We have carpet cleaners come in once a year to professionally deep clean all our carpeting. We also hire someone to power wash the exterior of our home, garage, and outbuilding every other year. A few years ago, we hired a company to clean our roof (what a transformation!)
I have thought about hiring out our house cleaning, but haven't done it yet. I guess, since I don't mind cleaning, it's not as challenging for me to make the time to do it.
If you don't particularly love cleaning, I would highly suggest figuring out a way to either hire it out, trade responsibilities with a friend or relative, or even clean WITH a friend. I promise it will go a lot faster (and be more fun) with someone else to chat with.
A few years ago, a friend of mine got married and received the gift of 6 cleaning visits from a local professional cleaning service. She decided to have that company come once a month for 6 months and do all the cleaning tasks she hated. It was SUCH a great gift for her, and a good idea if you're looking for a unique wedding or birthday gift!
6. Use overnight hours.
I know there is some controversy about letting appliances run while you're gone or while you're sleeping, but I almost always use overnight hours to help speed up my cleaning routine.
I regularly set the dishwasher to run during the night so all the dishes are clean when we wake up. I also set the washing machine to run overnight so I can quickly throw everything in the dryer when I wake up (I use the delayed setting so the clothes aren't wet all night).
To me, it almost feels like I'm cheating the system (in a good way) when I can wake up to clean dishes and one load of laundry all ready for the dryer.
7. Do one activity at a time (instead of one room).
I used to clean one room from top to bottom and then move to the next room. Now I do one activity at a time (throughout the entire house) and then move onto the next activity.
For example, I'll grab a dust rag (and usually give Nora and Simon something to dust with too) and dust the entire house all at one time. Then I'll get the vacuum out (Nora and Simon pretend to vacuum using some of our extra vacuum attachments) and vacuum the entire house.
I guess I don't know for sure (I've never actually timed it) but it seems to speed up the cleaning process when I'm only focusing on doing one activity at a time.
Also, this changes how I write my to-do lists. Instead of writing "clean the living room", I'll write "vacuum the house" one day, then maybe "dust the house" another day.
This might not work for every family or every home, but I do feel like I move faster and work more efficiently when I clean this way.
8. Remember… it's JUST dirt and dust.
While I certainly don't want to offer up more excuses for anyone to put off cleaning, I do also want to point out that (for the most part) a little dirt and dust won't hurt anyone.
Of course, if you let the laundry and cleaning pile up week after week, you will probably be pretty stressed out and spend A LOT of time playing catch-up. HOWEVER, you most likely won't run into any major problems if you skip dusting for a week, put off scrubbing the shower another week, or leave the sheets on the bed for a few extra days.
While I'm greatly in favor of "doing it now" versus waiting until later, I'm also aware that "life happens" and sometimes things don't go according to plans. Sometimes, it just might make sense to skip a cleaning task for a week or two in favor of making more time for something else.
(Yes, I did just suggest putting something off until later! I've come a long way over the past few years, haven't I!)
These are a few things I do to speed up my weekly and monthly cleaning routines…
Do you have any other quick-cleaning tips?