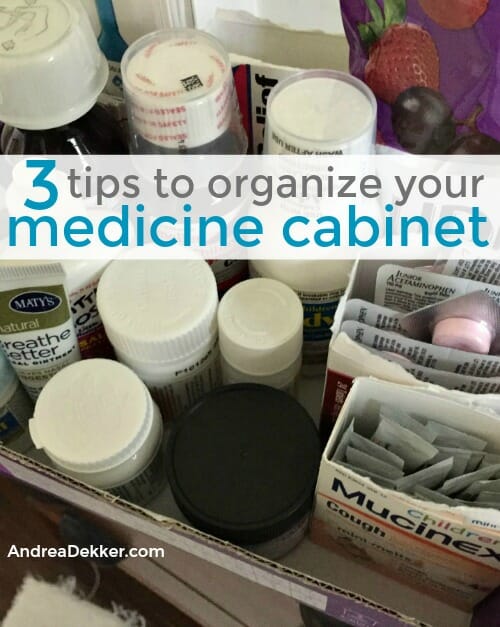 Last month, I shared how I pared down and organized all my gift wrapping supplies. That's usually one of the mini organizing projects I try to tackle before the holiday season.
Another mini organizing project I almost always do right around this time every year is to weed through, purge, stock, and better organize our medicine cabinet.
I like to do this in late fall, partially because we're right at the beginning of cold and flu season, but also because medicine tends to be on sale this time of year, so it's cheaper for me to restock my stash!
As you can see by the pictures above, I don't have a fancy or elaborate system to organize our medicine cabinet. I simply use several of our kid's shoe boxes to keep like items together…
Our medicine cabinet is in the hallway between our bedroom and bathroom and the nursery — so it's super convenient for me to access. It actually use to be the doorway to our office, but when we knocked out the living room wall, we turned the old doorway into a built-in medicine cabinet. It fits our needs perfectly!
I've thought about creating a space for kids' medicine upstairs (since that's where the kids spend much of their time) but I haven't done it yet because I don't want to give them easier access to medicine!
Anyway, I tackled this project early last week during one of Clara's catnaps! It only took me 10-15 minutes to purge things we no longer need and make a list of things I need to stock up on. Now I'm done for another year!
Here are 3 of my tips to help you organize your medicine cabinet.
1. Combine same products into one box/bottle.
Some people might not agree with me, but I find it helpful to combine like items in the same box or bottle to save space — especially since most medicine boxes and bottles are only half full!
For example, if I buy 2 containers of Ibuprofen at the same time (and with the same dosage), I simply combine them into one bottle. I do this with bandages, gauze pads and other first aid supplies, and various other pills as well — as long as the dosage and expiration dates are the same.
It saves TONS of space!
.
2. Rip the tops off boxes.
This might seem very insignificant, but it has always been quite helpful for me to rip the top flaps off most of our boxes of medicine and first aid supplies. They are easier to access and it's easier for me to see when we're running low on a particular item.
.
3. Write expirations dates on each product.
There are always expiration dates on each container of medicine, but they are often REALLY hard to find and read — especially if you're just quickly glancing at the container.
To make things easier on myself, I usually write the expiration dates with a black Sharpie so they are easy to find and read (and then toss if they are past the date).
It only takes a few seconds and saves me lots of searching throughout the year.
In my opinion, this is one of those projects that never really HAS to be done… but it sure makes times of sickness so much less stressful.
You don't have to run to the store for the "right" medications because you already have what you need in the house and you don't need to search for expiration dates in the middle of the night because you've purges old medicine and written the dates on your bottles.
This would be a perfect mini project to do over Christmas break, on a Saturday morning, or even some night after everyone else is asleep!