Many of you know how much I LOVE using coupons and getting exceptional deals on groceries.
Yes, it's true! But I have good reason to be obsessed because it saves our family over $2500 a year! (Yup, I keep track!)
So how do I do it?
For me, the key is to keep my coupons neat and organized so I can always find the ones I need when I need them. If I can't get to my coupons easily, I'll forget about them. Sound familiar?
To keep them all organized, I use a coupon organizer (big surprise)– and I 'trick it out' with some fun accessories.
Here's what you need to make a similar organizer: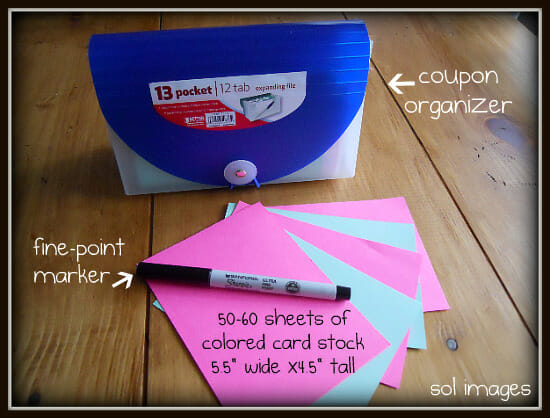 1 expanding file with 12 or 13 pockets (I got this one from Staples for $5.00)
50-60 pieces of card stock (in 2 colors) 5.5″ wide x 4.5″ tall
fine-tip marker or labels
The first step is to decide on 12 to 13 main categories and then divide those into sub-categories.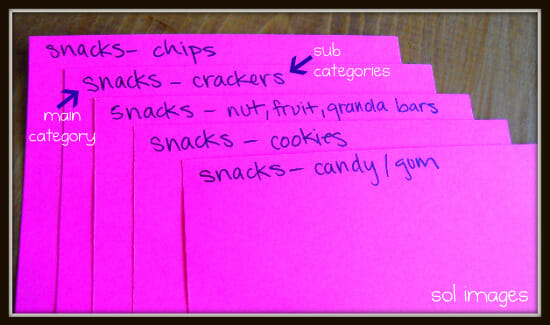 For example, here is the list of CATEGORIES and sub-categories I use:
BAKING: cake/cookie mixes — supplies
BEVERAGES: juice — lemonade/drink mixes — pop/water — coffee/tea
CANS: fruit/veggies — tomatoes/salsa — soups
CEREAL: General Mills — Kelloggs — other
CLEANERS: house/dishes — laundry — air fresheners
CONDIMENTS: salad toppings — sauces/seasonings — syrups/sandwich spreads
DAIRY: cheese — yogurt — sour cream/cottage cheese — produce
FROZEN: dough — breakfast — fruit/veggies — ice cream — meals — pizza
MEAT: breakfast — lunch/deli — hot dogs/brats/sausages — fresh meat
PAPER: kitchen — bathroom — baby — medication — misc.
SNACKS: candy/gum — cookies — crackers — chips — nuts/fruits/granola bars
STARCHES: bread/bagels/tortillas — rice/pasta — refrigerated dough
TOILETRIES: body-wash/deodorant — dental — face — hair — lotion — shaving — feminine products
NOTE: Feel free to use whatever categories fit your shopping needs.
Next steps: alphabetize your categories, write them on the colored papers, and insert them into your organizer.
It should look something like this: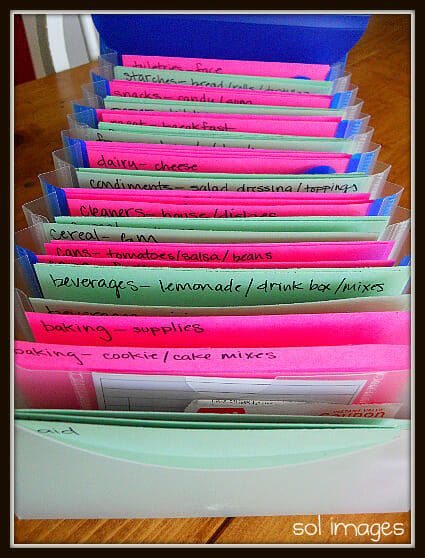 Now all you need to do is insert your coupons!
Once your coupons are organized, it will be simple to find the coupons you need for your grocery shopping each week.
To make my life even easier, I always paper-clip my coupons to my weekly shopping list. That way I know what coupons go with each store's list and I'm organized and ready-to-go when the cashier asks for my coupons.
You can download and print a variety of shopping lists here.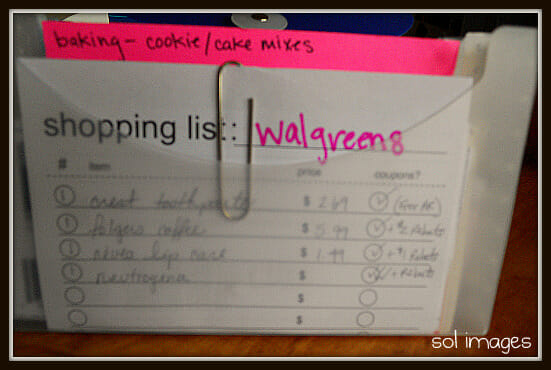 ---
If you still feel like coupons just won't work for you — there are lots of ways to cut your grocery bill with out cutting coupons.
However, if you are are willing to give coupons a try — and I hope you are — make you own coupon organizer and start clipping!
What about you: How do you organize your coupons?