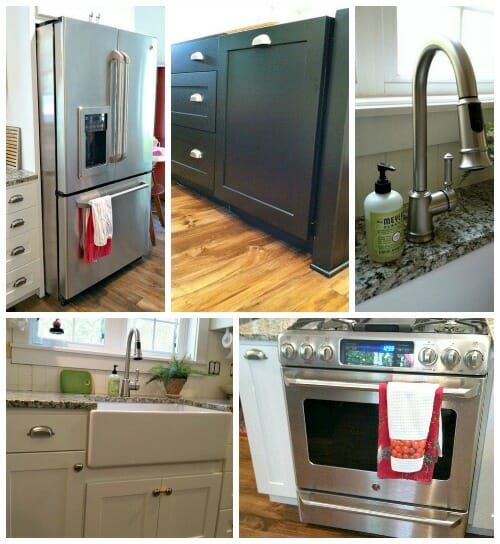 Over the past few months, I've gotten tons of emails and questions asking about what appliances we purchased for our kitchen renovation, where we purchased them, what features we were looking for in appliances, etc. etc.
So since the appliances are finally here, and since I've been able to test them out for the past week or so, I figured I it was time for me to share a bit more about them.
However, before I get started — I just want to clarify that we did NOT get any sort of discount or deal for promoting these products. Wouldn't that have been nice though!
Also, since we purchased most of our appliances from a local scratch and dent appliance store, the product links below do NOT reflect the actual prices we paid. I simply included the links for anyone interested in more specific information about our appliances. Even though there are no visible scratches or dents on any of our appliances, we paid less than 1/2 the suggested retail price — but I'm sure that doesn't surprise you 🙂
Refrigerator:
We purchased a GE Cafe French-door refrigerator with a bottom pullout freezer — and we absolutely LOVE it!
At first, I wanted to purchase a counter-depth fridge because they take up less space, but when I realized they were literally twice the price for LESS storage space, I quickly changed my mind!
I'm so glad I didn't go for the counter depth… especially since every refrigerator we've ever had has been really small. So that fact that this refrigerator is over 25 cubic ft is pretty exciting for both of us.
I was also a little worried about the pull-out freezer, but we love that too. It has 2 separate pull out "bins" and a bunch of different organizing compartments, so it's really easy to find whatever we want.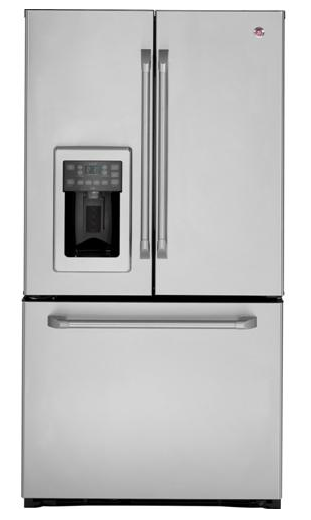 It's Energy Star rated so even though it's one of the biggest refrigerators on the market, it will cost us less than $60 per year to run! Cool huh? (pun intended)
Did I mention it's huge?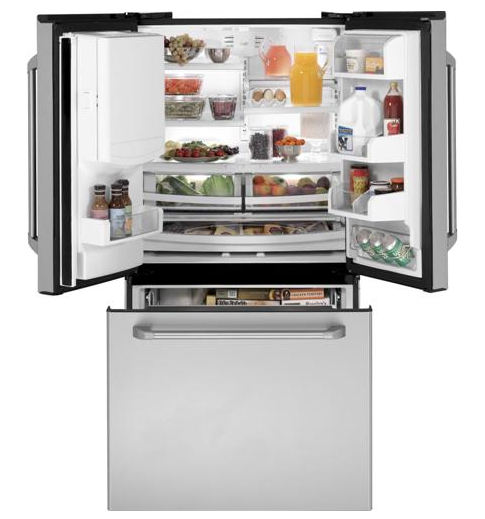 It's 25.1 cubic feet and has loads of customizable options — like shelves that can quickly push back or pull down to accommodate taller/shorter items, movable drawer dividers, and removable door organizers — all of which help to maximize it's storage capacity!
Along with water and ice in the door (something I missed all summer long), it also has lots of cool features that we can control directly from the outside of the fridge (like the Turbo Cool and Energy Saver features).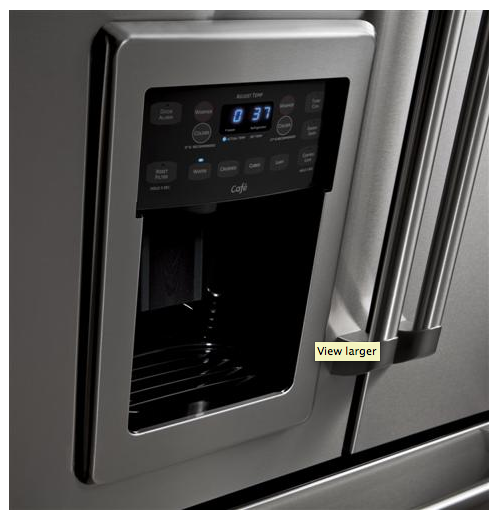 Oh, and another really cool feature is that even though the fridge is stainless, the handles are a little different material that doesn't show finger prints — so I won't have to constantly wipe down the handles every 5 minutes.
(Side note, about 10 minutes after the frige was installed, Nora already had 300 tiny hand prints on the freezer! Oh well…)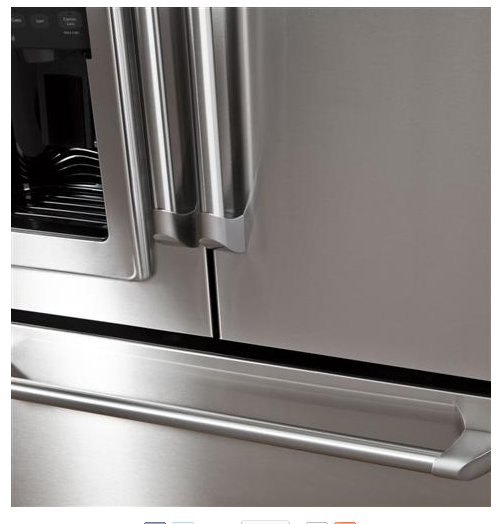 So far, we are absolutely loving our new fridge. My biggest "problem" right now is buying enough food to actually fill it up (I'm so used to having limited fridge space.)
But I think that's a problem that I can easily solve!
Oven / Stove:
Picking out my future oven and stove was a huge deal for me.
I really wanted a double electric wall oven and a 5-burner gas cook top. However, we continued to have issues designing our kitchen layout based on these requests… so I was forced to change my plan.
However, when I found the GE Cafe Duel-Fuel Range with Baking Drawer, changing my plans wasn't as difficult!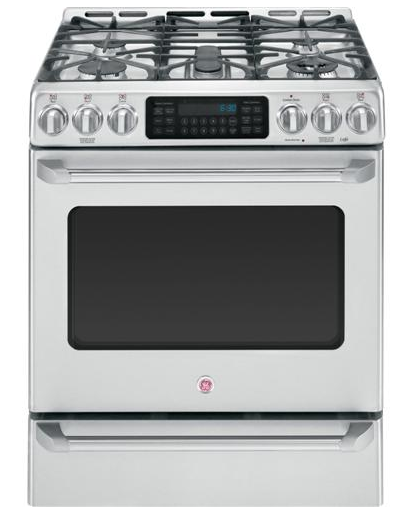 Not only does it have 5 large burners (GAS), it also has a full-size (ELECTRIC) oven and an additional smaller oven — which they call a "baking drawer".
So this model was about as close as I could get to my initial design (double electric oven and 5-burner gas cook-top) plus, it takes up WAY less space so it worked much better with our kitchen layout.
OK, so let's start with the gas cook top…
.
Our cook-top has 5 large "continuous" cast-iron grates that create a totally flat cooking surface to accommodate even the biggest pans (the continuous grates make canning so much easier).
And we can replace the middle grate with a large cast iron griddle — you know how much we love our griddle!
Finally, the front right burner is a special burner with 20,000 BTUs (normal burners have around 8,000 BTUs) so it can boil water in about 60 seconds!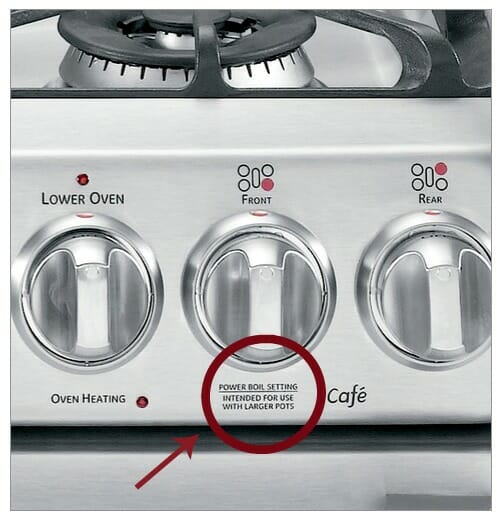 I can't tell you how nice it is to have a properly working stove after 4 months without any stove and 1.5 years before that dealing with a malfunctioning stove.
I honestly feel like a master chef!
On to the electric oven and baking drawer…
.
The top oven is a full-size (5.5 cubic feet) oven which is WAY, WAY, WAY bigger then our old 1940's wall oven!
With the press of a button, it can switch over to a convection oven — which we had at our first house and I really enjoyed that time-saving feature.
It has all the normal features our previous oven lacked… like several adjustable racks, self-cleaning capabilities, delayed bake, timed bake, auto shut-off, locking door, built-in timer, etc. BUT, it also has a recipe converter (not sure how to use this yet), a memory that can be programed to automatically cook our favorite foods, and a built-in meat thermometer which should make Thanksgiving dinner relatively painless this year!
So yeah, it's a little nicer than our old half-broken oven (or the toaster oven we've been using all summer).
On top of all of that, it also has a second (1 cubic foot) oven / baking drawer under the main oven.
This oven can't be converted to a convection oven, but it has all the other features of a normal oven… and will be perfect for making casseroles, breads, brownies, cakes, pies, cookies, or anything else that doesn't require a full-size oven.
I'm sure Dave and I will get lots of use out of the baking drawer — especially since it pre-heats much faster than the full-size oven and uses less energy.
Dishwasher
Our dishwasher is in our island — and I was pretty adamant that I wanted the dishwasher to be paneled (we got a special-order panel from our cabinet company that fits over the dishwasher so it looks just like our cabinets.
Surprisingly, I was able to find exactly what I wanted at the scratch and dent store!
We went with a Jenn-Air dishwasher (I couldn't find a website link) and it's REALLY nice! It's all stainless steel inside and has a bunch of customizable options to fit different size dishes.
I also really love that since it's a paneled dishwasher, the control buttons are all on top so you don't see them when the door is pushed all the way in. Oh, and it's so quiet you almost can't hear it running.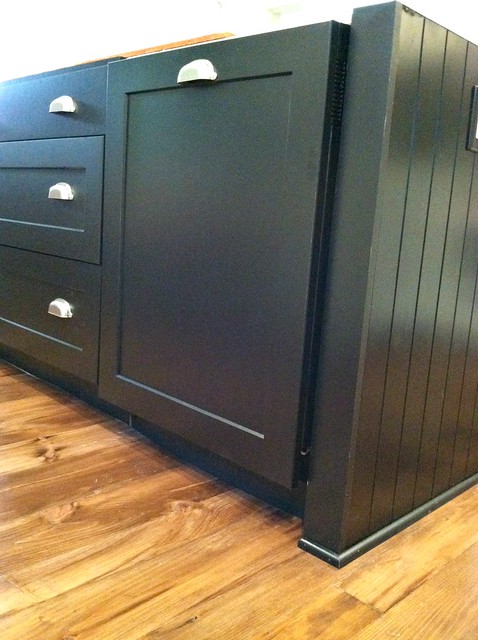 However, the most important thing is that it cleans our dishes without any effort from us 🙂
Microwave
Our microwave is tucked away in the corner of our kitchen behind closed doors — so it won't be visible. For this reason (and since we don't use our microwave that often), we opted to buy a cheap microwave from Craigslist.
It works perfectly fine and saved us a bunch of money!
Sink / Faucet / Garbage Disposal
The Sink:
For as long as I've had a "dream kitchen", that dream kitchen has had a farmhouse apron-front sink — so yeah, I'm just a little excited about our sink. And while I know a sink isn't technically an appliance… it's definitely an important part of the kitchen, and a bunch of you have already asked for more information about our sink.
We purchased our sink from Signature Hardware and I would highly recommend that company. We absolutely love our huge sink and how quickly and easily we can wash large pots, pans, cookie sheets, etc. It might even become Nora's new bathtub!
The Faucet:
We purchased the Moen Lindley faucet in brushed nickle — and I think it's the perfect faucet for our kitchen. I couldn't find the exact product link but here is an almost identical faucet. We love the practicality of the one-handle operation and the pullout sprayer. And I also love that even though it's not necessarily old-fashioned looking, it doesn't look nearly as modern as some of the other goose neck faucets on the market.
Oh, and we had to pay a little extra, but this faucet has a "spot resistant" coating so it shows NO finger prints and NO water spots — hallelujah!
The Garbage Disposal:
I honestly don't know much about garbage disposals, so I just told our plumber to get us the best one he could for the most reasonable price. Well, he got us a good one.
It has a bunch of cool features, but I don't know enough about them in order to offer a good explanation … but I CAN tell you that it's so quiet you almost don't even hear it running (no, I'm not exaggerating!)
Since I don't have all the information, I'll just show you a picture of the box in case you're interested 🙂
OK, so I think that's it!
Obviously these appliances are WAY nicer than anything else we've ever owned, but since our plan is to live in this house for a long time (and we don't plan on doing another kitchen renovation any time soon!) we figured it was worth the cost — especially since we found almost everything for such a fabulous deal at the scratch and dent store!