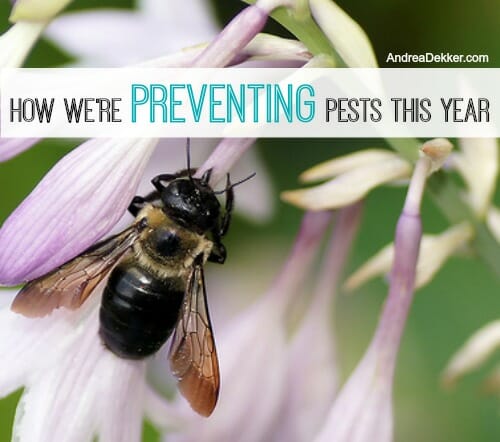 Over the past several years, Dave and I have spent hundreds of dollars (probably over $1000) on pest removal — everything from bees and bats to moles and mice. We even had a chipmunk living in our basement for a whole week this past fall after it ran right through our back door (the kids left it open)!
Part of the problem is certainly the fact that our house is 125 years old, with multiple additions, and probably even more little cracks and holes for pests to wiggle their way inside.
Another part of the problem is most likely our own doing — planting so many flowers and veggies that attract bees, bugs, moles, and other critters.
However, it's still gross and it still bothers me.
Last year, the bees, wasps, and hornets were particularly bad — we had 5 different areas that were affected (including an underground nest) so we finally broke down and called our pest control guy (he's practically on speed dial for us now!)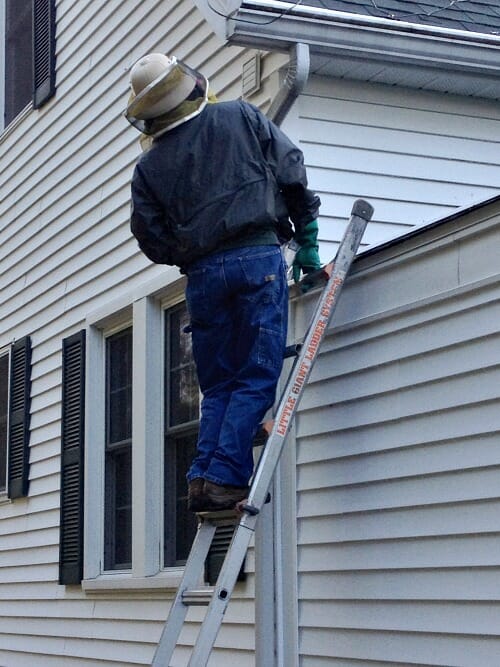 After he treated all 5 of the bee areas, and after we wrote him a $250 check, he said, "you know, you guys should really just have us come out and do some preventative work in the spring so you don't have issues all summer long."
I was shocked when he quoted me the price of the preventative treatment — only about $150 for our entire house, garage, and outbuilding!
So for half the price of one home visit to exterminate our pests, we could have our entire home treated to PREVENT the pests from getting into our home for the entire summer and fall! Sounds pretty good to me!
We currently have our pest control guy (Schultz Pest Control) scheduled to come out sometime in the next few weeks… and he apparently guarantees this preventive treatment effectiveness through the fall… if we have any issues, he'll take care of them at no charge!
.
For those of you wondering where I'm going with this post, the point is not necessarily for everyone to go out and have your homes sprayed to prevent bees and other pests (although that might not be a bad idea if you have bee issues).
Instead, I'd like to encourage you to think about ways you can PREVENT issues before they happen — instead of constantly playing 'catch up' and trying to extinguish "fires" after they start.
Plan your meals at the beginning of the week so you don't have to stress and worry about "what's for dinner" EVERY SINGLE DAY.
Look over your family's schedule for the next week and take note of extra busy days so you can plan ahead and prepare now instead of waiting until the very last minute.
Work ahead the night before so you aren't frantically rushing around in the morning.
I could probably share 50 examples of different ways I try to plan ahead in an effort to PREVENT issues, problems, chaos, and stress before it enters my life. Of course, it doesn't always work — but most of the time it does!
It's amazing how much better I feel knowing that many of our pest issues will be resolved with this simple preventative measure — something that doesn't cost me a ton of money or take up much of my time. Dave and I will both save ourselves so much stress and energy looking for bee and wasp nests, trying to keep our kids away from those areas, wondering if it's really an issue or just a few bees, wondering if we should call the pest guy or wait a few more days, etc. etc.
I guess the age-old saying "an ounce of prevention is worth a pound of cure" really does hold true for so many different life situations (even pests!)