In the months since Nora was born, I've received a crazy number of emails asking what items I would suggest for soon-to-be-moms looking to stay clutter-free and stick to a tight budget. While I definitely don't have ALL the answers; after almost 5 months, I can at least share the items we regularly used for the newborn/infant stage.
All week long, I've been sharing my "must-have" items for infants.
Monday = Nursery Items
Tuesday = Baby Gear
Wednesday = Food, Medicine, Toiletries
Thursday = Clothing
Friday = Items for the New Mom
Saturday = Recap, a few more tips, and a FREE Printable!
I'm sure there are tons of different opinions on what you do and don't need; so I just want to stress that these are the things that worked for me. They might not work for everyone!
Three More Money-Saving Tips:
.
1. Borrow before you buy.
Before I purchased almost anything (new or used) I first looked to see if I could borrow it from someone else. Then, once I knew I liked something, I started searching Craigslist or garage sales.
I have tried so many different products that did NOT work for us, and in those situations, I simply returned the items to the original owner… no money lost!
2. Buy as much as you can USED.
Your baby will not know if you bought them used clothing, toys, books, etc. and if you wash it well, there is really no difference between new and used… except the price.
As you can tell from reading the other posts in this series, we got almost every single item we needed (and a few we just wanted) from friends, relatives, garage sales, thrift stores, and Craigslist (here are some of my tips for buying on Craigslist.)
3. Remember that LESS is MORE!
I know you've probably heard that saying many times already, but with a new baby, less really IS more… I promise!
If you have LESS stuff; you have MORE SPACE because you don't need to store it.
If you have LESS stuff; you have MORE TIME because you didn't spend time shopping for more stuff.
If you have LESS stuff; you have MORE ENERGY because you don't need to clean or organize it.
If you have LESS stuff; you have MORE MONEY because you didn't buy it.
If you have LESS stuff; you have MORE SANITY because you aren't constantly forgetting and misplacing your stuff.
And believe me, I don't know any new moms who wouldn't love a little more space, time, energy, money, and sanity!
Of course, you'll definitely need to do what works for you, but hopefully this week's posts will give you a place to start as you prepare for your new babe.
And since I'm always trying to make things as simple as possible (especially for new moms), I created a handy printable list that you can download or print.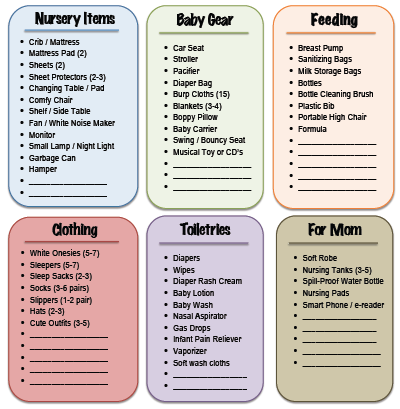 Even before Nora was born, I was very conscious about what we brought into our home — only buying things we needed and things that would have a "home" once they were in our house.
I'm still pretty strict with myself when I'm out shopping, and if it's not a necessity, I'm probably not going to purchase it (even if it IS a really good deal and super cute!) This philosophy has saved us tons of time, space, and money… and I definitely don't think Nora feels deprived!
What are your money-saving tips for raising infants?