If you ever stop by our house and open up our deep freezer, it will most likely be quite full (even more full than the picture above.)
And although I do have several fully prepared meals stacked on the shelves, I have even more containers of partially prepared foods and stand-alone ingredients like cooked meats, shredded cheese, homemade broth, chopped and frozen veggies, etc. etc.
I've found that by keeping pre-cooked and pre-portioned ingredients ready and waiting in the freezer, I save SO much time in the kitchen during my daily dinner prep — especially if our schedules change at the last minute and I need to quickly make something other than my previously planned menu.
For example, when I make chili or tacos, I might cook up 5-7 pounds of ground beef or ground turkey and then portion it out into 2-cup containers. That way, the next time I make tacos, soup, pasta sauce, or anything else that requires ground beef, I don't have to cook the beef (or wash the extra pan).
Or, I'll roast an entire turkey just for Dave and me, and then freeze the extra cooked/shredded turkey (and broth) in 2-cup containers for soups, stews, potpie, etc.
Last year, I was even able to get 7 full dinners out of one ham — and I still had some left over for the freezer!
I recently blogged about how I only cook 2-3 meals a week — mainly because of all the freezer cooking I do. However, the more I thought about it, I realized that I rely on my freezer almost EVERY night.
It might be ground sausage for my Savory Sausage Pasta Bake, chopped peppers and onions for omelettes, my Mexican base mixture for quesadillas, shredded chicken for Chicken Pot Pie, chopped spinach for a quiche, or even frozen berries for our favorite smoothies.
Yes, I still have to do some of the prep work and it's not quite as fast as pulling an entire meal out of the freezer, but I still save a significant amount of time each week by having these pre-cooked, pre-portioned ingredients ready and waiting.
You can read more about my favorite freezable foods in this post.
Not only does having this pre-cooked, pre-portioned food in the freezer save me time (and I love saving time!), it also makes it a lot harder to "bail" on dinner and opt for fast food instead. I know there is always something I can defrost to quickly get dinner on the table — even if I do wait until the last minute 🙂
Oh, and in case you're wondering, these are the containers I use (and have used for YEARS) to freeze 2-cup portions of cooked meat, broth, veggies, etc.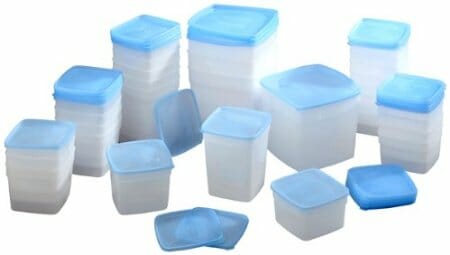 What are your favorite foods to cook ahead and freeze?