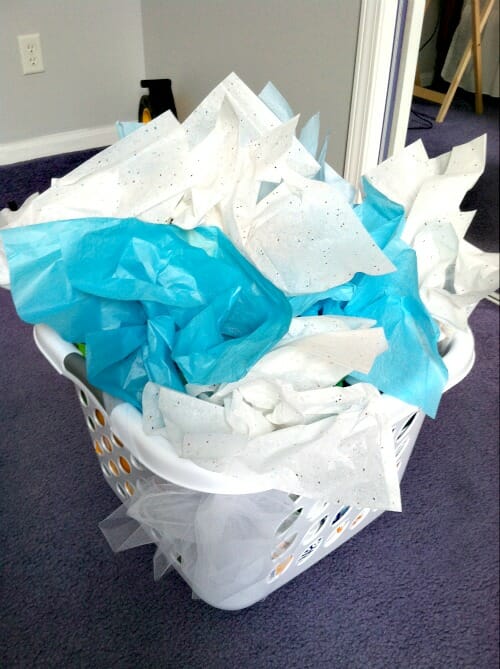 It's wedding season… and Dave and I have a bunch of weddings to go to.
We also have the privilege of being part of his brother's wedding and my sister's wedding; which means lots of showers, parties… and gifts.
And while I'm a huge fan of wedding registries because they allow guests to give gifts the bride and groom actually want, I'm also a fan of simple, practical gifts that anyone starting a new home will need.
This past weekend, Nora and I attended a shower for my sister. It was put on by my aunts and we all had so much fun!
She got lots of great gifts off her registry… but my other sister and I went in on a gift together and we deviated from the registry just a bit 🙂
We purchased one of the clothes baskets from her registry and then FILLED it to the brim with all sorts of cleaning supplies, laundry detergent, dishwasher gel, hand soap, dusting cloths, sponges, cleaning rags, rubber gloves, trash bags, etc. etc. I even lined the bottom of the basket with several rolls of paper towel and toilet paper to help the cleaning products sit up just a bit higher.
The gift looked pretty cool and I know it will go to good use when they move into their new place. Also, I like that it's a "clutter free" gift because eventually, all the cleaning products will be used up, and she'll never feel guilted into keeping something she doesn't love just because her sisters gave it to her for a shower gift!
If you have a bunch of weddings and showers to go to this summer, here are a few other simple gift ideas that might not be on their registry.
1. Gift Cards
I used to be opposed to giving gift cards because I thought they were impersonal. Then I got married and realized how much we LOVED getting gift cards — so now they are my "go-to" gift, even if I'm not short on time. I've come up with several creative ways to give gift cards and I've never once had someone complain about a gift card!
2. Usable Supplies
This was what we did with the cleaning products, but you could do the same thing with all sorts of items like:
Car Wash Kit: bucket and supplies to wash/wax car — and coupons for oil changes or car washes
Home Mantinance Kit: Smoke detectors, furnace filters (if you know the right type to buy), ant traps, wasp spray, light bulbs, etc.
Gardening Kit: Yard tools, fertilizer, gloves, etc.
3. Food and Pantry Items
No, not perishable meals — but pantry items like spices, canned goods, baking supplies, etc. It can be expensive to stock a kitchen if you're starting with nothing, so while these gifts might seem a bit odd, I'm positive the new couple will appreciate them once they are settled into their new home.
Also, make sure to include a few of your favorite recipes or a simple cookbook.
4. Drinks
If you know the couple enjoys alcoholic beverages, why not give them a variety of wines, exotic beers, or other items to make mixed drinks. Even if they don't drink it all themselves, it will be nice to have a little supply when they host their first party.
5. Tree or other Plant
If the new couple owns a home, or if you know they're planning to do a bit of yard work, consider purchasing a nice tree for them to plant in their new location. I've even seen it where the gift-giver ties dollar bills onto several branches and give it as a "money tree"!
6. Cash
Last, but certainly not least, cash is always a great gift for newlyweds!
What are your favorite practical gifts for weddings?