Six Tips to Start Canning
posted by Andrea | 06/26/2012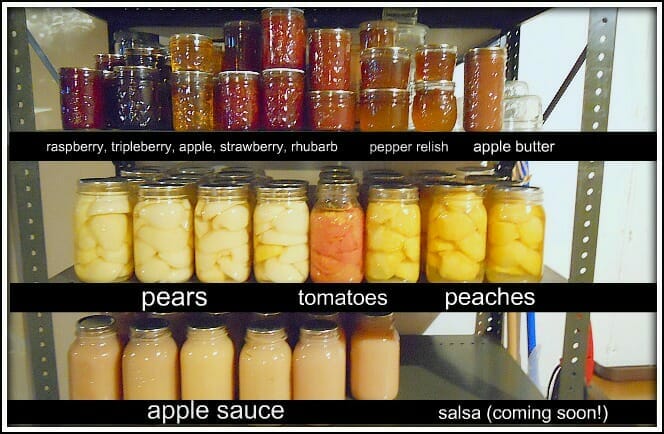 Are you ready for canning season? If not, today's guest post offers 6 tips to help you get started {and I shared a few more last year.}
I won't be doing any canning this year — thanks to our "fun" kitchen renovation — but I did preserve a double batch of everything last year… so we won't starve! Actually, I usually only can every other year, and then take a year off. So thankfully, it worked out quite nicely that this was my year off.
Since I won't be doing any canning this summer, I wanted to share this guest post from Leslie Bilyeu (a fellow Michigander). She knows a ton about canning… so listen up!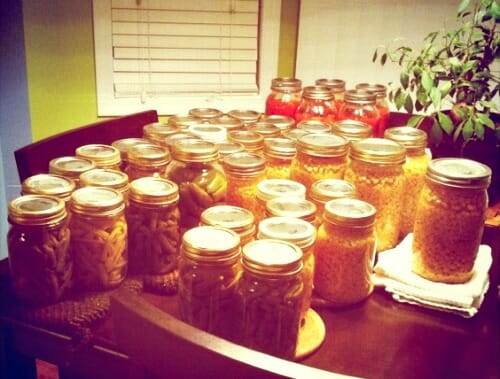 Guest post from Leslie Bilyeu.
As a child, my mom would can the peaches from the tree in our front yard. It'd be August, hotter than ever, and my mom would be standing in front of the sink, blanching peaches with the ceiling fan going what seemed like 100 miles an hour. The pressure canner would be venting behind her on the stove and she would be wiping the sweat off her forehead.
My mom canned the produce from our home all summer long. Taught by my grandmother, my mom was able to put away produce that reminded us of summer during the long Michigan winter.
When I got married, naturally I asked my mom to teach me. She came to my house, helped me snap the ends of green beans and showed me the basics on how to water bath and pressure can. Since then, my abilities of home preservation have improved and I stock a full pantry of fruits, vegetables, stocks, and many other staples we use regularly.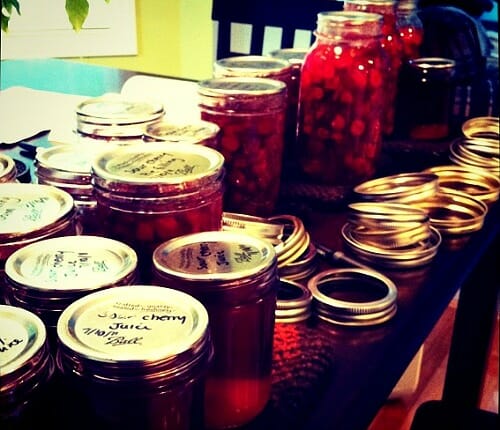 My mom provided me with the right tricks and tools, but I have learned a few lessons of my own along the way.
1. Use tested recipes and trusted resources.
Sure, Aunt Rita gave you a wonderful recipe for jam or directions of her way to can green beans, but if you are new to home preservation, use trusted resources. The National Center for Home Food Preservation is a great place to seek basic recipes.
I also like to encourage folks to check out the Ball Complete Book of Home Preserving if they are new to canning. These resources will be very clear on how to process your food — either by water bath or pressure canning.
2. Keep it simple.
If you are just learning to can, try easy recipes and don't be afraid of the pressure canner. If you like green beans, preserve green beans! If you can't get enough summer sweet corn, buy some from your local farmer (or grow it yourself) and get busy! If you love jam and pickles, maybe a water bath canner is all you need.
But remember to take it easy!
Last summer I was willing to take on the challenge of pressure canning 48 dozen ears of sweet corn in one weekend- by myself! My kitchen, my cupboards, myself and my house was covered with sweet corn juice and it was a sticky hot mess. I have no idea what possessed me to do that (I figured I'd get an entire year's worth of corn put up in one day I guess) but never, ever again.
3. Ask around for jars.
If canning and home preserving is something you think you may like to do, ask around for jars. They can be expensive when purchased in the store, especially if you want several jars!
I hardly had any mason jars when I first began canning but I asked my mom if she had any extra I could get started with and then sent out a quick e-mail asking if anyone had any I could buy from them.
Within days I had people dropping off mason jars on my porch — for free! I had all types handed to me and no one even wanted any compensation for them. I always asked but most of the time I was told "You're cleaning out my attic/basement/garage- thank you for taking them."
Be sure to inspect your new found jars for any cracks or chips. I ended up with well over 500 jars and keep a regular rotation of jars and foods preserved in my pantry.
4. Store your canned items without the ring.
If you can with the two piece lids like I do (the metal ring and lid), remove your rings after your jars have sealed and wipe the lids clean. The metal rings can hold the lid in place and can leave a spoiled jar of food undetected for some time.
Once your processed jars have set still in a cool place for more than 24 hours, remove the ring, wipe the jars clean, and check for proper sealing and store.
5. When in doubt, throw it out.
Long gone are the days where we may only have wilting potatoes from our root cellar to eat for the entire month of January. When canning, pick good-looking, fresh, ripe produce. Sometimes I come across some funky tomatoes while I'm prepping to make sauce — and I pitch them! It isn't worth using a spoiled tomato to ruin an entire batch of tomato sauce.
Same rule applies after the canning process is finished. Look for spoilage and smell it. If it smells "off", throw it out. No home canned item is worth contracting a food borne illness.
6. Know your food.
For each jar of preserved jam, green beans, tomato sauce or stock I have in my basement pantry, I can tell you where each of the food items came from. Each food item I purchase or receive has a story.
The picked asparagus came from my grandmother's 30 year old asparagus patch. The strawberry rhubarb vanilla jam? The berries and rhubarb came from my mom's home and the vanilla beans from a small Italian store in New York City (Chelsea Market) on vacation.
All the green beans came directly from our garden. The apples were picked from a local farm and sold at a farmer's market in Snover, Michigan. The sweet corn came from a local farmer known around my town as "The Corn Man."
The process of home preserving for me goes way beyond feast or famine; it's about building relationships with people, creating memories, and knowing where the food in our home is from.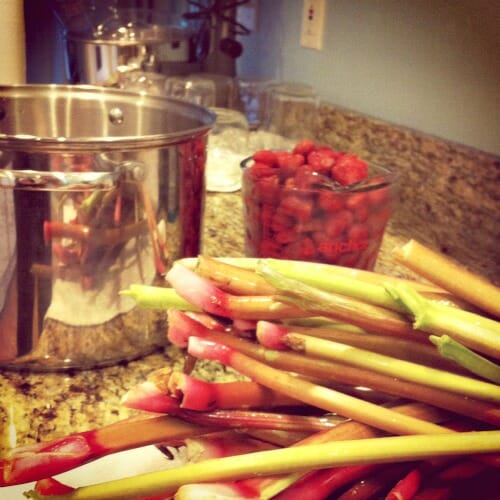 Are you canning anything this summer?
Leslie Bilyeu is a southeast Michigan based freelancer. As a 2008 Walsh College of Accountancy and Business Administration graduate, Leslie majored in marketing and management. Leslie can be contacted at lebilyeu@gmail.com.