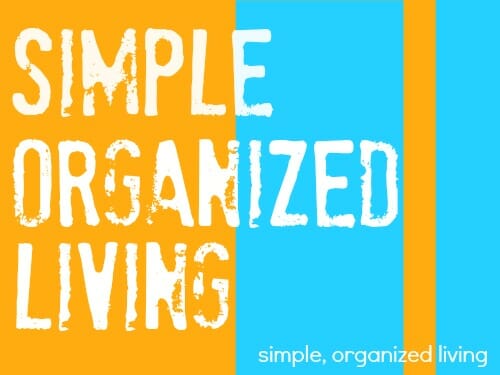 A few weeks ago, I was helping a client organize her closet and her kids' closets before school started up again.
I helped her do the same thing last year… and the year before that.
When I mentioned our yearly organizing "dates", she laughed and said, "yeah, you'll probably be back next year unless I learn to stop buying more clothes!"
We talked as we continued to organize, and she asked me how I was able to maintain such a simple wardrobe and keep our closet organized.
I shared with her the 6 reasons both Dave and I are able to maintain a pretty simple wardrobe… and then went on to talk about how we practice the one-in-one-out rule; how we go through our clothing and purge anything we don't need, use, love, or wear; how we donate items regularly; etc.
After a few minutes, she looked at me and said, "wow, it sure takes a lot of work to live a simple and organized life."
What she said is SO very true — but it was honestly something I had never thought about before.

Simple, organized living IS hard.
It takes discipline, diligence, and determination to simplify and organize your life/home/office/etc. Then once you have things simplified and organized, it takes continual (daily) maintenance to keep it that way!
It's impossible to ever be completely finished.
So if you've been trying to simplify and organize your life but always feel like there is more you could be doing, that's because there IS always more you could be doing!
The tricky part comes in finding balance. How can you achieve a simple ENOUGH and organized ENOUGH life to be happy and healthy — without spending all your time and energy to do so?
Obviously, there are different seasons of life, which also affect how simple and organized your life can be…
Dave and I are in a very "unsimple" and "unorganized" season right now — with a crazy kitchen renovation almost complete, a baby who doesn't like to sleep, and both working full time. However, we're doing our best to keep other aspects of our life as simple and as organized as possible to compensate for everything else (simple meals, simple cleaning schedules, no outside activities, no evening activities, not bringing any unnecessary clutter into our home, etc).
Once our kitchen is usable again, we can get back to simplifying and organizing our house (I'm just a little excited about this!), and once Nora starts sleeping a little more, we can get back to more of a normal schedule (or at least a new normal).
If you are in an "unsimple" or "unorganized" season of life, look for other ways you can simplify and organize… sometimes it's those little things that make a big difference in helping our lives to FEEL simple and organized, even if they really aren't.

Simple, organized living IS worth it.
Even though there are days when I don't feel like cleaning, organizing, making dinner, taking out the trash, or responding to emails… I can almost always convince myself to do these tasks anyway because I know it will be worth the extra effort NOW so I don't have to do even more LATER.
No, I don't think you should take time away from family to sit home organizing your closet or pantry, but I bet if you really made it a priority, you could carve out 15 – 30 minutes at some point every day to work towards simplifying and organizing your home and life.
IDEA #1: Spend 30 minutes planning next week's menu while your kids are sleeping. I guarantee that 30 minutes will come back and save you SO much more time (and stress) the following week since you won't have to wonder what to make for dinner.
IDEA #2: Take 15 minutes while watching your favorite TV show to fold the laundry (and then put it away during commercial breaks!) Sure, it might not be as relaxing as doing nothing, but it's one more thing you can cross off your to-do list… and now your kids have no excuse not to pick out their clothes for tomorrow.
IDEA #3: Make a goal to clean up the kitchen and living room every night before you go to bed. Yes, you might be tired, but think how refreshing it will be to wake up to a clutter-free house (even if it only stays that way for 20 minutes!)
IDEA #4: Pack your lunch (or your family's lunches) immediately after dinner. Even if you have a million other things to do after dinner, this will help to simplify the morning craziness.
I think you get the idea!
Everything I mentioned above is very doable — even for a really busy family. In fact, the busier you are, the more important it is for you to implement simplicity and organization into your daily routine.
But that still doesn't mean it's going to be easy.
It's going to be a constant battle — especially if simplicity and organization don't come naturally to you. But the more you do it (even if you have to force yourself) the more natural it will feel… and before you know it, your life will gradually start to become more simple and more organized.
No, it will not happen over night, but if you put forth the effort, it WILL happen eventually!
In what area of your life are you working to simplify or organize?